Khaled Younis,
Once and Future Champion

by by Mohammad Kamal
Posted June 7, 2011


---

Mohammad Kamal is one of the exceptionally fine sportsmen in American croquet. His respectful appreciation of Khalid Younis, with whom he played croquet at the age of 13 and who recently withdrew from the 2011 Golf Croquet World Championship in England following an auto accident, explains in part why Egypt has continued to dominate the game and has never lost a world championship. Traditionally intense inter-club competition in Egypt might have something to do with the strong team ethos that permeates the sport in that country, where Khalid Younis has led the Egyptian Association's strengthening of youth development, the future of the sport.

---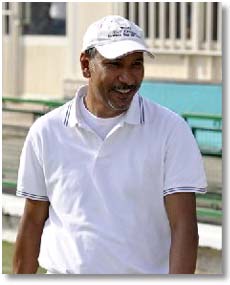 Khaled Younis teaches physical education and plays croquet at Egypt's Elsaid "Shooting" Club. He and his wife have two children. He has won many titles throughout the world, including the Golf Croquet World Championship in Italy, 1996; England, 1998, and Florida in 2002.

On a sunny morning in September 1981, the students of Cairo's Orman High School were given welcome news of an extended morning break to leave the school and line up on the sides of the street to greet and cheer President Sadat's motorcade on its way to Cairo University, where Sadat was scheduled to give a speech. The plan was to be out for an hour and then resume classes. Two senior students had another plan. They thought their place, on this beautiful morning, was not on the curb, but on the croquet court. So they headed for the bus station and took a very crowded bus to the Zamalek Club. As usual, they got the best out of each other in strenuous competition.

Those two students were Khaled Younis and Mohammad Kamal. This beautiful memory came to me as I heard the news of the late-night Friday car accident that left Khaled with a broken hip. I first met Khaled in 1977, when we both started playing croquet at Zamalek Club. As a teenager, he was a gifted athlete, the top player at the club's junior field hockey team. As the ultimate competitor, he excelled in soccer, billiards, and table tennis. Even in backgammon, dominos, and card games he was unbeatable. But croquet is his passion. Khaled is my friend, my teammate, my roommate during the club travels, and my croquet inspiration.

June 1, 2011:
A SHOCKING EMAIL
TO THE CROQUET WORLD

Dear All...

It is with great regret to inform you that one of the Golf croquet legend and 3 times World champion has to withdraw from the next World Championship due to a car accident last Friday night after he finished his croquet match at one am in the morning....

Khaled is now in the hospital with a very high spirit and he is supposed to return back playing after 3 or 4 months. He has a broken left hip which needs a rest in bed for at least 6 weeks; after that he will start to have physio therapy treatment till he is back to normal.

We all here thank GOD that this accident was not more serious...

He needs good wishing and prayers from all of us. Best Regards,

Amir Ramsis
Vice-President, Egyptian Croquet Federation

We played together on the Zamalek team in its golden era, winning individual and club championships for four years running. With prevailing ideals of honor, excellence and respect, respecting our opponents was our way of honoring the game.

Khaled exemplifies honorable competitiveness. The secret of his longevity is that he respects the game and understands the privilege of being on the court representing your country, your club or yourself. This respect for the game is what makes him study it. He understands the importance of sticking to the basic fundamentals.

His championship records are second to none. In addition to his three world championships and many international wins, he has won many national championships in singles and doubles. Partnering with Walid Salah in the late 80s and through the 90s, he and Walid dominated the Egyptian field, winning countless championships. They are arguably the strongest golf croquet men's double in Egyptian croquet history - and therefore in world history.

But my favorite memories of Khaled are of his epic mixed doubles battles with Zamalek team. Team competitions are produced in five categories: men's doubles, women's doubles, mixed doubles, women's singles and men's singles. I was the men's doubles specialist, Walid Salah took care of the singles, and Khaled was assigned the most difficult task of not only playing the mixed doubles but also partnering with lowest ranked female player on the team.

I am still amazed at the poise, patience and professionalism he demonstrated in these tough battles. He showed an amazing ability to focus on his game while supporting and motivating his partner. With a minimal margin of error, he brought many wins to the team. Even in mixed doubles matches we lost, Khaled performed better than any other player on our team.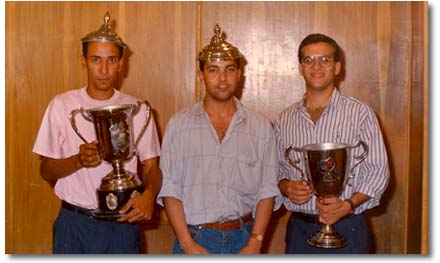 Khaled Younis, Walid Salah and Mohammad Kamal hold the trophies for the Egyptian national championships of 1988 in Cairo's Gezira club banquet hall.
When Khaled joined the first team at Zamalek - one year before Walid and I - his game in Cairo Club against the top player of the team and one of the top seasoned players in Egypt at the time is unforgettable. Cairo club was up 4 matches to zero against Zamalek, and Khaled lost the first game of his match. With their team down 0/4, most of the Zamalek fans, except Khaled's young friends, left. The second game Khaled was down 6/3 but he made a great come back to tie the game 6/6. His last shot from the boundary line scored the winning point without touching the wires, forcing game 3. In his excitement, Khaled was worried the referee might not have seen the shot go through, so he shouted the only French words he knew: "Sans touchè sans touchè." The referee reassured Khalid that he saw that. But Khaled kept shouting "sans touchè". Needless to say he won the third game and the match, as a rookie. It was clear, even then, that we were watching someone special and reaching for greatness.
With a degree in Phys Ed, he teaches physical education at Tiba School in Cairo, where he persuaded the owner of the school to build a croquet court so Khaled could teach his students the game. Khaled was instrumental in developing the game with the youth in Egypt - and this is especially significant in Egypt, where our generation has suffered from a rigid mentality decreeing that croquet is for adults only.
In fact, the Egyptian Croquet Association, following the mind-set of the country, banned players younger than 21 years from competing in sanctioned tournaments. So as young people, we were forced to develop our game by playing in friendly junior events and club tournaments. Not until we were 21 were we allowed to compete on the big stage, in sanctioned tournaments, with other adults.
In club tournaments at Zamalek many of us, at 16 and 17 years old, handily beat the best adult first team players. Seeing this happen, Egyptian Croquet Association leaders with open minds and far-seeing vision used the work of Khaled and others to create a more comprehensive and rigorous youth program. Khaled's leadership and experience as a career educator and competitive athlete are instrumental in this program. He is known simply as "Captain Khaled". He connects with the young players as a fit role model. He gives advice in a very calm and objective way, showing patience and respect. Although he focuses on the fundamentals of the game, he encourages the creativity of the young player, understanding that the unique personality of each competitor should shape that player's best game.
On the social level, Khaled's generation made the Egyptian croquet community one family. Before we came along, interclub events were overly tense, often fueled by animosity. But our generation, with its love of the game and its respect for it, understood that there is too much fun in croquet to allow anything to ruin its enjoyment. Everyone gravitated to Khaled, with his great sense of humor and down-to- earth personality. Everyone respected him and connected with him, and this spirit spread to other Egyptian teams.
Players from different teams started to spend time together and sit together during games and even to travel as a group. Now with the Golf Croquet world championships, the Egyptian team sets a standard for the true meaning of a "team." They do everything together as one unit, supporting, helping and cheering each other. When it comes to technical discussions, Khaled is the ultimate authority. If you play for Egypt and in between games Khaled walks up to you and points out something, you need to listen carefully, because what he is telling you can only be to your advantage. In fact, I sometimes feel that in between games the player on the other side is disadvantaged because he doesn't have a Khaled Younis to give him pointers.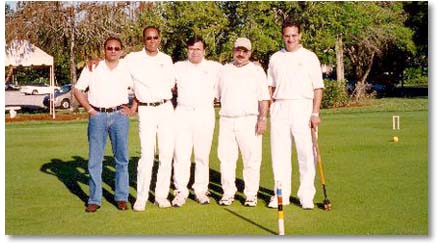 2000 US GC National Championship at Palm Beach Polo in Wellington, Florida, from left to right; Mohamed Wasfy, Khaled Younis, Amir Ramsis, the late Ahmed Hamdy and Mohammad Kamal.
Khaled has contributed to the growth of golf croquet in America, always available to participate in any major event in America. At the turn of the century, he realized that golf croquet in America was still in its infancy and made himself available to help promote it - an attitude shared by other Egyptians including Amir Ramsis and Salah Hassan. In 1999, I invited them and a group of the top Egyptian players to play in the Beverly Hills International, the first major Golf Croquet tournament in the US. They came and showed their support. The first American Golf Croquet national championship was played in 1999 with only four American players.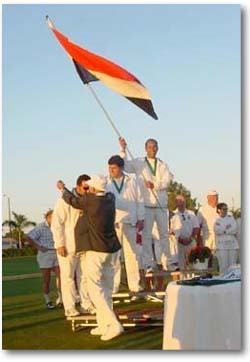 In the fading light of the final day of the 2002 Golf Croquet World Championship at the National Croquet Center in Florida, three-time world champion Khaled Younis holds high the Egyptian flag on the top tier, just above his Egyptian teammates, who took silver and bronze.

In 2000, Khaled came and won the second American national championship. In 2001 he came to Pinehurst to compete in a championship organized by Pinehurst pro Mack Penwall. In 2002, he came with an Egyptian team of 13 men and women to the first Golf Croquet world championship played in America, at the National Croquet Center, and won the world champion title for the third time.

In February 2011, Khaled and Ahmed Nasr, the current world champion, were scheduled to play 2011's biggest purse event, at the International Polo Club, Palm Beach, but decided to stay home to take care of their family during and after the Egyptian revolution. In all of these events, Khaled is always a great ambassador of the game, representing himself and his country with honor and class.

In July 2011, 64 players convene in England to compete for the golf croquet world championship. Because of his injury, Khaled will miss the tournament. It will be the first Golf Croquet World Championship to be played without this 3-time world champion. Khaled will miss being there with his friends, and we will miss having him with us, competing against him, and watching his beautiful style in action on the courts. I will miss his sense of humor and, especially, his probing comments on my declining level of play.

ABOUT THE AUTHOR: A three-time US national champion of the game, Mohammad Kamal has greatly contributed to the rise of Golf Croquet in America, representing the US in four world championships. He is one of three US players in the 2011 World Championship in England, along with Ben Rothman and Sherif Abdelwahab. With Khaled Younis, he was a member of five National League Club Championship teams in Egypt from 1987-1991, playing for Zamalek. If his play is declining, it's because he pursues an intense medical career in Southern California. Mohammad is one of the nation's top gastrointestinal pathologists, an assistant professor of pathology at UCLA, the Chief Medical Officer of PLUS Diagnostics, and the founder and CEO of Omnipathology Laboratory in Pasadena, California. He and his wife have three teenage children.
---