The longest game of Golf Croquet


by Freda Vitty with Bob Alman and Maggie Cowman
Posted September 25, 2011


---

The world record for "the longest game of golf croquet" requires elaborate confirmation in order to be published in the Guiness Book of World Records. The process requires validation and certification in the form of sworn testimony of witnesses and participants, credible published accounts of the achievement, photographs, much time and even more patience. We're not waiting. As the most credible source in the croquet world, we're herewith publishing this true and inspiring story. You can do your part to justify all this effort by donating to the worthy charity that is the financial beneficiary of this record-breaking achievement.

---
From 6am on Monday 15th August to 6 am on 17th August, eight members of England's Ripon Spa Hotel Croquet Club played Golf Croquet continuously for 48 hours to raise money for the Freeman Hospital Heart/Lung Transplant Unit in nearby Newcastle. They're the people who saved and greatly extended Maggie Cowman's life.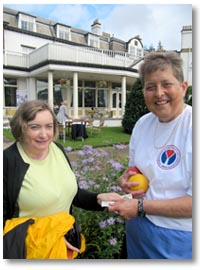 Martha Knox delivers to Magi a big lump of sponsor money for the Freeman Hospital Heart/Lung Transplant Unit.

Maggie Cowman had a double lung transplant in the middle of 2010 and started playing croquet in April 2011 to help her recuperation. She had grown up heavily involved in many sports, as a member of junior county teams at badminton, hockey and table tennis. As a young woman, she played in India and the West Indies on England's Under 25 Ladies Cricket team.

But both her sporting life and career as an officer with the West Yorkshire Police were to be ended in her early 50s because of her lung problems.

According to Maggie, "My health took a downward spiral in my 30s, with respiratory problems diagnosed at that time as late onset asthma. Soon I was in a perpetual cycle of chest infections, no sooner getting better from one than another coming along. Within a few short years not just my breathing but my mobility was affected. By the time I was in my early 50s I was forced to retire from my police work. Soon after, I got to the stage where I was only able to leave the house with the use of a mobility scooter. My lung function by then was reduced to was less than 20%!"

After living and suffering in mystery for years, eventually her lung condition was diagnosed correctly by a respiratory specialist at the Freeman Hospital as Alpha 1 Anti Trypsin Deficiency - a hereditary genetic mutation which prevents the liver from producing sufficient quantities of the enzyme that protects the lungs from damage. That was the good news; the bad news was that the only treatment for her condition was a lung transplant. Transplant of a single lung would be risky enough, but her condition would require a double transplant. After a long wait of 18 months and some false hopes, in July 2010 she was given the double lung transplant at Freeman Hospital in Newcastle.

Recovery includes croquet therapy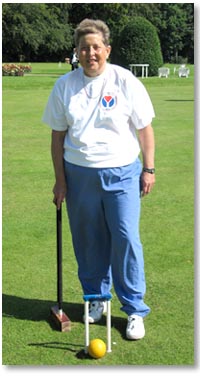 Maggie Cowman dressed for action.

"I was in hospital for five weeks following the operation," Maggie recalls, "and then suffered through a few months when my immune system was so depressed that I had to avoid close contact with other people. Gradually as I got stronger I was allowed to do more exercise; from simply walking to the shops and back I went on to join a short mat bowls club towards the end of the year. Then in the spring my good friend Gill persuaded me to 'have a go' at croquet. I have not looked back since!

"I joined the Ripon Spa Hotel Croquet Club in April 2011 and under the guidance of our coach Samantha and her husband Fergus I have become thoroughly hooked on the game. As for the physical as well as the psychological aspects of the therapy, my progress amazed even me! In addition to a couple of internal club competitions, I played in the Open Ladies Doubles tournament hosted at Ripon. I was delighted when my partner Daphne and I placed third. I am a very competitive person and want to improve and enter more tournaments."


Surviving the first year is a major milestone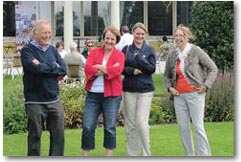 Other transplant survivors came to the courts to offer encouragement throughout the 48-hour event.

Statistically, one in five transplant recipients do not make it through the operation and the first year of recovery. Having recently passed that milestone, Maggie decided she wanted to express her gratitude by raising money for the Freeman charity. Her friends Sam and Fergus were quick to suggest that they and the Ripon Spa Hotel Croquet Club should be involved.

"We wanted it to be fun for the members and a good advert for the game of croquet, as well as a vehicle for donations. With five more members volunteering to take part, we decided to do a 48-hour marathon event. The format called for two players at a time playing in two-hour sessions in 19-hoop games.

"To make it competitive and enjoyable for players and spectators alike, we added some extra spice by seeding our three International players Sam, Fergus and Jacob against the rest of us club players. Cash prizes were arranged for the seed with the fewest accumulative hoops scored against them and the club player with the most accumulative hoops scored by them."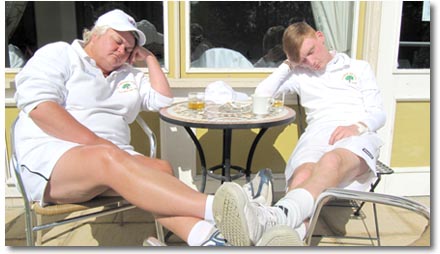 Samantha Thompson and Jacob Carr are famous for their
"power naps" between games.
Three croquet courts at Ripon Spa were reserved for the event: the main court for the marathon games and two adjacent courts to allow for other players to play alongside the marathoners for encouragement and moral support throughout the 48-hour grind.
But how could they play all night? "Fergus convinced us that with the aid of his hoop lights and by adjusting the floodlight on the wall of the hotel we would be able to see well enough to play through the hours of darkness!" Maggie reported. "If it rained, we decided we would play anyway and get very wet without worrying about it."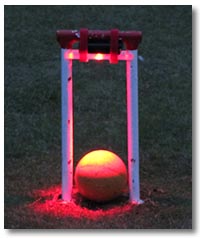 LED hoop lights enabled the game to continue through the darkest of night.

Fergus and Sam donated use of the courts and hotel facilities free of charge to the team, to ensure that all the money raised through the event could go directly to the charity.

Maggie and seven other players from the Ripon Spa Croquet Club played non-stop in two-hour slots and completed 87 19-point games, with a total of 1240 hoops scored. Playing throughout the night was not a problem because of the LED hoop lights. During the 48 hours, conditions reflected the summer's interesting variety of English weather – wind, rain, cold and sunshine - so the whole enterprise was fully as challenging as marathons are expected to be.

The marathon was completed successfully and was covered by local radio, three slots on Yorkshire Television, and local newspapers. Although the financial goal is still a little short of the 5,000 pounds targeted as the goal, we expect publication in CROQUET WORLD to energize the ending sprint needed to pass the finish line.

Contributions can be made through www.justgiving/maggiecowman.
---