Tom McDonnell passes into croquet history


by Garth Eliassen and Mike Orgill
Posted November 18, 2003
---

Croquet Hall of Famer Tom McDonnell planted the seeds of American rules croquet in the most fertile of media on America's Pacific coast and watched them grow - among the movie set in Beverly Hills in the 60's and at trend-setting state-of-the-art venues in Northern California, including Sonoma-Cutrer Winery and Meadowood Resort. Two friends and croquet apostles write about him here: Mike Orgill, long-time president of the Sonoma-Cutrer Croquet Club; and Garth Eliassen, who created the National Croquet Calendar from the legacy of McDonnell's Western Croquet Newsletter.

---
West Coast Leader Tom McDonnell Dies in California.
By Garth Eliassen
National Croquet Calendar
West Coast croquet pioneer and Hall of Fame member Tom McDonnell died peacefully at his home in Santa Rosa, California, October 13 after a lengthy affliction with cancer and complications from a blood infection contracted during a transfusion after a car accident over thirty years ago. He was 76. He is survived by his loving wife Jane; his son Michael Lufkin of Santa Rosa; two daughters, Mimi Lufkin of Christiana, Pennsylvania, and Jane Lufkin, also living in Santa Rosa; two grandsons, Kevin and Michael; and his sister Marie M. Lufkin, R.S.C.J.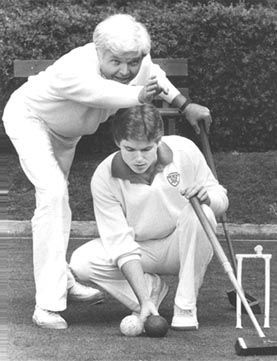 Tom McDonnell croqueting with his son Mike.

McDonnell, whose croquet roots stemmed from the sport's Hollywood heyday in the fifties and sixties, was responsible for establishing championship croquet throughout California and elsewhere in the West. In 1980 he founded the San Francisco Croquet Club, with Steve Swig and local attorney Jack Brown, then five years later spearheaded the installation of two courts at Sonoma-Cutrer Vineyards in Windsor, followed by two more at Meadowood Resort in the adjoining Napa Valley.

Tom was introduced to croquet while working in Hollywood and directing live television. At that time the hottest ticket in town was Sam Goldwyn's exclusive two-court turf where film biz legends such as Douglas Fairbanks, Harpo Marx, Tyrone Power, Clifton Webb, Howard Hawks, and Humphrey Bogart often gathered to play cutthroat croquet under Goldwyn's constantly evolving rules which always seemed to favor the host.

First invited to play at Goldwyn's by actor Mike Romanoff, Tom and Jane became members of the group and continued playing at the estate until 1969, when Goldwyn became too ill to play and the courts were closed. Goldwyn died five years later.

After the Goldwyn group disbanded, McDonnell, by then addicted to the game and needing a new place to play, stuck a Beverly Hills Croquet Club sign on a Water Department lot off Sunset Boulevard and founded the new club. The Beverly Hills Croquet Club continues to this day, now playing on lawn bowling greens in Roxbury Park.

McDonnell was a native of Brooklyn and served in the Marines during World War II. In 1951 he met Jane Briggs Fisher of Detroit at a Christmas concert at Manhattanville College in Harlem, where his sister was singing in the choir. They were married June 11, 1953. While living in Pacific Palisades, Tom was an assistant director of live television at ABC, then became liaison between MGM and ABC, and finally served as program manager of ABC West Coast television.

In 1967 Tom and Jane were involved in a horrendous accident on Sunset Boulevard when their car was sideswiped by another driver. Jane was hospitalized for six weeks, Tom for six months while recovering from a severe leg injury.

In 1971 the family left Hollywood and moved to the Bay Area. Two years later they bought a hundred acres in the hills outside Santa Rosa, built a home and a 150-foot greenhouse, and formed Hortus Company and began growing and marketing geraniums to nurseries throughout the Bay Area.

Outside the front of the house and bordering a creek that flows through the property is a wide sloping expanse that became a gruesome croquet court. Players clearing the first hoop and shooting toward the second would invariably roll out of bounds over the west boundary, where they were safe from any attack, and wait for the opponent to make a mistake. Subsequent obstacles included a tree and a hill with a hoop on top that was almost impossible to approach and clear. Frustration was the name of the game on court one.

In 1980 Tom and Jane seeded a championship court adjacent to the greenhouse - the first in Northern California. The new court served as the site of the Santa Rosa Croquet Club and for a decade hosted a regular panoply of club and local tournaments, as well as friendly gatherings and pickup games when Tom, Jane, or both would often be drawn from their work in the greenhouse to come out, mallets in hand, and join whoever was on the court and whatever was going on.

But there the game itself was secondary to the commentary, critique, and ongoing gossip taking place around the chairs and chaise at the courtside porch overlooking the creek, and it was always more enjoyable to be participating in that as the outplayer than running a lonely break oncourt.

The McDonnell court also served as a laboratory of innovative strategy. At the time, most players in the country were mimicking international-rules techniques and applying them to American-rules play, but Santa Rosa club members would devise, discuss, and try out new tactics and strategy. The Chernobyl Gambit, which would eventually revolutionize the American opening, was developed there in the spring of 1986, along with a dozen different and complicated ways to wire yourself, other opening variations, the rout (rushing your partner ball out of bounds to the opponent), and new ways to block balls - which resulted in rules changes to neutralize them.

Sometimes just openings would be played on the McDonnell court, when new strategies were tried until both sides had agreed that one had clearly won the opening - then all balls would be returned to the starting tee and a new opening begun.

After completing the second court, McDonnell published a pamphlet based on his experience which focused on croquet court planning, construction, and maintenance; he also served as West Coast representative of the USCA greens committee.

The Sonoma-Cutrer courts were completed in 1985 and inaugurated with the Western Region Championship in August of that year, which set a record with 75 participants from as far away as Texas, Colorado, and Washington State. The Cutrer courts, which rapidly gained the reputation as the best in the world under the stewardship of greenskeeper Lisa Hagopian, debuted the World Croquet Championship in August 1986 and hosted with Meadowood the USCA National Championship in September.

McDonnell was inducted into the Croquet Foundation's Hall of Fame at the CFA dinner at Meadowood on September 17. Meadowood Resort introduced the Domaine Mumm Croquet Classic the following year, which was for many years the premiere American-rules purse tournament in the U.S.

In the mid-eighties McDonnell also served as Western Region vice-president, where his main problem was trying to bridge a growing political rift between the East Coast establishment and West Coast players. McDonnell and USCA founder Jack Osborn often failed to agree on issues, and their differences peaked when Osborn got word in November 1984 that McDonnell was starting a newsletter to focus on western news for western players. Despite Osborn's efforts to stop the publication, which he felt would compete with the USCA's quarterly publication Croquet News, McDonnell went ahead.

The first issue of the Western Croquet Newsletter was published in January 1985 and featured on its cover the new courts at Sonoma-Cutrer and the announcement that the Western Region Championships would be held there. Inside were McDonnell's editorial, news from clubs throughout the region, and a feature on how to legally waive a turn in American rules. Subsequent issues also included letters to the editor and more commentary, cartoons, a schedule of upcoming western events, tournament results, a regular rules column, strategy articles, and occasionally McDonnell's favorite column "All About Croquet," a parody of croquet reporting and analysis by McDonnell's alter-ego Professor Jacobsen.

The last issue of the Western Croquet Newsletter was published at the end of 1987 with the impending debut of the National Croquet Calendar in January 1988, which would continue the tradition of McDonnell's publication.

In early 1987, fuel was added to the political fire with the formation in Phoenix of the American Croquet Association, another national organization, focusing on the international version which many felt was being neglected by the USCA. McDonnell, as USCA vice-president of the Western Region, preferred to avoid official involvement in the A.C.A., but Jane was promptly elected a director and the head of the rules committee, and many others in the West joined and supported the new organization.

Tom was proud of his impressive collection of croquet memorabilia, which includes the original Beverly Hills Croquet Club sign, the personal mallets used by Bogart, Goldwyn, Louis Jordan, and David Niven in the Hollywood years, as well as eight unopened proof sets of cork-filled Jaques balls that McDonnell bought in 1971 from Kerr's in Beverly Hills. While moving north, Tom was afraid that the balls might not always be available and bought out the store's inventory at $32 per set.

The historic mallets are displayed in the McDonnell's front hall, and Tom always enjoyed showing them to friends and guests, as well as new players he was introducing to the game before they walked up to the main court.

Tom would also point out that he was the only member of the Croquet Foundation's "Hall of Frame," a very exclusive club indeed. When McDonnell was inducted into the Hall of Fame in 1986, he noticed that the engraving on the silver presentation platter was misspelled. The USCA offered to take it back and give him another, but Tom declined. Those who knew him understood the magic of his charm, his extraordinary kindness, and his effectiveness as one of the last great and gracious ambassadors of a glorious bygone era. He will be missed by his many friends and fellow croquet players who will remember him always.
---
Remembering Tom McDonnell
by Michael Orgill
President, Sonoma-Cutrer Croquet Club

Tom McDonnell introduced me to "real" croquet after I had played backyard croquet for a few years in San Francisco with Bob Alman. Bob and I roamed the city discovering likely croquet "courts" in industrial parks, vacant lots, and other random patches of grass. Our matches were intensely fought; we mastered our technique until it became, we thought, impeccable. But we really knew next to nothing. Tom McDonnell opened our eyes and set us both, for better or worse, on the croquet journey we both continue to this day.

I first ran across Tom McDonnell's name in 1982. There was a journalistic silly season in effect in San Francisco, something to do with a NFL football strike. People were left with nothing to do on weekends, or so the San Francisco Chronicle breathlessly reported. A reporter was assigned to scour the city for recreational alternates for football addicts.

The reporter listed croquet as one of the alternatives, quoted Tom on the allure of the game, and gave his phone number. This was stunning news. I had no idea that other, more serious forms of croquet existed. I gave Tom a call. And my world changed.

Tom invited us to his Santa Rosa property, where he ran his greenhouse business and played croquet on a roly-poly, irregularly shaped plot of ground where balls rolled up hill and down, and local knowledge had far more to do with winning than how well one struck the ball.

Bob and I had thought our catch-as-catch-can courts were challenging; it was like going through the looking glass to have a game on Tom's court. Tom gathered us in and made us a part of the American croquet world. He showed his collection of vintage mallets and balls, regaled us with tales of his days in Hollywood playing croquet on Sam Goldwyn's court, showed us what playing croquet to win was really about. In short, he thoroughly entranced us.

We joined the San Francisco Croquet Club soon after and watched in confusion as the Western Regionals were contested on four half-courts at Stern Grove, two of which featured golf holes and minor hills. We were babes-in-the-woods, and Tom made it clear how much we had to learn. "You can't set-up at the wicket like that in Seattle," he would scold us as were practicing for our first Western Regional in Seattle. We learned from watching Tom play, and he gave us instruction, but Tom's importance went far beyond his role as a teacher.

Tom was the premier impresario of West Coast croquet. He nurtured and created the croquet infrastructure of Northern California and all of us followed him on his wondrous journey. Sometimes we only realize the why of things after they fade away. When I began playing croquet at the San Francisco Croquet Club we had only two rather pitiful putting greens. They were available to us only because Tom, along with his wife, Jane, Steve Swig and others badgered the city into letting the club use Stern Grove as a croquet site.

Then Tom built his own full-size court in Santa Rosa. This was an even more dazzling revelation. A court perfectly formed, flat, evenly sown with just the right strain of turfgrass, situated in a beautiful tree-shaded space in front of Tom's greenhouse. We spent many hours there learning to play and, more importantly, talking of everything under the sun.

For Tom was more than a croquet fanatic. He was a well-rounded and sophisticated chap who had many instructive stories to tell and the ability to generate scintillating conversation. Tom's court was the seed for everything that followed. Inspired and guided by Tom, Brice Jones built one of the premier croquet venues in the world, the two courts at Sonoma-Cutrer, and hired Neil Spooner to oversee the World Croquet Championship. The late, lamented World Championship was played at Sonoma-Cutrer for 18 years.

Tom led and nurtured Bill Harlan, the president of Meadowood Resort in St. Helena, California, to install two courts, hire Damon Bidencope as a full-time croquet pro, and began the Meadowood Croquet Classic, the first editions of which featured large money purses. The Meadowood croquet program continues, led by Jerry Stark. Bill Harlan considers it one of the most successful attractions at his resort.

Eventually Tom let go of croquet and left the field to others. He took up serious drawing and painting, an avocation he had had all of his life. He became an expert on purebred dogs and acquired an English retriever that he took everywhere.

For a time, it was as if Tom had never left croquet. But now that he's gone I can see that much of the energy he brought to croquet has not been replaced. We need more like him, but we will never see his like again.

And so I say goodbye to Tom McDonnell, the gentleman who changed my life.
---