A courtside chat with
John Taves & Jerry Stark

Interview and photos by Bob Alman
layout by Reuben Edwards
Posted November 23, 2004
---

Jerry Stark and John Taves have little in common except for their intense love of croquet and their passion for winning, as reflected in their long-time ranking among the top six American players. Both started playing "serious" croquet in their twenties. Both are veterans of many U.S. International teams, distinguishing themselves in test match play against the Brits, the Aussies, and the Kiwis. Both would like to play more competitive croquet, but are prevented by their work and family obligations. Stark learned to play "real croquet" in Phoenix when Arizona was producing most U.S. champions, in the early 80's. He's now the croquet pro at Meadowood Resort in the Napa Valley north of San Francisco. John Taves and his wife Anne discovered croquet at the San Francisco Croquet Club at a time when croquet's western center of gravity had shifted to Northern California, in the late eighties. He lives with his family near Seattle, plays croquet at the Puget Sound Croquet Club, and manages his own Internet business, www.pickAtime.com. I managed to interview them at odd moments around their intense play schedule in the Selection Eights tournament at the National Croquet Center in November 2004.

---
Chatting with John Taves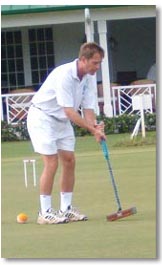 Taves on Center Court at the National Croquet Center.

BOB ALMAN: YOU STARTED OUT WITH AN AGENDA OF SOME KIND WHEN YOU AND ANNE SHOWED UP AT THE SAN FRANCISCO CROQUET CLUB COURTS SOMETIME IN THE EARLY NINETIES. I GUESS IT WAS TO HAVE FUN. HOW HAS THE AGENDA CHANGED, IF IT HAS?

JOHN TAVES: Well, I have kids now, so I can't devote as many days to playing croquet, so now it's turned into more of a vacation thing, so if we can go on a vacation and play croquet, that's pretty cool….

HOW CAN YOU SAY THAT AS ONE OF THE TOP PLAYERS IN AMERICA FOR MANY YEARS NOW, EVEN THOUGH YOU DON'T COMPETE VERY REGULARLY? ARE YOU SAYING YOU COMPETE FOR FUN? OR DO YOU COMPETE TO WIN? YOU'RE CERTAINLY NOT A 'SOCIAL' PLAYER, WHAT DRIVES YOU IS THE WILL TO WIN, TO BEAT EVERYONE, ISN'T THAT RIGHT? HERE YOU ARE AT THE NATIONAL CROQUET CENTER PLAYING IN THE STRONGEST COMPETITION EVER HELD IN THIS COUNTRY AMONG AMERICANS, RIGHT? IT S NOT JUST FOR FUN, SURELY…

Well, I want to compete, I want to do well, but I know I'm not going to do as well as I could if I had played a lot beforehand.

YEAH, WHAT I REALLY WANT TO KNOW IS HOW YOU FIT IT INTO YOUR LIFE, YOUR FAMILY LIFE, YOUR BUSINESS THAT YOU HAVE TO MANAGE…?

The bottom line is that I'm going to play with my kids on the weekends, and I'm going to play with them in the evenings. I'm not going to go away for four hours every weekend.

BUT IT DOESN'T LOOK LIKE YOU'VE GIVEN UP THE GOAL OF COMPETING, OF WINNING BIG-TIME, OF BEATING EVERYBODY…

I've given up the goal of being the top player in the United States [NOTE: John is the #5 ranked player in the US at this time], and I've given up the goal of challenging Robert Fulford for the World Championship….

SO YOU'RE NEVER GOING TO….

Well, I don't know about "never", but not in the next ten years.

Until you make a fortune in you business and can retire, or…

Well, all right, if I made a fortune in the business would I play more croquet? I don't know, I'd still have the boys.

HOW OLD ARE THE BOYS?

Five and nine. There's no way I'm going to let them grow up without me around a lot. They're just too much fun. You know, I coach soccer teams for both my boys, and that's quite a learning experience, I've got a pile of memories from that. I'd have a pile of memories from competing in croquet, too, but they wouldn't include those two guys…

YOU HAVEN'T FORCED THESE LITTLE GUYS TO PLAY CROQUET?

Oh now, croquet offers nothing for a….

THERE'S NO PERCENTAGE…

They play soccer, which allows them to work as a team, and tone their bodies, and learn what they can do if they practice. Team sports give them the rewards they need right now, and swimming and things like that. Croquet…

WHAT ABOUT LATER? YOU SEEM TO HAVE RECRUITED THE ADULT MEMBERS OF YOUR FAMILY. YOUR WIFE ANNE'S A VERY GOOD PLAYER, YOU FATHER I THINK IS A TWO HANDICAP…

You know, I didn't recruit them at all, they were in town, we have croquet lawns, it was something to do together, they were interested, they came out. But you know, Britt Ruby told me he brought his son along to a tournament, and they played a high-low game, and he had fun with him, and it really never occurred to me. But now that I've heard of it, maybe I'll do that sometime, we'll play high-low doubles and we'll have a hoot.

BUT THEY'RE NOT QUITE OLD ENOUGH NOW, YOU THINK.

No.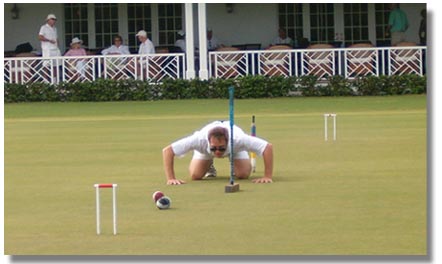 Taves on Center Court at the National Croquet Center.


SO, YOU MIGHT PLAY IN ANOTHER MACROBERTSON WORLD TEAMS OR…

That's why I'm here, I figure that I can't rest on my record forever, and my record in the last year was okay – not outstanding….

THE WORLD RANKINGS DON'T LIE, JOHN. YOU'RE STILL NUMBER THREE IN THE U.S.

Really? That's surprising, seems unlikely.

I SWEAR, IT'S TRUE, I LOOKED IT UP.

So, I asked Anne if she wanted to go to Australia, and she said, "Yes", so I said, "Well, okay, then I'd better go down to West Palm Beach and play in this tournament."

GOOD! NOW IT MAKES PERFECT SENSE1 YOU INSIST ON FITTING CROQUET INTO YOUR LIFE, AND YOU'RE STILL 'GOING FOR THE GOLD.' WHEN YOU PLAYED THE MACROB IN NEW ZEALAND, DID YOU TAKE ANNE DOWN?

Anne, the two kids, and my mom and dad, too.

SO THAT COMBINES YOUR WHOLE AGENDA….

Yes, sure, we'll do the same thing again if I get selected again. That's the whole vacation thing.

HOW ABOUT THE SOLOMON AND THE CARTER AND ALL THAT?

Well, I'll have to see how the wind blows, they all take time commitments, and it's not obvious whether I'd be selected, and I'll surely have to play some more tournaments before I could go to Australia. There's too much rust to brush off when you don't compete a lot.

WE ALL KNOW GREAT PLAYERS THAT HAVE STOPPED COMPETING ENTIRELY, LIKE WAYNE RODONI, WHO WAS THE TOP PLAYER AND I GUESS ROLE MODEL WHEN YOU STARTED AT THE SFCC. AND HE'S GOTTEN MARRIED AND HAS FAMILY AND WORK OBLIGATIONS, AND UNLIKE YOU, HE DIDN'T SEE ANY POINT IN PLAYING IF HE CAN'T COMPETE AT THE HIGHEST LEVEL AS HE ONCE DID. HE TOLD ME, "I CAN'T DO ANYTHING BUT LOSE, BECAUSE PEOPLE EXPECT ME TO WIN, SO WHAT'S THE POINT?" I GUESS MY QUESTION TO YOU WOULD BE, 'CAN YOU SEE YOURSELF PLAYING AS A DODDERING OLD MAN, WHEN YOU CAN'T CUT IT ANY MORE AT TOP LEVEL. IS THAT KIND OF TRANSITION POSSIBLE FOR YOU?
(both laughing)
YOU CAN'T ENVISION IT NOW, PERHAPS, BECAUSE THAT'S NOT YOUR ATTITUDE TOWARDS THE GAME RIGHT NOW…

Well, I look at my dad, and he's almost 80. The point is, if I'm in the same shape physically as he is, there's no reason I should play any worse than I play now.

LET ME PUT IT ANOTHER WAY: WOULD YOU BE CONTENT PLAYING AS 'TOURNAMENT FODDER" IN CHAMPIONSHIP FLIGHT. YOU KNOW, LIKE BOB ALMAN, FOR EXAMPLE, WITH MY LOW HANDICAP I CAN GET INTO A LOT OF GREAT TOURNAMENTS, AND I'LL WIN A FEW GAMES, BUT I'M NOT GOING TO WIN THE TOP TROPHY. I HAVE TO HAVE SOME OTHER MOTIVATION FOR PLAYING AND COMPETING. COULD THAT BE ANY FUN FOR YOU?

Well, for example, I didn't come here really expecting to win, the odds of my winning in this field, at this time, were very small, there's too much rust involved, it takes me several days just to….

YES, BUT THAT'S TRAINING AND PRACTICE, YOU STILL ARE MOTIVATED BY WINNING THE TOP PRIZE….

Tell me, how am I possibly in a situation where I KNOW I can't win? That I can't understand. Are you telling me that I've lost a leg? Why is it that I can't improve my game to be the best there's ever been?

BECAUSE YOU CAN'T PUT THE TIME IN.

But that's a separate issue.

OKAY, NOT TO LABOR THE ISSUE, BUT YOU'RE NOT A SOCIAL PLAYER, YOU'LL NEVER BE A SOCIAL PLAYER, YOU CAN'T EVENT GET YOUR HEAD AROUND THE IDEA OF PLAYING WITHOUT THE INTENTION OF WINNING EVERYTHING AS YOUR ORIENTATION TO THE SPORT…

Okay, Bob, okay, I can see the kids being in college and Anne and I taking a trip together and playing croquet even though I'm not trying out for team selection. But when I'm playing in a tournament, of course I'm going to be trying to win it, and I'd be as good as I can be, and if I didn't win, I'd try to win the next tournament.

OKAY, WELL, MAYBE WE'VE DONE THIS TO DEATH. USING MYSELF AS AN EXAMPLE, I SOMETIMES PLAY IN A CHAMPIONSHIP FLIGHT, AND WHEN I DO THAT, I'M GOING TO PLAY "SERIOUSLY", BUT I'M NOT GOING IN THERE WITH THE EXPECTATION OF WINNING IT…

I wouldn't argue with that assessment. (both laughing)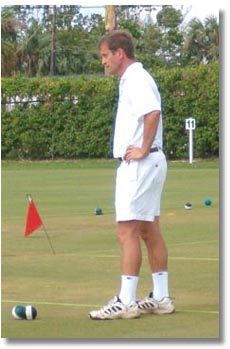 For John Taves, computing the precise angle of a roll shot from the boundary requires intense concentration.

NEXT SUBJECT: IT'S PRETTY CLEAR YOU WANT TO BE SELECTED FOR AUSTRALIA'S MACROB, FOR ALL SORTS OF VERY GOOD REASONS, AND YOU INTEND TO DO WHAT YOU NEED TO DO TO GET SELECTED. I'M NOT GOING TO ASK YOU WHO SHOULD BE ON THE TEAM AND WHO SHOULDN'T…BUT THE SELECTION PROCESS ITSELF HAS CHANGED OVER TIME, SO I THINK I'LL ASK YOUR VIEWPOINT ON HOW THE TEAM SHOULD BE SELECTED. TEAM SPIRIT, DEPORTMENT, DIPLOMATIC FACTORS I GUESS ENTER IN MORE THAN THEY EVER HAVE BEFORE…

Oh, that's pathetic. One person's opinion on who 'should' be on the team is just pathetic. The teams should be selected only on the most objective standards available: the demonstrated ability to win games. All the other pychologist BS is irrelevant. How so-and-so gets along with whoever. Or so-and-so representing the US "the right way" is…whatever. If you want to have a beauty contest, if you want to have a personality contest, go have it. What's that got to do with the sport?

SO "TEAM SPIRIT" FOR EXAMPLE IS REALLY NOT AN ELEMENT IN…

Not in croquet. Croquet is not a team sport. Obviously.

WELL, DOUBLES…

Sure, you can have oil and vinegar, and so you don't put those two together, but even if they're together, they're not going to suck. I mean, I swear to you, I can play a game and not talk to my partner at all. You name the partner, and we'll be just fine. It's just a myth that…

COME ON, JOHN. I DON"T HAVE TO TELL YOU ABOUT THE BEHAVIOR ISSUES THAT HAVE…..YOU KNOW, DRUNKEN OUTBURSTS OF TEMPER OR LUST, "PLEASE DON'T PISS IN THE QUEEN'S ROSES," WHATEVER. THOSE THINGS HAVE TO BE TAKEN INTO CONSIDERATION…

Whatever is done to reduce the level of performance is bad, sure, but if you're going to tell me that someone's personality…

IT DOESN'T MATTER THAT A PLAYER MAY BE…WELL, 'UNPOPULAR' IN ANOTHER COUNTRY, REFLECTING POORLY ON THE U.S. …???

So what? Can he play?

YOU'RE TALKING MORE LIKE A HOCKEY FAN NOW THAN A CROQUET PLAYER…

They're both about knocking the balls around out there to get them in the right place. If you can handle that ball right, you're on the team!

YOU DON'T THINK IT'S VALID TO JUDGE A POTENTIAL MEMBER'S DEPORTMENT AND ATTITUDE?

The problem is that it's too easy to start "deciding" on the basis of one person's personality, and when you do that, you're not SELECTING, you're doing something else. How do we know that your judgment of personality, this intangible quality, is sound?

WELL, WE DON'T, JOHN. THAT'S WHY WE HAVE COMMITTEES…

(chuckling) Oh, yeah, we need to have FIVE people debating personality, that's perfect…

BUT THE TRUTH IS, JOHN, THAT THE OTHER COUNTRIES, THE OTHER CROQUET NATIONS WHO HAVE BEEN DOING THIS A LONG TIME AND DO IT PRETTY WELL HAVE STANDARDS THAT INCLUDE TEAMSMANSHIP AND DEPORTMENT AND WHAT YOU MIGHT CALL 'PERSONALITY.' ARE YOU SAYING THEY'RE ALL WET?

Not necessarily. There was a time when the talent pool was very shallow in the US, and you needed to choose the best players, regardless of personality issues, because there were no good replacement choices. If we had 10 top players of reasonably close abilities, then sure, I wouldn't select a person that wasn't agreeable from a personality perspective. And the US might be getting there. In Australia ten years ago, we had one or two players that would threaten to win a 6-7 turn game. In Great Britain we had three, in New Zealand we had four, and in the MacRob in West Palm Beach last year we had five or six. So, if the talent pool in the US has more than six players that are all capable of sustaining an average of less than one mistake per game in the MacRob, then sure, we can start to talk about personalities.

THAT'S PRETTY CLEAR, JOHN, THANKS. NOW I'M GOING TO TRY TO FIND JERRY STARK.
Chatting with Jerry Stark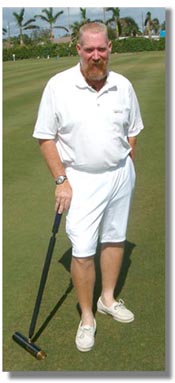 Stark is a veteran of more international test matches than any other American player, and getting leaner, he says, has given him better staying power.

BOB ALMAN: JERRY, I JUST TALKED TO JOHN TAVES ABOUT HOW HE FITS CROQUET INTO HIS LIFE, AND OBVIOUSLY HIS STORY IS A LOT DIFFERENT FROM YOURS. HE HAS TO FIT CROQUET INTO HIS FAMILY AND BUSINESS OBLIGATIONS, HE LOVES TO PLAY, HE HAS A COMPETITIVE DRIVE, I GOT HIM TO ADMIT THAT THERE'S A LITTLE BIT OF THE SOCIAL SIDE TO IT, THE SHEER FUN OF IT, AND IT SEEMS TO ME THAT YOU STARTED OUT WITH THE FUN OF CROQUET AND YOU NEVER MODIFIED THAT, AND YOU HAVE THE KIND OF PERFECT LIFE THAT MANY PRETTY GOOD PLAYERS ASPIRE TO – YOU KNOW, WHERE THEY DON'T HAVE TO WORRY ABOUT MAKING A LIVING DOING SOMETHING THAT DOESN'T TURN THEM ON, AND THEY CAN PLAY AS MUCH CROQUET AS THEY LIKE. BUT REALLY NOW, THAT SEEMS LIKE A LOT OF CROQUET. SO HOW CAN YOU HAVE ANY KIND OF A BALANCED LIFE, PLAYING CROQUET ALL THE TIME?

JERRY STARK: Well, the croquet I have as a job isn't the croquet I do as a recreation. Entertaining and teaching people how to play golf croquet doesn't burn me out from playing Association Croquet. If I had to teach beginners or intermediate or even top level players Association Croquet every day of the week, yeah, I'd probably get burned out on croquet. But what I do at Meadowood with golf croquet is totally different.

I THINK I HAVE SOME INSIGHT INTO THAT, BECAUSE I'VE DONE HUNDREDS OF CORPORATE GROUPS MYSELF, AND IT IS DIFFERENT, BUT YOU PROBABLY DO MORE GROUPS IN A SEASON THAT I'VE DONE IN MY ENTIRE 20-YEAR CROQUET CAREER, AND IT'S THE SAME THING EVERY TIME, SO YOU MUST GET TIRED OF IT SOMETIMES.

How many jobs aren't the same thing over and over?

WELL, MINE, I CHANGE JOBS EVERY TWO YEARS…
(both laughing)

But that job for the two years is pretty much the same…A bartender mixes the same drinks, a….

WELL, WE'RE PROBABLY GETTING OFF TRACK, BUT JUST IN THE INTERESTS OF ACCURACY, I HAVE TO SAY THAT MY INTEREST HAS ALWAYS BEEN IN DEVELOPMENT, ON STARTING SOMETHING NEW AND FINDING OUT HOW TO MAKE IT WORK, THEN DOING SOMETHING ELSE…

You wouldn't have liked the job I had on the assembly line at the General Motors plant, then. The same thing every day over and over and over and over…

WHERE?

In Kansas City.

AND YOU PLAYED CROQUET ON THE WEEKENDS. AND YOU HAD A WIFE BY THEN?

Actually, when I started playing croquet in Kansas City, I was already divorced and single again at the time.

SO YOU WERE VERY YOUNG…

Twenty-four….

AND YOU WORKED AT THE FACTORY ALL WEEK AND THEN ON THE WEEKEND YOU GOT A SIX-PACK AND PLAYED CROQUET WITH YOUR BUDDIES?

Yep, every weekend.

BUT NOT BOTH DAYS…

Both days.

BOTH DAYS? SO YOU WERE JUST ABOUT THE WORST HARD-CORE CASE OF GUYS WITH BEER PLAYING CROQUET IN THE PARK FOR GOD'S SAKE THAT I EVER HEARD OF…

Well, we never went to a park, we played in backyards and apartment complexes mostly.

AND YOU PLAYED SOMETHING PRETTY MUCH LIKE THE USCA-RECOMMENDED BACKYARD RULES, WITH NINE WICKETS, AND CARRY-OVER DEADNESS…

Yeah, we carried a clipboard around to mark the deadness down.

SO HOW DID YOU HEAR ABOUT USCA CRQOUET?

I was in a tournament in Kansas City, a little regional backyard tournament, and somebody had gotten hold of a USCA Gazette. And we'd spent three years playing with little rubber-tipped mallets and sawdust balls and we thought we were hot stuff, and here there's pictures of real courts and real equipment in Palm Beach and New York…

THE STANDARD "DISCOVERY" EXPERIENCE. WERE YOU A WINNER IN THE BACKYARD CIRCUIT?

Yeah, some.

BUT YOU WERE NOT THE CROWNED, INVINCIBLE HERO OF KANSAS CITY BACKYARD CROQUET?

No. And there was a story about real croquet in Phoenix, where Gerry Bassford made these $400 mallets, and…..I had two friends from high school – Jim Bast and Paul Kemmerly - who lived in Phoenix, and they'd fly to Kansas City to play croquet with us once in a while. So I called them, and they got in touch with Gerry, who put them in touch with Stan Patmor, and three months later when General Motors laid me off, I drove to Phoenix and played croquet and that's when I said, "I'm moving!"

MOVING TO WHERE THE ACTION IS… DID YOU GET A FACTORY JOB IN PHOENIX?

Nope. I got a job as a sales rep with a paint company for a while…

SOUNDS BETTER THAN A FACTORY…

JERRY: If you're not a salesman, it's not…
(both laughing)

OKAY, I HEAR YOU. SO I THINK I CAN FILL IN THE GAP HERE QUICKLY, YOU GOT GOOD, THEN YOU GOT VERY GOOD, YOU TRAVELED AROUND A BIT TO TOURNAMENTS, GOT A NATIONAL REPUTATION AS A TOP PLAYER, THE MEADOWOOD OPENING CAME UP…

Yeah, Damon [Bidencope] thought I would fit in working with golf croquet groups…

AND YOU DID FIT IN.

Yes, I had never done corporate groups before, and right away, I knew that's what I wanted to do.

SO, YOU MAKE IT AS A PRO AND AS A PLAYER, IS THAT ALL THERE IS? ANY LOOKING BACK AT REGRETS, ANYTHING IN THE FUTURE BESIDES MORE OF THE SAME?

Well, my only regret is that I haven't won the Lotto yet, so I can retire…

MY LORD, YOU REALLY ARE THE COMPLETE WORKING MAN! SO YOU DREAM OF RETIRING SO YOU COULD PLAY MORE?

Yeah, I'd like to play in more than just four or five tournaments a year.

YOU PLAY GOLF TOO, DON'T YOU?

Not serious golf. I'd play fun golf, serious croquet. It would be great fun to go spend the summer in England and play croquet, and then the winter – their summer – in New Zealand, and just play croquet.

LOTS OF PEOPLE DO THAT, BUT I'VE GOT TO TELL YOU, NOT MANY OF THEM WORKED ON AN ASSEMBLY LINE IN A FACTORY…

That's why I've got to win the Lotto…

OH NO, YOU WEREN'T KIDDING. YOU REALLY DO PLAY THE LOTTO AND DREAM OF STRIKING IT RICH!
(both laughing)
SO EXCEPT FOR THE CROQUET THING, YOU ARE TOTAL, ONE HUNDRED PERCENT AMERICAN WORKING CLASS…!

But I don't spend money on beer any more, so I can spend it on…

YOU DON'T DRINK ANY MORE?

Oh no, as soon as I found real croquet, I quit drinking while I was playing…

SO THERE GOES THE IMAGE, IT DIDN'T WORK ANYWAY: A WORKING CLASS GUY PLAYING 'COUNTRY CLUB' CROQUET. OF COURSE IT'S FUN TO JOKE ABOUT YOUR WORKING CLASS IMAGE, BUT I ALWAYS THOUGHT THAT IMAGE WAS GREAT FOR THE SPORT, IN THE SAME WAY THAT ARCHIE BURCHFIELD'S 'HICK FROM THE STICKS' STORY PLAYED SO WELL IN THE MEDIA IN THE 80'S. AND THE TRUTH IS, YOU REALLY DID LOOK LIKE HULK HOGAN WHEN YOU WERE PUTTING AWAY A HALF A SIDE OF BEEF A DAY AND FIVE POUNDS OF POTATOES. YOU STILL DO LOOK LIKE HOGAN, BUT WITH YOUR NEW HEALTH REGIMEN YOU'RE LIGHTER AND LEANER, AND I DON'T THINK YOU COULD SURVIVE IN THE RING WITH HULK HOGAN…
(both laughing)
YOU DO LOOK A LOT HEALTHIER, DID THE DOCTOR ORDER YOU TO CUT OUT STARCH AND THE FAT, OR WHAT?

I decided myself, when I had trouble getting to my shoelaces.

WELL, YOU LOOK GREAT, YOU PROBABLY FEEL BETTER, HAS IT HELPED YOUR GAME?

Yep, it helped the stamina. The heat out here this last week, four games a day for three days with no time limit, then two games on the final day… One of the things I looked for, out there, after two or three days, I looked at all of those 24 guys to see how they were holding up. What's fun about croquet is the mental aspect of the game. And I'm not a genius by any stretch of the imagination, but I'm smart enough to play this game and coordinated enough to play it, but….It's not physically demanding, but it's enough mentally demanding to physically drain you.

YEAH, WE ALL HAVE THE EXPERIENCE OF GOING BRAIN DEAD AT THE END OF A LONG PLAYING DAY.

Yes, being dead tired, and you haven't even done anything but walk around! But that mental work will physically drain a person. And I saw a few guys out there in the Selection Eights that by the end of the day, they were dragging their asses. You've got to be able to do that, to play through that wall – as the runners say – if you're going to play the Brits, the Kiwis, and the Aussies. You've got to keep your mental focus up for a best-of-three or two bests-of-three a day for 15 to 18 days in a row, you can't break down, you can't get tired. If you get tired, you lose.

I KNOW YOU'RE TELLING ME THIS AS SOMEONE WHO HAS OFTEN BEEN THE CAPTAIN OF THE U.S. INTERNATIONAL TEAM. IS THAT THE DIFFERENCE BETWEEN A YOUNG PLAYER AND AN OLD PLAYER? JOHN TAVES SAID, "MY FATHER IS ALMOST 80, HE'S IN GREAT SHAPE, I DON'T SEE ANY REASON WHY I CAN'T WHEN I'M 80 GO INTO A TOURNAMENT PLANNING TO WIN IT." WOULD YOU GO ALONG WITH THAT?

Yeah, look at Bob Jackson in New Zealand, in his mid-seventies, going strong in top-level competition. And you have to be in good mental condition too, not just good physical condition. You've got to be able to stand that pressure, over a long period of time.

NOW, COMPARING YOU TO JOHN TAVES, YOU GET TO PLAY MORE THAN HE DOES, BUT YOU MIGHT HAVE A BIT OF A PROBLEM GETTING REGULAR PEER-LEVEL PLAY…

I have Charlie [Smith] and Erv [Peterson].

THEY HAVEN'T BEEN ON TEAMS LATELY, BUT THEY'RE STILL PRETTY GOOD, HUH?

Oh, yeah, I can't make any errors with them, or they'll pull out a triple, too. And Martyn Selman from San Francisco is getting up there, too, and Jim Audas is good.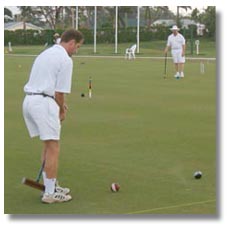 John Taves (left) and Jerry Stark playing in separate games at the first American "Selection Eights" at the National Croquet Center, bringing together the 24 top players on the continent.

YOU BETTER WATCH OUT FOR THAT JIM AUDAS. IF YOU SLIP UP, HE'S GONNA BE THERE AT MEADOWOOD IN A FLASH APPLYING FOR YOUR JOB. I DON'T THINK HE EVER WORKED IN A FACTORY LIKE YOU, BUT CROQUET IS HIS DREAM CAREER, THAT'S HIS HIGHEST ASPIRATION. NOW THAT YOU'VE GOTTEN ALL HEALTHY, THAT COULD BE HUGE SETBACK FOR JIM…
(both laughing)
TELL ME ABOUT YOUR ASPIRATIONS AS A PLAYER – WHETHER OR NOT YOU WON THE LOTTO. I MEAN, SHOULD WE EXPECT ANY DAY NOW TO START SEEING YOU DOING SEXTUPLES?

I'm trying. I didn't try any sextuples here in the Eights because it's the first time the event has been held for us.

THERE WEREN'T ANY, WERE THERE?

One came close, but no. But I got seven triples done out of my nine wins, which was the most of anybody for triples. Learning the sextuple will help the triple be more consistent. I won't break down on those as much, and I can see different patterns on how to make things work, and I'm not as afraid of trying to put something together later in the games, as I used to be. So yes, I'll keep trying sextuples….

IS THAT THE EDGE? I MEAN I CAN SEE THAT GOING FOR THE SEXTUPLE IMPROVES YOUR ABILITY TO DO TRIPLES, BUT MAYBE PLAYING FOR THE SEXTUPLE ISN'T REALLY WORTH IT, FOR ITSELF? SO PART OF THAT QUESTION IS, WHERE IS YOUR EDGE? IS IT GOING TO BE ACTUALLY PERFORMING SEXTUPLES IN TOURNAMENTS? WHERE ARE YOU LOOKING TO IMPROVE THE MOST, TO MAKE A BREAKTHROUGH WITH MEASURABLE CONSEQUENCES?

Measurable improvement would be focus. Keith Aiton of England has prepared some materials on that, I don't understand everything about it, but what he has done has definitely helped. At the MacRob here last year, I had a ten and five record, I went five and one in singles, I only lost to Fulford.

BUT THE 'FOCUS' THING APPLIES TO YOUR WHOLE GAME. I THOUGHT YOU MIGHT SAY SOMETHING LIKE, WELL, A REG BAMFORD WOULD GO OUT AND PRACTICE EVERY DAY WITH HIS SWING TRAINER TO IMPROVE HIS HIT-INS, THE HIT-IN PERCENTAGE ON AN EIGHT-FOOTER, FOR EXAMPLE. THAT KIND OF IMPROVEMENT IS ACTUALLY MEASUREABLE…

Yes, that's the next thing, I can definitely improve that, but…

BUT HOW TO DO THAT? DOES ANYBODY BUT REG KNOW HOW TO DO THAT…???

What's hard for us, in our big, huge, giant sport of croquet is that we have no coaches. Tiger Woods, V.J. Singh, the best golfers in the world, they have coaches. The best tennis players in the world have coaches, they have people who watch what they do, analyze it, and give them feedback to help them fix it.

WELL, THERE'S KIND OF BEEN A COACHING MOVEMENT IN AUSTRALIA.

Yes, and it's probably helped some of their players a lot. In America, we're too big and spread out, we haven't studied, we don't know how to do coaching.

THIS BRINGS UP THE QUESTION OF TEAMSMANSHIP AND SELECTION, AND IS THERE ANY SUCH THING AS A CROQUET TEAM AS A MEANINGFUL, MEASURABLE THING? AND I'M ASKING YOU THAT BECAUSE YOU'VE BEEN A TEAM CAPTAIN A BUNCH OF TIMES, ALWAYS A PLAYING CAPTAIN. IS THAT A WORKABLE IDEA?

I don't see anything wrong with having a playing captain, but I do think teams need to do more what the Aussies have done. In all four Macs we've been in, they had a coach and a manager, and in the 2003 Mac the English had a manager, and they were kind of skeptical about it, but from what I heard afterwards, they were very happy with what Phil Cordingley, their manager, did for them, he took pressure off the captain…

SO MAYBE THE MANAGER – THE PERSON WHO JUST DOES ALL THE ANNOYING DETAILS – MAYBE THE MANAGER IS AS IMPORTANT AS THE COACH.

Could be, so the players don't have to worry about anything but their game. The trouble with Americans is that some of the top players, they know what they want to do and how they're going to do it, and they think they don't need a coach.

THEY'RE AMERICAN INDIVIDUALISTS. AND PART OF THAT MAYBE HAS SOMETHING TO DO WITH THEIR ATTRACTION TO CRQOUET, BECAUSE, YOU KNOW, IT ISN'T LIKE SOCCER OR FOOTBALL, OR…

But golf, like I said, Tiger Woods had one of the best coaches for along time, and now he doesn't have a coach, and he's not Number One anymore. He thought he could do it on his own. And we have some players who think they can do it on their own…

THAT'S THE COACHING ARGUMENT. BUT WHAT ABOUT THE TEAM THING AND HOW THAT RELATES TO SELECTION? I REALLY NEED TO ASK YOU THAT, BECAUSE JOHN TALKED ABOUT IT…

Yeah, I think if you just pick the six players with the best record, if they don't get along with one another, if there are one or two people in there who don't get along with anyone else, I don't think it helps the team.

YOU'RE SAYING IT DAMAGES THE TEAM'S ABILITY TO PRODUCE RESULTS?

It affects morale, because you have to be around each other so much.

I'VE NOTICED AT SOME OF THE INTERNATIONAL MATCHES I'VE SEEN THAT THE BRITS, ESPECIALLY…

The Brits are like a wolf pack…

…AND THEY'RE THERE AT THE COURT AS THE SUN GOES DOWN, CHEERING ON A TEAM MEMBER, BUT THE AMERICAS ARE AT THE BAR, OR DOING SOMETHING ELSE AFTER THEIR MATCH IS OVER…

The Brits are probably as hard on each other as anybody could be, but they're always there for each other…like a wolf pack.

DOES THE AMERICAN TEAM HAVE TO LEARN TO BE A WOLF PACK? ALL FOR ONE AND ONE FOR ALL, ALL THE TIME?

I think it would help. I don't think everybody has to be close friends. Look at the Los Angeles Lakers, this last year. They thought they were going to win the world championship with Kobe Bryant and Shaq O'Neal, but the top players didn't get along with each other, and that didn't help the team.

YEAH, BUT THEY WERE ON THE SAME COURT, AND IN CROQUET…

Yeah, but you've got to have some sort of cohesion between the players, they've got to respect each other's game and put in the time and effort to really be a team. Even though croquet is more or less an individual sport, you've got doubles to play, and you've got teammates who might have a bad day in a team situation, and you ought to be there to kind of pat 'em on the back and try to help them get their confidence back or whatever was lacking in their performance that day.

AND BESIDES, IT'S MORE FUN TO BE WITH PEOPLE WHO ARE HIGH-SPIRITED AND GOOD-NATURED AND FRIENDLY… AND SPEAKING OF FUN, WHY ISN'T CROQUET SO MUCH FUN THAT WE HAVE MILLIONS OF PEOPLE PLAYING, LIKE GOLF? YOU KNOW, YOU DON'T HAVE TO HAVE AN INTEREST IN BUILDING THE SPORT, THAT'S A HIGHLY SPECIALIZED TASTE, I KNOW; ORGANIZING CROQUET AND PROMOTING CROQUET IS A KIND OF GAME IN ITSELF, HIGH-RISK, WITH LOW PROBABILITY OF SUCCESS, A NUT THAT OBVIOUSLY NOBODY KNOWS HOW TO CRACK. I MEAN, FOR TWENTY YEARS I'VE GONE DOWN EVERY PROMOTIONAL ROAD THERE IS, I'M HOT ON MALLETBALL NOW, THE BIG-BALL GAME, AND I'M DOING SCHOOL GROUPS AND PRIVATE PARTIES AND PUBLIC FESTIVALS, AND GENERATING A LOT OF PUBLICITY AND BEGINNING TO SELL A FAIR AMOUNT OF EQUIPMENT, SO I THINK THAT MIGHT OPEN DOORS, BUT CLEARLY IT'S NOT IN THE BAG, ESPECIALLY WHEN YOU CONSIDER THAT NOTHING HAS WORKED IN THE PAST, DESPITE THE HARD WORK AND HIGH INTENTIONS OF A LOT OF PEOPLE. YOU KNOW, TEN YEARS AGO WE THOUGHT GOLF CROQUET WAS GOING TO BE IT, AN OPEN SESAME, AND IT HAS HAD AN EFFECT, BUT NOT A SPECTACULAR ONE, SO FAR. SO I GUESS MY QUESTION IS WHETHER YOU SEE ANYTHING – ANYTHING….

To open up croquet? I doubt it.

WHAT IF WE HAD 3,000 PLAYERS WHO LOOKED MORE LIKE HULK HOGAN AND LESS LIKE….UH…..

Pee-Wee Hermann?

YES! PERFECT!.

No, they need to look more like Shania Twain…

WHO?

Shania Twain, the country western singer. .

I DON'T…

She's cute!

OH, YES, SEX APPEAL, YOUTH, I GET IT. WELL, I WON'T ARGUE WITH THAT ANSWER, BUT IT BEGS THE QUESTION, BECAUSE WITH THE PRESENT IMAGE OF THE SPORT, PEOPLE LIKE THAT AREN'T LIKELY TO BECOME CROQUET PLAYERS IN THE FIRST PLACE, SO….

The truth is, it doesn't need to be a giant sport to be a good sport.

IF CROQUET WERE A BIGGER SPORT, YOU WOULDN'T HAVE TO WIN THE LOTTO, JERRY. YOU'RE A GREAT PLAYER, YOU'RE A WINNER. WHAT ARE YOUR LIFETIME WINNINGS IN CROQUET? MAYBE $20,000?

Probably less.

SO CLEARLY, YOU HAVE NO HOPE OF EVER WINNING HUGE PURSES IN THIS SPORT, YOU'RE PLAYING FOR THE FUN AND FOR THE GLORY ON THE BIGGEST STAGE OUR SPORT HAS. THAT MUST MEAN THAT YOU WANT TO GO WITH THE TEAM TO AUSTRALIA, RIGHT?

Oh yes. And I've got to be good enough to be selected, it's never in the bag, you've got to work hard…

OKAY, SO I THINK I'VE GOT ALL THE ESSENTIALS OF YOUR STORY NOW: YOU DON'T HAVE TO WORK IN THE FACTORY ANY MORE, YOU GET TO LIVE A VERY CROQUET LIFE, AND THE NEXT BIG PRIZE FOR YOU IS BEING SELECTED FOR THE MACROB IN AUSTRALIA IN '06. DOES THAT ABOUT SUM IT UP?

Yep.
---