John Taylor's croquet legacy

by Garth Eliassen
The National Croquet Calendar
Posted JuLY 26, 2005
---

Champions, presidents, and major donors are usually the people - and rightly so - who are memorialized in croquet publications when they die. John Taylor was none of those. He was a man of modest means; his contributions to croquet were his energy, hard work and real achievement. He did not win tournaments, but he learned to direct them efficiently and well, and he developed tools to enable others to be just as effective. He never sought or attained high office in the organized structure of USCA croquet, but he volunteered ably and often at both the local club and national levels. Enduring reminders of his croquet legacy are the worldwide email "Taylor list" now on the World Croquet Federation website and his highly regarded and widely used Excel workbooks for managing tournaments. As do many in their retirement years, he made croquet a central part of his life; unlike most of them, he gave back more than he got, by asking and answering the question, "What is needed that nobody else is providing?" Croquet World thanks Garth Eliassen and the National Croquet Calendar for permission to co-publish this tribute.

---
John Taylor died July 13 at the age of 64. Taylor, an icon of the San Francisco Croquet Club and California croquet, died peacefully, while sleeping, at his home in San Mateo after a short struggle with lung cancer which had spread throughout his body. Diagnosed only three and a half months ago after complaining of weakness on his left side, Taylor went into immediate treatment at Mills-Peninsula Health Services hospital, but treatment was ineffective. His wife Rosemarie was at his side when he stopped breathing.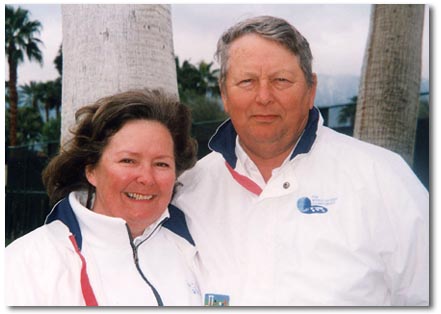 John and Rosemarie Taylor.
Pioneering in San Francisco
John entered the world of croquet in the summer of 1984 after an afternoon of introduction to the game by Tom McDonnell, a cofounder of the San Francisco Croquet Club who was also responsible for the formation other clubs throughout the Western Region.
Taylor enjoyed the experience, wrote a thank you note to McDonnell, contacted the USCA, joined the San Francisco Croquet Club, then quickly became immersed in the club's activities. He served as tournament director, with Bob Alman, for most of the sixteen San Francisco Opens, then the club's major annual event. He was a key member of the team that included Alman, Wayne Rodoni, Elaine Fong, and Karen Collingwood in making the Open one of the most highly regarded annual opens in American croquet.
John was born October 15, 1940, in Chicago. He graduated from Georgia Tech in electrical engineering and worked at Johnson Controls where he specialized as an expert in temperature controls and fire safety systems, traveling frequently throughout the Western Region, which covered Alaska to Hawaii and areas in between. He retired from Johnson Controls in 1994.
Retiring on wheels in the RV
Retirement allowed him and Rosemarie to devote themselves full-time to croquet, and they became regulars at tournaments up and down the West Coast. A 24-foot Fleetwood Searcher RV was added to their croquet paraphernalia, and their travels expanded. When the Taylors were running a tournament, they would stay in the trailer, which also served as tournament headquarters where John kept their laptop computer and continually recorded and calculated the schedule and game results.
Taylor's tournament directing began in earnest when he developed a series of workbooks for Excel spreadsheets that automatically handled scheduling and scoring and printed out ladders and block results, daily reports, and up-to-date standings. Later he would add handicap calculations and reports that could automatically determine tracking points and print them in the proper format for sending to the USCA. John in effect contributed the modules to the croquet world by offering them at a minimal suggested charge of $10 per module, and asking that the payments be sent to the Croquet Foundation of America. There are now 39 of the Taylor workbooks available, ranging from draw and process formats to alternating doubles and USCA Grand Prix points reports.
Computer workbooks to modernize tournament direction
When the reputation of John's first Excel modules began to spread, he received a challenge from Neil Houghton of the Merion Cricket Club: Did he think his computer programs were good enough to run the biggest tournament in the country? Taylor said he wasn't sure, but he'd give it a try. For their sixth annual tournament - held in September 1997 - the Merion Cricket Club had over twenty courts available and wanted 120 players in four flights in a full tournament of round-robin singles with eight to ten players in each block as well as alternating doubles spread over only three days.
In all, 380 singles games and 203 doubles games were packed into the event that year, and John's program worked flawlessly. Not only did it manage the scheduling of all the games in seven rounds per day and process the scores of over forty games every hour, but the final overall results were able to be calculated immediately after the last games and the awards handed out shortly thereafter.
John and Rosemarie weren't able to return the following year, but Fred Jones took over directing the Merion Invitational and has continued to use the Taylor Excel modules for that and all his other tournaments. Jones was one of the first tournament directors to take the modules seriously, and after ordering one of Taylor's first versions he had to then buy a $2,500 computer to use it. He has never regretted it.
Jones began to communicate back and forth with John by telephone and e-mail, asking questions and reporting problems, and in effect became John's beta tester for program corrections and modifications. Their many contacts resulted in a long-lasting friendship.
Over the last decade, Taylor became one of the country's leading authorities on American rules and also studied Association croquet. He was an active and valuable member of the USCA's rules committee, and restored a digital version of the last edition of the rule book so it could be placed online at the USCA Web site. With Taylor's recent help and contributions on the rules committee, the USCA will soon be publishing a new edition of the American rule book.
Taylor's involvement in the world of croquet was not without difficulty or controversy. He was an intermittent drinker when he started playing, but his drinking soon become a larger problem and culminated in his tumbling down the stone steps at a Sonoma-Cutrer barbecue and breaking his nose.
"Reaching bottom"
They say that remorse is one of the symptoms of alcoholism and that "reaching bottom" is the key to recovery. John soon reached that point, and his life would turn again. After separation from his first wife, John quit drinking, entered a treatment program, joined A.A., and met Rosemarie. They were married on John's birthday in October 1989, and spent their honeymoon at the National Championships at PGA National in Florida.
As many croquet players will acknowledge, the croquet lifestyle is not always consistent with abstinence. In his first few years after recovery, John and Rosemarie would arrive at tournaments with a large stash of non-alcohol beer in the trunk of his car, which he would rely on as an alternative to the free-flow of beer, wine and liquor available at most tournaments.
Creating a career in tournament direction
John's sobriety continued unabated for seventeen years - spanning the rest of his life - as his reputation as a highly regarded tournament director grew and his contributions to croquet became widely recognized.
He returned to the Sonoma-Cutrer World Championship in 1995, and he and Rosemarie served as schedulers and assistant tournament directors, helping Michael Orgill run the tournaments. Taylor's spreadsheets and daily printouts allowed the international players to see their standings at the end of each day's play and get their schedule for the next day before leaving the courts.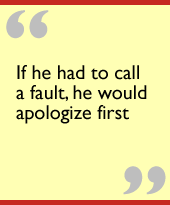 In 1997 the Taylors also began to direct the Mission Hills Invitationals in the Coachella Valley of Southern California. Jane McDonnell of Santa Rosa, California, is a regular at the Mission Hills tournaments: "He was a superb tournament director and was very good in working with the players. If he had to call a fault, he would apologize first, and then quietly explain why he had to do it, so that everyone would understand."
Dick Tucker of Indian Wells agrees, and recalled that Taylor would always try to get the players to reach a consensus before he made a rules decision, then he would tell them that that he was never really needed. Tucker also said that Taylor came up with a new solution to being one player short in doubles flights: player du jour, in which a partnerless player would have a different stand-in each day.
In addition to his contributions to the rules and to tournament management through his widely distributed Excel programs, Taylor early on saw another need that had to be filled. He compiled and maintained a comprehensive international database of croquet players' e-mail addresses - a service that was not being done which became great convenience for those who communicate by e-mail.
Shortly before he died, John asked if someone else could take over the maintenance of the "Taylor List," and that responsibility has been assumed by the World Croquet Federation. The Taylor List is accessible at www.wcfcroquet.org/List/johntaylorlist.htm.
Taylor is survived by his wife Rosemarie, brother Avery Tayor and sister Marti Labrie, daughter Heather Kerr of Livermore and stepdaughter Sandra McCartney of Manchester, Connecticut. He also had four grandchildren: Madison and Patrick Kerr and Jon and Benjamin McCartney.
A service for family members was held Sunday, July 17. The San Francisco Croquet Club is planning a courtside remembrance Sunday, August 14, starting at 11 a.m., followed by lunch and refreshments, then an afternoon of croquet play.
Contributions in the memory of John Taylor can be sent to the Croquet Foundation of America, 700 Florida Mango Road, West Palm Beach FL 33406.
---