Sport after Retirement - Croquet and Hockey


by Tony Hall
photos supplied by Tony Hall


---

In my autobiography I glossed over the years after retirement when I travelled the world playing croquet and hockey with the Ancient Britons. This account is intended to fill in the detail for those years. (A brief account of my life before 1989 is published at the end of this narrative.) In this account I will omit details of most family matters. As this account is written in my 89th year, it is inevitable that there are some designations of persons, places, and events which are not factually accurate. Please let us know of any such errors, so we can make this document more "official" as an actual and correct record of my time in office. Send them to BobAlman@aol.com, who has kindly edited this "first draft" record of that period.

Tony Hall.

---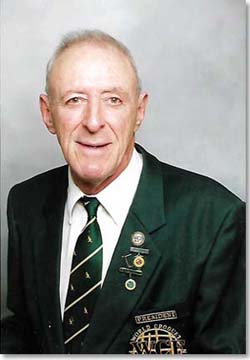 YEAR / CHAPTER CONTENT

1989 Starting Croquet, Meeting Ancient Britons Veterans Hockey Club
1990 Gallipoli and Joining Ancient Britons
1991 With Ancient Britons to Canada
1992 In Australia
1993 The MacRobertson Shield
1994 With Ancient Britons in New Zealand and Sonoma
1995 Sonoma
1996 Sonoma and the MacRobertson Shield
1997 Australian Croquet Championships and with Ancient Britons to South Africa
1998 Becoming World Croquet Association President


END OF PART ONE
STILL TO COME, IN PART TWO

1999 Ancient Britons in Australia, Croquet in Europe
2000 New Zealand for the MacRobertson Shield, Sonoma, Europe and Cairo
2001 Sonoma, WCF Worlds and with Ancient Britons in South America
2002 Sonoma, Russia, WCF Worlds in New Zealand
2003 Croqcan, Jamaica, Bermuda, Germany and MacRob
2004 Worlds Golf Croquet in England, Linville
2005 Worlds in England, Winning NSW and Queensland Singles
2006 With Ancient Britons in Canada
2007 Mostly in Australia
2008 Around the World for Two World Championships
2009 WCF Worlds in West Palm Beach
2010 Ancient Britons in Australia
2011 WCF Golf Croquet Worlds and Knee Surgery
2012 Association Croquet Worlds in Adelaide and Women's Worlds in Melbourne
2013 WCF Association Croquet Worlds in England
2014 to 2020


1989 - STARTING CROQUET, MEETING ANCIENT BRITONS

I covered the way I started to play croquet in my autobiography. I wrote:

"I visited the Canberra Croquet Club, which was deserted. I later discovered that it was closed for six weeks to refurbish the courts. I searched libraries and found a copy of the Laws of Croquet, read them and did my best to memorise them. The club re-opened on 3rd September, 1989 and I was there.

"My first lesson was the same afternoon. Kevin Brereton, Peter Tavender and Blaise Northey were my instructors. I ordered a mallet from Kevin and practiced every day the next week. On the following Saturday I was allowed to enter a club handicap competition. I took the first ball around using two bisques and the second ball around with only one bisque. My opponent was disgusted. At lunch they reduced my handicap, which had been the maximum 16, to 7. After lunch I had my second lesson, which was supposed to teach me about two-ball strokes."

I was hooked immediately. Within a week I ordered two hand-made mallets from Kevin Brereton, one with my name in black and blue and the other with my name in red and yellow. He made a beautiful wooden case for them, unfortunately too fragile to send by plane.

I played intensely for the remainder of the year.

I competed in the Australian Veterans' Athletics in Perth in March. When home I played veterans' hockey every Monday evening and in the winter I played club hockey on Saturday afternoons, winning in C1 and losing in A4, the lowest of the top grade. (There are usually eight teams in each grade. Each club enters teams in some or all of the grades.) I went to Veterans' Athletics most Thursday evenings.

A British veterans' hockey team, the "Ancient Britons" toured Australia, arriving in Canberra on 24th February. I agreed to take some billets but forgot that I was due to fly to New Zealand for the Commonwealth Games and would be absent for most of their stay. As soon as they arrived I found out that none of the billets I was allocated had a driving licence, so I quickly arranged to change to a group with at least one licence. I gathered up a married couple, Alan and Joan Francis, and a single lady, Martha Beauchamp.

On 25th February the ACT Vets played the ABs. I played on the wing. We won 6 goals to 5. After the game we entertained the ABs with food and drink and they entertained us with some excellent singing. I arranged that Alan Francis would take my place in my B3 Grade match on the following Saturday afternoon, that he would drive my relatively flashy sports car and that they would continue to occupy my home while I was away and they were in Canberra. They were delighted.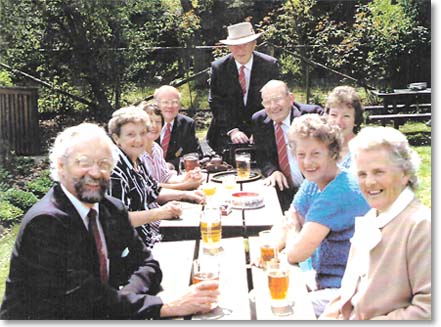 Tony Hall—standing at the end of the table--joined the Ancient Britons hockey club in 1990.
1990 - GALLIPOLI and JOINING THE ANCIENT BRITONS
When I was at home I continued to play Veterans' Hockey on Monday evenings, attend Veterans' Athletics on Thursday evenings, play croquet on Wednesdays and Saturdays and squash on one evening each week.
I went to New Zealand for the Commonwealth Games from 23rd January to 4th February, to Melbourne for the Australian Veterans' Athletics from 13th to 16th April and with the ACT [Australian Capital Territory] Veterans' Hockey team to Kuala Lumpur for a tournament from 18th to 23rd September.
I was also coached by the club secretary, Wendy Davidson. My first tournament away from Canberra was at EDSACC (The Entrance and District Sports and Croquet Club). On the first day it rained heavily, and when I played against Wendy she was not strong enough to hit a ball through the water the length of the court. I beat her, to her chagrin, but other players beat me, so I did not win the tournament.
I joined a group to visit Egypt in April, then to visit Gallipoli for Anzac Day (75 years on), and Greek and French battlefields, finishing in London for a few days, then playing hockey and croquet in England. In England I contacted Alan and Joan Francis, who invited me to stay with them in Woking. I did so, originally to play in a croquet competition in Woking, but Alan told me there was to be a veterans' hockey tournament in Bournemouth. While I was there a hockey organiser from the North of England (NoE) rang him and asked if he could arrange for a goalkeeper to fill in for the NoE team as the regular one would be delayed.
Quick as a flash Alan said he would, providing they gave his guest, me, a game. It was agreed. Now the NoE team was Over-40s and I was 57, so I was a little hesitant, however I played the first half of the game against a fairly hot opposition and scored a goal. The Ancient Britons were playing at the same venue and celebrated my success, electing me as an Ancient Briton on 2nd May and inviting me to join them in a tour of Canada the following year. I agreed.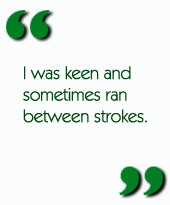 Back home I attended my first Annual General Meeting of the Canberra Croquet Club and became the club secretary, which was a two-year commitment.
In July I played my first tournament at Port Macquarie. I was keen and sometimes ran between strokes. One of the oldest administrators of Australian croquet had retired to Port Macquarie, and she invented different reasons why I should not run. Eventually she admitted that she just didn't like me running. I stopped running when she was watching.
From 13 to 24 November I played with the ACT team in the Australian Veterans' Hockey Championships in Melbourne.
Back Row: P. Bill (asst. manager), G. Walker, P. Hemsley, B. Todkill, T. Hall, G. Cheeseman, B. Sheeky, B. Anderson, C. Luxford, J. Thompson (manager)
Front Row: S. Hedges, J. Call, B. Watt, E. Bill (capt/coach), K. McCasland (vice captain), P. Goosakoff. C. Timpson
Insert: R. Smith
In 1985, Hall was one of the champions who won the ACT team championship in his over-55 hockey league.
1991 - WITH the ANCIENT BRITONS to CANADA
I entered my first Australian Open Croquet Championships early in the year in Sydney. In the doubles I progressed well, partnered by Blaise Northey. [Blaise was selected to play for Australia in the MacRobertson Shield (the World Team Championship) in Rich River in 1993.]
I psyched myself up for my first game in the Open Singles knockout, to be played at Killara. My opponent was Aggy Read, a surly man from Brisbane who had been beaten in another competition the previous day. Without telling anyone, he went back home. I was left with no opponent. The President of Killara Croquet Club happened to be Brigadier Kit Miles who I knew well from my time as a staff officer in Canberra. He was the venue manager for Killara and agreed to play me as a sop to my frustration. I won easily but was not pleased.
My next game was the following day at Royal Sydney Golf Club against Mrs Kate Fox, Secretary of the Australian Croquet Association (ACA). I was doing quite well but she protested that I had a still ball (a fault). I did not think so but I did not know enough about the protocols and should have disagreed, in which case the referee would have had to support my assertion. I did not, however, and lost the match. I did not forget that.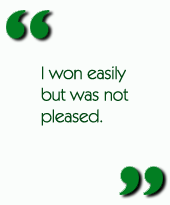 Through the year I continued to play Veterans' Hockey on Monday evenings, croquet on Wednesdays and Saturdays when at home, pennant squash one evening each week, Veterans' Athletics on Thursday evenings and club hockey on Saturday afternoons in winter.
The Canberra Croquet Club usually conducted two tournaments for visitors each year, the Australia Day tournament and the Easter tournament. I played in both and assisted with their conduct. I went to a number of croquet tournaments in NSW, including the NSW Senior Citizens in Sydney in February, Dubbo in April, The Entrance and District Sports and Croquet Club (EDSACC) and Port Macquarie in August, Forster in September and Bathurst in November.
But the big trip for the year was from 10th May to the 8th July, starting with a couple of days in Bangkok visiting Mike Greenwood. We played some squash and looked in at the British Club and the Royal Bangkok Sports Club. His last two teenage children with his fourth (Chinese) wife were not fluent in English, much to his disappointment.
I went on to Amsterdam for one night, then to London, played croquet at Cheltenham and Hurlingham, enjoyed some West End shows and flew on to New York after nine days in England. After one night I flew on to Toronto on 24 May, to join the Ancient Britons tour. I met most of them at the airport.
We played the first game the following day, losing 0-1. The next day we visited Niagara Falls. I took a helicopter ride. Then we visited the CN Tower before flying to Edmonton, where we lost the match 1 - 3 to a young team. I enjoyed a game of golf the next day and the coach drive to Jasper the following day. The Rocky Mountains are a superb sight, all snow and rock. Then we went on by coach on the Icefields Parkway to Banff. We took snow mobiles onto the Athabaska Glacier, much the same as any other glacier. We detoured to see Lake Louise, which I remember my father saw when he returned from England in 1928.
We stayed at the magnificent Banff Springs Hotel. I played golf on a course that has the most spectacular views. Then we went on to Calgary, again by coach, where we were billeted. I was put in a bedroom of the daughter of the family, now at university. I was impressed that most of her books were identical to my own daughter's books, the only difference being that she had a small number of books on ballet, whereas my daughter has a few on swimming. Australian and Canadian culture is indeed similar.
Our hosts at Edmonton arranged for us to go on a "short walk" to see the scenery which turned out to be a long walk. None of their team came with us. But we won the match 4-0. With three other Ancient Britons I managed to find a game of golf. And we won a second match 6-2.
Another coach trip saw us in Kamloops. And another saw us in Vancouver at the Barclay Hotel, very palatial. The next day we played a match and drew 1-1. We crossed to Vancouver Island and Victoria on 10 June to meet our billets and for a game of golf, wearing borrowed long trousers to meet their dress code. We won the match against the Evergreen Masters 2-1. But they then arranged for us to play a 30-over cricket match. I was batted well down the list but retained my wicket to the end. We lost, 7 for 135 to 8 for 145.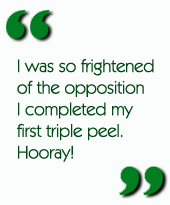 On 13th June I visited the Butchart Gardens (fantastic) and the local croquet guru, who was the licensee of a hotel with a croquet court. That evening we had another match against the Oak Bay Fossils. We won 3-1. Then back to Vancouver for another billet. With a free day I arranged to play croquet at Grey Lawn West Park. I expected to play against the local president, but he turned up with the US's champion Reid Fleming. We set up a game with me playing as a single and them as a double. I was so frightened of the opposition I completed my first triple peel. Hooray!
That evening we had a match against Vancouver Jokers International which we won 3-2. They persuaded us to play again the next day and they won 1-0. Our final match was the following day against West Vancouver which we won 3-1. I was voted the man of the match for the second time. My legs were standing up well. And I was then voted "Player of the Tour".
I journeyed to Seattle for two nights, played a little croquet and flew on to Los Angeles, where I picked up a rental car for a day at Disneyland and transport to San Francisco. (I have lost my embarrassment at having no children with me.) I could not contact the Beverly Hills Croquet Club and drove North up the coast, stopping at San Luis Obispo to visit the legendary Captain Tucker, USN, retired, who presided over a beautiful croquet court with the edges outlined in marble.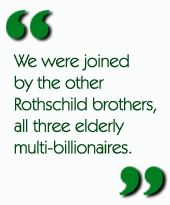 We played a game and then he asked me to coach one of the Rothschild brothers. I did that for an hour or so and was invited to lunch in the magnificent club which the court was attached to. We were joined by the other two Rothschild brothers, all three elderly multi-billionaires. I was duly impressed to be in the company of such famous people. We had a nice lunch and then they squabbled over who should pay for it! I drove on to San Francisco.
At San Francisco I met Bob Alman, President of the SF Croquet Club. Bob persuaded me to enter the San Francisco Open when I could and showed me some of the intricacies of American Rules Croquet. At Sonoma I met Neil Spooner, who had been in an Australian team to visit the US and then persuaded to work for Bryce Cutrer-Jones, owner of the winery where two magnificent courts had been built.
At Meadowood I met Damon Bidencope who, similarly, had been persuaded to become the croquet professional there. I managed a hit at both places. Both Neil and Damon later became US citizens.
I returned to San Francisco to fly home via Honolulu and Auckland. I got home on 8th July, just in time to travel to Port Macquarie for their tournament.
In October I went to Perth to play with the ACT team in the Australian Veterans' Hockey Championships.
The Victorian Open was attended by most of the better Australian players. George Latham, the Victorian Secretary, ran the tournament from 26th December to 1st January every year. It was entirely administered by the players, including catering. I entered from 1991 until about 2000.
1992 - IN AUSTRALIA
This year was a lot quieter. At the end of my two-year tour as Secretary of the Canberra Croquet Club I became its Treasurer.
I played in a number of croquet tournaments, NSW Senior Citizens, Canberra Australia Day, Canberra Easter, the Australian Championships in Melbourne, Dubbo, Newcastle, Manly, Bathurst, Forster, the Rich River Handicaps and the Victorian Open.
My family home in Aranda was auctioned and I bought a town house at 5/6 Fawkner St, Braddon.
I continued to play Veterans' hockey on Monday evenings, pennant squash, and Veterans' Athletics on Thursday evenings, but ceased club hockey. I played a few games of tennis with old friends of the family John and Sue Andrew
I missed living in Port Macquarie because I was playing hockey for the ACT Veterans in Townsville.
1993 - MACROBERTSON SHIELD
The most important croquet event is the MacRobertson Shield. It was originated in 1924 by Sir MacPherson Robertson, the philanthropist (MacRobertson's Chocolates in Australia.) It is for national teams of six, originally just between England and Australia, but New Zealand were added in the 1930s and the United States played for the first time in 1993 at Rich River. As had become usual, England won handsomely. I was an avid spectator.
Again I played a number of croquet tournaments, Canberra Australia Day, the Australian Championships in Hobart, Queanbeyan (I was champion of Queanbeyan Croquet Club twice), Canberra Easter, Wagga, Forster, Port Macquarie, Bathurst, the Rich River handicaps and the Opens of Queensland, NSW and Victoria. I managed to win the Queensland Singles Handicap, progressing through five matches to beat Blaise Northey, also from Canberra, in the final. My handicap was 5, his was 2.
I attended meetings of Croquet NSW in Sydney as the delegate for CCC, studied to become a referee and passed the exam. I was pressured to stand for President of Croquet New South Wales (CNSW) but resisted as I thought it would be difficult to fulfil the duties while not living in Sydney. When visiting Sydney I always stayed with Bill and Sue Reid at Balgowlah, and Bill urged me to stand for the position, saying I could and should occupy one of their two spare bedrooms whenever and for as long as I wished. I accepted his/their offer and became President of CNSW for three years.
The previous President, Dr Keith Rienits, had negotiated a move of the headquarters from Killara, where the clubhouse was demolished to allow safety modifications to the water-reservoir on which it was built, to Tempe, the original Leagues Club which was falling into disuse. The Leagues Club was still in existence but the only activity other than functions was a ladies lawn bowling group. Our agreement was to take over the lawns, convert them into courts but make a lawn available to the ladies once a week.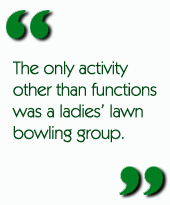 Only when I took over did we consummate the deal. I became a Director of the Leagues Club, and the secretary of the Leagues Club, Mrs Lee Harris, started working for NSW Croquet on one day a week. We rejuvenated the courts, installed a watering system, constructed six shelter sheds, and created a "Croquet Room" from a large dressing room. At last we had a permanent headquarters.
The Veterans' Hockey Championships were held in Canberra, very convenient. Our ACT team was enthused, and we beat all other teams until we had to face NSW in the last game. We were long odds underdogs but we were possessed and beat NSW 1-0. We partied long and hard, but failing to be nominated for the ACT team of the year, which we would have won in a canter.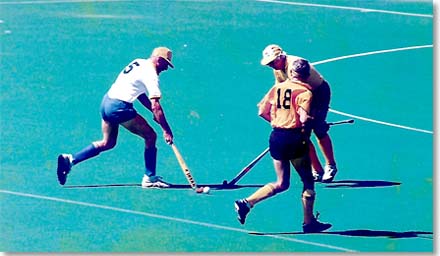 Hall remained active in hockey for as long as his joints permitted him the fast movement required to excel on senior teams. Here, he wins control.
And I should mention that I remained an enthusiastic spectator for the Canberra Cannons basketball team, which had started with my wife Marcia, our three children and myself. Jeanette and Philip dropped out, then Marcia died, and eventually Caroline opted out, leaving me alone. I continued until the Cannons died. I then became an annual subscriber to the Canberra Capitals women's basketball team, to the Canberra Raiders rugby league team and, when they started, to the ACT Brumbies rugby team.
1994 - WITH THE ANCIENT BRITONS in NEW ZEALAND and SONOMA
I went to New Zealand in January, to play croquet in the New Zealand Open Croquet in Wanganui, to support the Australian team in the Croquet Trans-Tasman in Christchurch and then join the Ancient Britons for a three-week tour, starting in Dunedin and proceeding to Christchurch, Wellington, Hawkes Bay, Rotorua and Auckland.
I had a marvellous game in the New Zealand Doubles when I was partnered by David Curtis (a former English international) against Bob Jackson (NZ international) and Tony Baker, a young but skilled player. David and I worked out that Bob would want to complete a quadruple peel of his opponent (qpo) if offered a chance, so when I got the first break I deliberately made an error after making all but the last four hoops. I left the balls so that Bob would play. But Bob made a quick mistake. I played and again made a deliberate error, leaving the balls for Bob.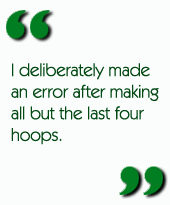 He duly completed the GPO, pegging my ball out. It was then up to Tony Baker to go around. He did so hesitatingly until he was for rover and David was also for rover. David left his ball close to the peg and apparently hampered from behind by the peg. Tony went in front of rover. Then David revealed that his back-swing was crooked. He roqueted Tony's ball and finished the game. Our tactics had won out! The crowd that had gathered went wild with applause.
I enjoyed supporting the Australian team in the Trans-Tasman, starting to learn more about the psychology of high-level croquet. The team manager, Peter Tavender from Canberra, and I managed to play a few games on a court after play on it had finished. We were well matched.
The Ancient Britons tour commenced in the South and proceeded North. We won four matches and lost five. After playing in Christchurch some of us paused at Kaikoura to swim with dolphins. We set out in a small launch towards the Americas until out of sight of land. We were dressed in wetsuits and put over the side near a pod of small dolphins which would emulate any manoeuvre we made. I enjoyed diving and making figure-eights, followed by a dolphin.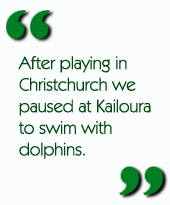 On return to the launch we were treated to warm water down the neck of the wetsuit. Later in the day we boarded the ferry to the North Island. I watched a TV set with my legs up. When it came time to disembark I cramped up and could not walk. I was helped off the ferry but was crippled for 24 hours and could not play the next match.
I parted from the Ancient Britons on 24th February to go to Sydney and to Leura, where Kevin Brereton was promoting his new mallet, assisted by Robert Fulford from England, the world champion. The new mallet is assembled from a traditional wooden head with an aluminium shaft rather than crafted entirely from wood. In a promotional competition I won one of the mallets, which suited me tremendously. I still play with one.
Kevin took Robert around the Eastern States for most of the year. At each club, besides promoting the mallets, Robert would complete a demonstration sextuple peel. Subsequently Robert became so good at that manoeuvre that he had the confidence to use it as a weapon to win matches at the highest level. To my knowledge only Reg Bamford and Robert Fletcher have also reached that level of competency.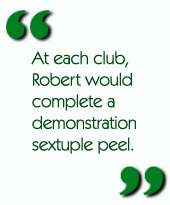 Back home I had only a few days before the Australian Croquet Championships in Adelaide. I arrived home in time for the Canberra Easter Tournament and managed to win it. I then resumed my veterans' hockey on Monday evenings, veterans' athletics on Thursday evenings and pennant squash.
Two RMC graduates from 1948, the year ahead of me, Bill Reid and John Lenehan, with their wives Betty and Annette, decided to make a pilgrimage to West Point Military Academy (USA) and the Royal Military College, Kingston (Canada) in April. They invited me to join them and I accepted. We started in New York, where we visited one of their fellow graduates, Jim Black, then married to a successful New York interior designer. We spent a day or so with Jim and his wife, who worked together in the city but lived out of town.
We all went to West Point, where we were greeted like old friends. It was interesting to see the differences between West Point and Duntroon. After West Point we went to Kingston via the Niagara Falls. There were some Australian cadets at Kingston who had celebrated Anzac Day just before we got there. Kingston was much more like Duntroon. After Kingston we spent a week visiting various battlefields from the US Civil War which we had studied as Military History. I then separated from the others and visited my daughter Caroline at Fort Lee, where she was receiving overseas training with the US Army.
On 10th May I flew to San Francisco to play in the San Francisco Open and watch some of Sonoma. I enjoyed playing American Croquet in the Open but had little success. The Sonoma experience was most interesting. I was asked to referee some games at the "World Croquet Championship". While refereeing one game I was forestalled by a player from a double-banking game, David Maugham. To avoid upsetting the player I allowed David to do the refereeing but took him aside after the game and told him off behind a tent. That did not go un-noticed.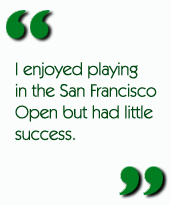 Half-way through Sonoma I flew to British Columbia in Canada, to play in the Victoria Open, a relatively small tournament, returning home on 25th May.
I was invited to the RACT's Tobruk Barracks 21st birthday parade in Puckapunyal on 28th May so took the opportunity to visit Philip and family on 29th May, returning home on 30th May.
I visited Sydney for a few days before going to Forster for their week-long tournament. After a day or two in Sydney to catch up with my duties as NSW President I returned home to resume the standard routine. (My adventures in this role are detailed in my annual reports to the NSW Association: See Appendix B.
In July I played with the ACT Veterans' Over 50s hockey team in Darwin but without the success of the previous year.
I did manage to play croquet in Port Macquarie in August, followed by the usual routine at home. I was pleased to be selected to practice with the NSW State team squad, just short of representing NSW.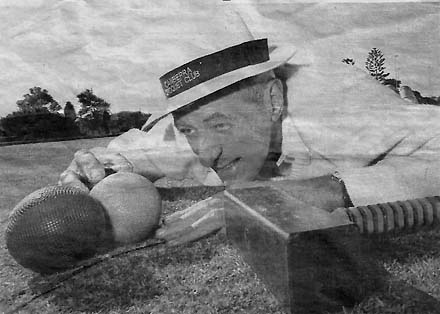 As early as 1993, Tony Hall, as president of a state association, helped to promote croquet as a strong member of his state team. He's still perfecting his relationship with news cameras.
In October I flew to Charlotte, North Carolina, to play in the US Croquet Association's International Rules National Championships. It was a good tournament, although it rained heavily and was very cold. One day in heavy rain I played five matches, doing a triple peel in the third. At that time the rain had run down the back of my neck and my shoes were sloshing with water.
I flew on to London on 16th October to play a game of hockey with the Ancient Britons, designated Tony Hall's XI v Captain's XI. They thought I was mad to fly halfway around the world for a game. I enjoyed catching up with West End shows in London and visited old friends. I was back home in November for the usual routine.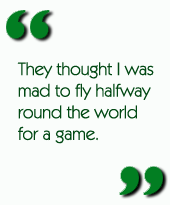 In the Victorian Open in December I managed to reach the final, a best-of-three games against Alan Cleland, an Australian International. We started at 8:00am with only a couple of spectators. When I won the first game there was an uproar of applause from the 150 or so who had arrived. I looked to the gate to see my son, Philip, arrive. I lost the next two games 9-26, 4-26. I learnt the importance of psychology in croquet.
1995 - SONOMA
This year started with the Canberra Australia Day tournament. When in Canberra I still played veterans' hockey on Monday evenings but stopped playing club hockey and pennant squash.
In February I received a letter from Sonoma inviting me to be the Tournament Referee. They would provide my meals and accommodation and a rental car. I hastened to accept.
The Australian Croquet Championships were in Perth in March. Representing NSW I attended meetings of the Board of Croquet Australia and was elected National Vice-President for three years, 1995 to 1998.
In April I played Dubbo and the Canberra Easter tournament, followed by time in Sydney.
I flew to San Francisco on 8th May to play in the San Francisco Open. I was thoroughly beaten by everyone and departed before the final to Sonoma to take up my duties as tournament referee. The final of the SF Open was between Wayne Rodoni of the San Francisco club, who had already won twice, and Tony Stephens from New Zealand. I did not know at the time but Tony lost by not knowing an arcane rule that requires you, after making the last hoop, to be dead on the "last ball roqueted" until you have roqueted another ball, when you become live on it. My failure to know that rule would have consequences in 1996.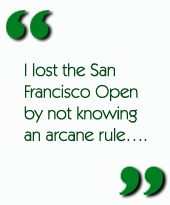 The culmination of the Sonoma World Championship was a wine auction on the Saturday as soon as the final of the croquet finished. Wineries donated large bottles of their best wine. Attached to each bottle was an extra benefit such as a week in Italy visiting wineries for two persons, dinner for twenty on a yacht moored in San Francisco harbour, or two weeks in Australia for two persons. By the time the 500 or so guests had watched the croquet they had consumed quite a lot of wine so bidding was unrestrained.
All proceeds went to the "Make a Wish Foundation". Squads of workers had constructed marquees around the courts during the week to provide shade. Everyone wore white. There was a silent auction and exhibits from many wineries. A band played jazz music. It was a great carnival.
At the presentation to the winner of the croquet Bryce Cutrer-Jones, the owner of the venue, after presenting the trophy to the winner, thanked me by giving me a giant bottle of wine. I almost recoiled because it was clearly too large for me to carry on an aeroplane, but he said "Don't worry, my staff will post it to you at your home". Unfortunately, they did so. When it arrived I was still overseas and Jeanette was faced with a 100% customs duty bill for $500. Of course she paid it and I reimbursed her. What a thank-you present!
I returned home at the end of May, played croquet in a tournament in June and resumed my veterans' hockey on Monday evenings. In August I spent time in Sydney and Brisbane playing croquet, then Forster and in the Champion-of-Champions in Sydney.
At the end of September and in October the Australian Veterans' Hockey was in Launceston, followed by the Australian Croquet Handicaps in Rich River. I visited a lot of croquet clubs in NSW in November, watched the Croquet Trans-Tasman in Newcastle in early December and played in the Victorian Open at the end of that month.
1996 - SONOMA and the MACROB
As usual the year started with the Canberra Australia Day tournament. I had been the Tournament Referee for some years, and that did not change.
The Lithgow Croquet Club had been dying for some years and had been reduced to three players who met regularly but did not actually play. I decided to rejuvenate it and went to stay for a week. During the week I visited all the important people, the mayor, the principals of each school, the police sergeant and so on. I walked the main street, stopping at each shop to ask them to put an advertising leaflet in their windows which asked people to come to the market of Saturday and experience croquet.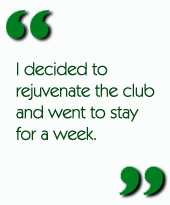 On the Saturday I recruited players from Hazelbrook and Orange City to assist me. We set up a stall at the market with a hoop and some mallets. When someone became interested we sent them a couple of hundred yards to the croquet club where we had another set of players to show them the ropes. By the end of Saturday there were about twenty new players for the croquet club, and it was once again alive.
The Australian Croquet Championships were in Brisbane in March. I started a habit of staying with my good friends Noel and Barbara McGuire when in Brisbane. I stay with them and they stay with me when in Canberra.
I was approached by Quentin MacArthur-Stanham to take over from him the job of Treasurer of the World Croquet Federation. I agreed to do so.
I arranged to visit Quentin at the MacArthur-Onslow family home in Camden. We discussed the WCF Treasury and he told me about the concept of recruiting "Friends" of the WCF at a cost of a hundred pounds sterling or three hundred Australian dollars. I discovered he had no books other than the cheque book and deposit book, although he had opened an account with an investment firm to hold the Friends money.
Unfortunately he appeared to have no list of Friends. Then he suddenly asked me what I was doing there. His American wife pointed out to me that he had forgotten everything we had discussed as he was in the first stages of Alzheimer's disease. I was glad I had sufficient facts to take over properly. I started a journal and ledger as the basis of proper double-entry book-keeping.
I refereed and played in the Canberra Easter tournament early in April and became the Queanbeyan Club's Champion in a handicap contest.
My daughter, Caroline, married Karlo Terz in Canberra on 27th April.
I was again asked to be the Tournament Referee for Sonoma and I again entered the San Francisco Open the week before.
By now I realised I could not beat the Americans at the tactics of American Croquet so decided to attack without regard for safety. If I finished my breaks I would win. My tactic worked brilliantly.
In the semi-final I had to play Mik Mehas who claimed to have invented some of the more advanced tactics. I attacked and made an all-round break. He did the same and set what they called a "killer" leave. I had to hit a ball as far away as possible (diagonally) and not send it the nine inches off the court. I hit hard and everyone gasped but my ball just snicked the target which stayed on court. I finished. When I went to shake hands with Mik he was behind some bushes, lying face down and beating the ground with his fists. Bizaare!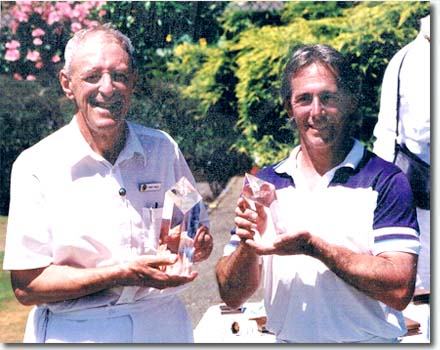 Perennial San Francisco Open champion Wayne Rodoni was embarrassed to win the event after Tony made an American Rules mistake related to a "last deadness" rule which Association Croquet players usually find confusing. By roqueting a ball twice in succession as rover, Tony essentially gave the final game to Rodoni. In a gesture of good will, Rodoni exchanged trophies with Hall, giving him the taller crystal obelisk--but only for the photograph.
So I then had to play Wayne Rodoni in the final. I attacked and went around but made precisely the same mistake as Tony Stephens had made the previous year. Wayne beat me 20-18. But I was still mightily pleased! I had to hurry to Sonoma to take up my chief referee duties.
From San Francisco I flew to London to stay at the Regent Palace Hotel at Piccadilly Circus for five days and nights of shows before staying with Paul and Betty Bloomfield in Aldershot and playing with the Ancient Britons. I scored a goal.
On 28th May I went to Vienna for two nights to visit the President of the Austrian Croquet Association, who put me up and entertained me right royally. We visited several sites for courts but none were really suitable, however I gave him some ideas for the future.
On return to England i hired a car and embarked on a round of tournaments. I played at Bowden, Ripon, and Edgbaston before arriving at Nottingham to spectate and referee the MacRob. Australia played Great Britain first, in Nottingham, then we moved to play New Zealand in Parkstone, then the USA in Cheltenham.
Just after we finished at Cheltenham my son, Philip, married Andrea Stubbs in Stoke. The whole wedding party had travelled from Australia.
The day after the wedding the British Open Croquet Championships started in London. I stayed in a "Homestay" convenient to the courts. I left for home on 15th July.
After recovering from the travelling I played Port Macquarie then stayed home until the end of August when I entered the Queensland Open in Brisbane, followed by Forster, Manly, NSW Croquet Week and the Champion-of-Champions in Sydney.
The Australian Veterans' Hockey was in Newcastle in the first half of October and the Australian Croquet Handicaps in Rich River in the second half. In November I played Bathurst and the Makara in Sydney. I again played the Victorian Open at the end of December.
1997- AUSTRALIAN CROQUET CHAMPIONSHIPS and WITH THE ANCIENT BRITONS to SOUTH AFRICA
The big activity for this year in Australia was to be conducting the Australian Championships in March in Sydney where there is no permanent venue larger than three courts. It stretched my organisational skills severely. I had to import venue managers to some clubs where there were no members capable. But before that I played in the South Australian Croquet Championships in Adelaide in sweltering heat early in January, followed by again playing and refereeing the Canberra Australia Day tournament. Then State team practices.
I was chair of the Organising Committee for the 1997 Australian Croquet Championships. I started work in October, 1996, having relinquished the NSW Croquet Presidency to Dr John Castle in September. The most important occasion was on the middle Sunday, 16th March, when the State Governor and his wife attended to present prizes to the winners of individual events and to see the presentation of State teams. All went well and the events were voted a resounding success. That year Tasmania was unable to field two men for their team, so the numbers 5 and 6 men from the host state played for Tasmania. I was number 6 so enjoyed playing in the Interstate Cup for the first time.
Just before the Australian Championships, Cammeray Club in Sydney conducted the biggest prize money event ever held in Australia. The first prize was $1600, won by Bob Jackson from New Zealand.
After the big event I again played in the Canberra Easter tournament, billeting a player from Melbourne, Frank Solomon, father of the Australian Chess Champion. The next event was the Senior Citizens in Sydney. To enter this I had had to win the Canberra Croquet Club's Senior Citizen's event.
I played a few Monday evening Veterans' Hockey matches before my next overseas trip which started on 6th May flying to San Francisco for the San Francisco Open. I did not have the previous year's success but enjoyed the event.
On 12th May I flew to London, missing Sonoma, catching up with some shows before flying to Johannesburg on 15th May for one night, then on to Pieter-Maritzburg to join the Ancient Britons for their tour of South Africa. I was greeted with open arms, as they had lost both matches already played.
We stayed in the Drakensburg Sun Hotel at Pieter- Maritzburg where they ostensibly offered croquet as a recreation. I lined up to play but had to play myself, as no one else was interested.
The first match for me was the third one of the tour. I umpired it. We lost 2-6. Two days later we played at Durban. I got time on the pitch, but we lost again, 0-2. The next match was again in Durban and I was loaned to the opposition, which won 8-0. The next day we drove to East London and played in the evening, winning 2-1. This drive was really hazardous, along a motorway that was no longer being maintained due to bandits along the way. I think we survived because the bad ones thought our hockey sticks were rifles. However, the majority of the team appeared to be unconcerned.
The next day was on to Knysna to play again, losing 0-1. On 23 May we drove again to Capetown, pausing along the way to visit an ostrich farm where one of the Ancient Britons rode an ostrich to a standstill. In Capetown we stayed at the Vineyards Hotel, very convenient for me as it is close to the main croquet club.
I had all Saturday 24th May to formally visit the croquet club, where I was matched against their best players. In one game I took my first ball to the peg as afternoon tea was called. Everyone immediately dropped their mallets and went to a formal tea. Twenty minutes later, play resumed. I had forgotten going to the peg, and completed a triple peel as though my first ball had been on 4-back. It did not matter, as I won the game, but some thought I was showing off.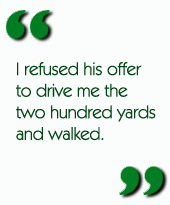 After play I was invited back to the Vice-President's home for drinks, which were most welcome. He lived just around the corner from the hotel, so when it came time to depart I refused his offer to drive me the two hundred yards and walked. I understood why he made that offer when a black man and his wife tried to intercept me on the way. I ran around them. That made me realise the conditions in South Africa, and I was more careful afterwards.
On Sunday we played in the morning at the National Hockey Stadium Astro and won 4-0, followed by good hospitality over lunch. The following day we drove down to The Cape of Good Hope and Cape Point, further from Capetown than I had expected.
On Tuesday 27th May we played an evening match after shopping during the day. I looked over the shops on the Waterfront. We won the match 7-2. Clearly the Capetown teams were less skilful than the ones we had played earlier.
The next day I again played croquet, with a little less success than before. The British Lions Rugby team played Western Province, but I preferred croquet.
My last day in South Africa was Thursday 29th May so I missed the last Ancient Britons match that day, which they won 2-1. I returned home via Johannesburg and Sydney. I had enjoyed the luxury of the Vineyard Hotel for seven days, especially with the company of the Ancient Britons.
On 2 June I went into Calvary hospital for two operations, a hernia and a left knee clean-out. My anaesthetist turned out to be my friend Ken Downes, so the briefing on the operations turned into a discussion on what our children were doing. After the two surgeons had done their thing one wanted me to exercise my knee and the other wanted me to rest my hernia. Difficult! I compromised by doing what each surgeon wanted when he was present.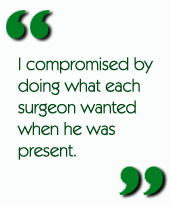 Thirteen days later my good friend Bill Reid died. I was asked to give the oration at his funeral. I managed it better than I expected.
I settled back into routine days at home, interrupted by a three-day trip to Hobart for an ANARE function, including a visit to Government House. These trips to Government Houses became quite routine as there was one associated with every Australian Croquet Championships.
In August I played Port Macquarie again, returned home, then drove to Brisbane for the Queensland Open, where I won the Handicap Singles. Returning via Sydney I played and won the NSW Mens Singles. After a few days at home it was back to Sydney for the Manly Sea Breeze tournament, then to Rich River for Golf Croquet and the Australian National Handicaps.
In November I was heavily involved in the Safe Skies Convention with the Chartered Institute of Transport, then flew to Perth and drove to Bunbury for the WCF World Croquet Championships. This was a great event, helped by the sponsorship obtained by a Bunbury stalwart who got about a hundred firms to be sponsors. There was another visit to Perth Government House, where Marlene Jeffries (wife of Governor Major-General Mike Jeffries) ran the length of their ballroom to greet me.
At about this time Peter Payne, a Swiss national, had accepted the task of chairing the WCF Golf Croquet Working Party (GCWP) with the task of translating the Egyptian Golf Croquet Rules from Arabic into English. Just as he was about to start, he changed jobs. He asked me to chair the GCWP. I had become the Australian representative of the GCWP, and accepted the task.
I should go back to the modern history of golf croquet (GC) in the WCF. In most of the world GC was played as a training exercise to prepare players for Association Croquet (AC). Its rules were as for AC with modifications, mostly deleting the more complicated Laws of AC. However, in Egypt the game had been played to the exclusion of AC and they had adapted the rules to make for a better game.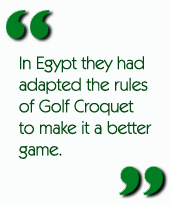 The WCF Secretary-General, Chris Hudson, from England, had visited Egypt and discovered that the Egyptians were quite expert. He arranged for a WCF Golf Croquet World Championship to be held in Milan, Italy, in 1996. The Egyptians came and demolished everyone else. It was decided to hold another World Championship in Cairo in 1997 using Egyptian Rules. Once again, the Egyptians demolished the field. The decision was made to hold a WCF Golf Croquet World Championship in Leamington Spa, England, in 1998 using the Egyptian Rules translated into English. Peter Payne got the job of chairing the WCF working party tasked with the translation.
When I addressed the Golf Croquet Rules, I had a working party of five, the others being from South Africa, Egypt, the USA and Switzerland. Our mode of work was entirely by email. I soon discovered that each Egyptian club had slightly different rules, so the job became translation and rationalization.
In December I resumed some veterans' athletics and hockey before going to Melbourne for the Victorian Open. As in other years I stayed with Philip and his family at Mt Martha, driving up to Brighton every day.
1998 - WORLD CROQUET FEDERATION PRESIDENT
I started this year by playing in the South Australian Open in Adelaide. As previously, it was very hot. I returned home via the Australian Open Tennis in Melbourne and included visiting Philip and family.
The Canberra Australia Day tournament was played and refereed, followed by a month of home routine with veterans' hockey and athletics. State team practices were important before the Australian Croquet Championships in Melbourne. I was included in the NSW team for the first time.
Back home I started attending Royal Aeronautical Society lectures on Tuesday evenings at the Defence Force Academy. The lectures were very interesting, attracting excellent lecturers.
I played in and refereed the Canberra Easter tournament again.
At this time, I realised that the 1998 WCF World Golf Croquet Championship was due to start in October. There was a significant degree of urgency in completing the translation job. I found that we could have two rounds of emails in every 24 hours as the members in the Northern hemisphere would respond to my emails overnight. We managed to produce a draft that was accepted by the time I left for Europe in September. The draft rules did not allow jump shots.
In May I played the National Park Newcastle, Bermagui and EDSACC tournaments, followed in June by the Forster tournament. Then I visited Caroline in Townsville for four days before playing in a tournament at Kooralbyn. I then played the Gold Coast tournament, taking the opportunity to visit my friends Hugh and Betsy Stewart on one evening.
Port Macquarie was again on the agenda late in July, with August and the first half of September mostly at home with just two short trips to Sydney.
On 23rd September I left for Dublin via London to play in the Irish Golf Croquet Championships at Carrickmines for two days. Returning to London, I visited Auntie Rena in her nursing home, taking her out to a show. This was a bit hazardous as at interval time I left her alone for a few minutes and only found her about a hundred yards along the street. Her Alzheimer's was becoming worse.
On 3rd October I collected a rental car and drove to Leamington Spa for the WCF World Golf Croquet Championships, passing through Stoke and visiting Andrea's parents on the way. I shared a room at the Regent Hotel with Charles Jones from New Zealand (who subsequently succeeded me as WCF President).
I arrived at Leamington Spa to find that Chris Hudson and Jim Jeffries had matters well in hand. The venue had been built to accommodate Lawn Bowls at the Manchester Commonwealth Games. The grass was too soft for croquet but the head groundsman was equal to the task and inserted roundels of clay into the predominately sandy courts at the site of each hoop.
Chris had nominated me as the Tournament Referee. I was also a player. And I was still the chair of the GCWP, still considering whether the rules needed to be further amended.
During the tournament we decided to remove the restriction on jump shots, as they made the game better, but of course this could only be applied after the tournament was over. As a player I lost my first game and won all the rest, making me 33rd.
In the semi-final between Mik Mehas (USA) and a feisty Egyptian, Mik played unduly quickly at one point, denying his opponent an opportunity to send Mik's ball to a penalty spot. The Egyptian was furious. His friends picked him up and carried him away from Mik to avoid a fight. Spectators for this match were two-deep around the court. The final on the next day was boring, a pity as it was watched by all the top English Association Croquet players. However, the game of Golf Croquet was established as a serious competition.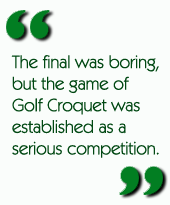 I went to Ripon Spa for a short tournament and a WCF Management Committee Meeting.
It was about this time that Chris Hudson told me he was resigning as WCF Secretary-General. I expected him to carry on until we found a replacement but he just stopped working, with no replacement. When I realised that, I started to pick up what was necessary and became the Acting Secretary-General. It took almost a year before I persuaded fellow Australian Gary Fox to take up the reins.
I note that Stephen Mulliner has invented a better way to recruit a Secretary-General, by having the recruit serve time as an understudy. I think Gary was persuaded because one of his first duties was to be the WCF coordinator for a WCF World Championship in New Zealand.
Strangely, I did not find being both President and Sec-Gen too onerous. All the work was done by email and I was constantly on the move. I could not have been more involved."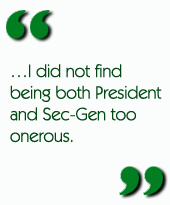 A requirement to be elected as WCF President was to have served on the WCF Management Committee. That restricted the field drastically. I had been WCF Treasurer for a year and was asked to stand for election by the Secretary-General. I was elected unopposed. In my autobiography I wrote: "My predecessor from the US, Bill Berne, had not been active. He had left everything to the Secretary-General, Chris Hudson. I was able to hold a meeting of the WCF Management Committee during a Golf Croquet tournament at Ripon Spa, in the north of England on the day I became President.
"Among others present were the President of the Egyptian Croquet Association, Ahmed Hamroush, Chris Hudson, Peter Payne and Rod Williams, who took over from me as Treasurer. We discussed a wide range of subjects. I should mention that Ahmed was one of the Egyptian Colonels who had shot the President of Egypt some years previously. He had brought his wife, his mistress, six croquet players and two bodyguards with him.
"At one stage Ahmed expressed a view which was immediately and vehemently contradicted by Peter. There was a hush. No one spoke for about a hundred seconds. Then Ahmed laughed. We had wondered whether the doors would open and the bodyguards would take Peter away, never to be seen again. Peter stammered an apology, laughed off by Ahmed. I breathed again. The meeting was a great success."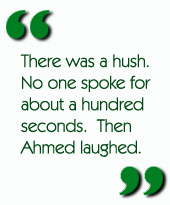 The next day, 12th October, I drove back to London and departed for home. At the end of October, I had to be back in Sydney to play in the NSW Gold Medal event, followed by some Gateball and the Sydney Makara tournament.
In December I made three short trips to Sydney before driving again to Melbourne for the Victorian Open.
END OF PART ONE
TONY HALL'S LIFE BEFORE CRQOUET (self authored)
Australian Tony Hall was educated at Melbourne and Sydney Grammars and graduated from the Royal Military College, Duntroon in 1952 and began a long career service in the army.
He was awarded the Queen's Commendation for Brave Service after supporting the Australian National Antarctic Research Expeditions in the Antarctic in 1953 and 1954/55. In 1955/56 he commanded an Australian Transport Platoon in Malaya.
He returned to Australia to administer Citizen Military Force units and married Marcia Farr, a schoolteacher, in 1959. He was sent to the Royal Military College of Science in England later that year, graduating in 1961. His daughter Jeanette was born in England in 1960. The family returned to Canberra in 1962, and son Philip was born in 1963. They were sent to Bangkok to the Military Research and Development Center, a joint US/Thai organisation, from 1964 to 1966. Returning to Puckapunyal, the Royal Australian Army Service Corps School of Transport, as second-in command for two years, he was then promoted to Lieutenant-Colonel as a Senior Programmer in the Army Electronic Data Processing Centre in Canberra.
His second daughter, Caroline, was born on 22nd January 1969. He was posted as the senior logistic staff officer to the HQ of the Australian Force in Vietnam, in Saigon from February, 1971 until the force was withdrawn in January 1972.
Back in Canberra he was sent to the Joint Services Staff College, graduating in 1974. He was then sent to Melbourne, originally as the Acting Director of Transport and lost the "Acting" part of the title when he was promoted to Colonel.
In 1975 he was posted as Chief of Logistics to the Papua New Guinea Defence Force, for which he was appointed as an Officer of the Order of the British Empire (OBE).
Returning to Canberra in 1978, he spent two years as Director of Trials for Defence and then five years as the Army's Director of Vehicle Procurement. His wife died of cancer in 1984 and he reached retirement age and retired in 1987.
Tony Hall became president of the World Croquet Federation in 1998. In Part Two, he continues his report, in military style, detailing his consequential presidency of the world governing body of the sport.
---