Coaching the Fundamentals of the Stroke
Part Six: Practise Playing Seriously
by John Riches
Posted August 8, 1998
---

Of what value is good coaching if you don't cultivate good practice habits? Australia's top coach suggests that adopting a "serious attitude" towards your social play could give you a big boost in the competence and confidence you'll need in tournament play.

---
The occasional social game can provide enjoyment in a relaxed atmosphere, but the player who wishes to improve rapidly must also have regular serious practice games in which he concentrates fully and strives his utmost to win. At our club we organise "serious" practice games every Monday evening, right through winter as well as summer - come rain, hail or shine - and everyone plays to win, with no quarter being asked or given.
Some of us even go out beforehand in late afternoon and spend half an hour or more individually ensuring that all of our shots are working well in preparation for the evening practice games. It may sound silly that we take the trouble to practise before a practice game which counts for nothing, but it is all part of setting up conditions as close as possible to those under which we play competitive games. Anyone who does not take these practice games seriously is likely to spend a lot of time sitting and watching, as no one will take pity on him in any way. He is also likely to be told that unless he is prepared to take the games seriously, he is wasting both his time and ours.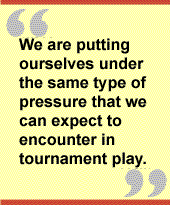 That all means that we are putting ourselves under the same type of pressure that we can expect to encounter in tournament play, so we can find out whether there is any aspect of our play which does not stand up to intense pressure, and find ways to do something about it. Both technique and tactics are discussed at the end of a game - and sometimes during it - so that we learn as much as possible from each other. We are finding that players from other clubs, where practice games are taken lightly, are asking whether they can join us (Of course, they are all welcome!) because they realise that they, too, need serious practice games against a good standard of opposition, where you can count on having to pay for every mistake you make. You soon learn not to make so many mistakes! When players from other clubs come to me for coaching, I advise them to try to find a regular practise partner who will take their practice games seriously. If necessary, a suitable number of bisques can be given to the weaker player (We would still play "lifts" as well, to practice leaves, etc.) to make sure that both can play to win. The weaker player's aim is to force a reduction in the number of bisques he needs to enable him to win a reasonable number of games, while the stronger player aims to win every game and so postpone the day when the number of bisques has to be reduced.
[Upcoming in this series by John Riches: "Ten Commandments for Practicing"; "How to Choose your Doubles Partner"; and "The Most Important Advice."]
---