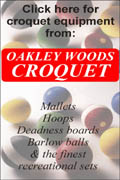 CHERRY BEATS GRIMSLEY
TO CAPTURE 2004 GRAND PRIX


by Rich Curtis
photo by Bob Alman
Posted February 4, 2005


---

The USCA's Grand Prix was re-tooled in the late nineties to ensure that players could be rewarded for performance in all their USCA-sanctioned games in both doubles and singles and in both USCA and International Rules. The system encourages participation in many tournaments, as it awards points from only the top six events of each player – so if you bomb in four of the ten events you play, you can still do well in the year's-end final tally. The 2004 triumph of Bob Cherry of Georgia shows how the Grand Prix is designed to acknowledge overall performance rather than wins in individual tournaments. Cherry's singles finish in the USCA American Rules Nationals, for example, was an undistinguished four-way tie for ninth place. And the winner of that supremely important tournament – Brian Cumming of Canada – had to settle for fifth place in the Grand Prix.

---
Bob Cherry of Pinehurst, North Carolina, capped a stellar year of croquet by winning his first ever Player of the Year award. Among Cherry's notable achievements in 2004 was winning the USCA International Rules Singles Championship, his first-ever national title.
Cherry tallied 25,122 points, which was just short of the single-season record of 25,600 set by Jeff Soo in 2002. Cherry's victory over second place finisher Doug Grimsley was by a scant 441 points. Perhaps the outcome was only fitting after Grimsley beat Cherry on a shot in last turn to win the 2003 National Singles Championship.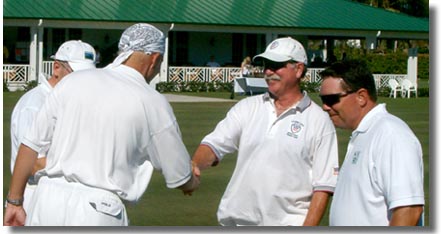 Although they didn't win the USCA national doubles championship, the second-place finish of partners Bob Cherry and Danny Hunnicut (third and fourth from right) netted them a rich bonus of Grand Prix points and helped to put their opponents Kenster Rosenberry and Mike Jenner (first and second from left) in the top 20.
Cherry and Grimsley outpaced the rest of the field. Danny Huneycutt, another North Carolinian, took third place with 22,741 points. Huneycutt finished seventh in 2003. Mik Mehas, the 2003 runner-up, finished fourth. The 2004 USCA National Singles Champion, Brian Cumming, was fifth. Rounding out the top ten were Fred Jones, Leo McBride, Rich Curtis, John Osborn (the 2001 and 2003 Player of the year) and Ted Knopf.
The Grand Prix reflects the overall tournament performance of players over the course of the year based upon each player's order of finish in every USCA-sanctioned tournament entered, the difficulty of each tournament, and whether the tournament is a National Championship, Regional or invitational/club tournament. Although points are awarded for every tournament entered, only the top five singles and doubles results are counted in the overall year-end standings. Results from both USCA and International Rules tournaments are counted (but not Golf Croquet). Significantly, in 2004 the top five finishers in the Grand Prix were well known for their abilities in both games.
Carol Mayo excels in the 3-5 handicap range
The Player of the Year in the 3-5 handicap range was Carol Mayo of Southampton, New York. Her achievement is notable because in 2003 she won the 6-8 handicap group, indicating the rapid improvement of her game. Connecticut resident Ben Morehead was second. Rounding out the top five in the category were Lance Totten, Gene Young and Robert Whitmore.
Women dominate 6-8 handicap range
Stephanie Paduano of the New York Croquet club grabbed her first-ever Grand Prix title in the 6-8 handicap range. As a relative newcomer in 2002, Paduano was fourth in the standings and although she was out of the top five in 2003, she returned in 2004 with a strong performance. Runner-up in the group was Gen Lanyon, another New York Croquet Club member. Bob Bozeman was third, Carole Lembo was fourth and June Ryan came in fifth.
Marjorie Campbell sweeps 9-11 category
The 9-11 handicap Grand Prix title was won in a virtual runaway by Marjorie Campbell, who garnered almost twice the points of the second place finisher, Karen Christian. However, Christian's performance was good enough to edge out perennial top five finisher Eileen Holberg of Palm Beach, Florida. Fourth place went to John Sammond and fifth place was snared by Polly Moore.
Dan Mol, Jr. won the 12 and over handicap range for the first time. Dan comes from a family of croquet players, including his parents, Dan and Paula. Watch out for this up and coming player. Beth Ann Theiste came in second place, followed by Roger Hudson in third. Fourth place went to Louise Logan, fifth to Peggy Matthews.
With the new 2005 season, the Grand Prix begins anew. Every member can participate by playing in any USCA sanctioned tournament. Points are awarded to every player in a tournament. You can follow your own progress and the entire 2005 Grand Prix tournament by tournament as the year progresses on the USCA website.
---