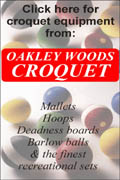 Midwest High School
Croquet Championship
played in Fargo's Sports Bubble

by Jennifer Storm, with Drew Spooner and Bob Alman
photos courtesy of the Fargo/Moorhead Croquet League

Posted June 22, 2011


---

Fargo South senior Drew Spooner's teammates were playing backyard croquet on long grass and sloping turf when he requested a croquet clinic from the USCA through Bill Hartmann, Chairman of Middle and High School Croquet. "But," he told Hartmann, "we're looking into some indoor facilities with astroturf to play on during the winter and perhaps for our state tournament. Our indoor wickets look like a normal hoop with plates welded on the bottom. Our principal and counselors have shown a great interest in our team, even going to the extent of trash talking with the opposing teams' principals before our matches." Hartmann came through with a clinic and even some professional mallets. Spooner had set in motion a process that led to spirited league play among eight area high schools, capping the 2010-11 season with the first ever USCA Midwest High School Croquet Championship.

---
What began as a casual, after-school pastime blossomed into a local phenomenon when the students of South High took up their first mallets and tried their hand at the game of croquet. After a year of hosting small tournaments at area schools, the event culminated at the 2011 Midwest High School Croquet Championship, where over 50 students competed on eight teams.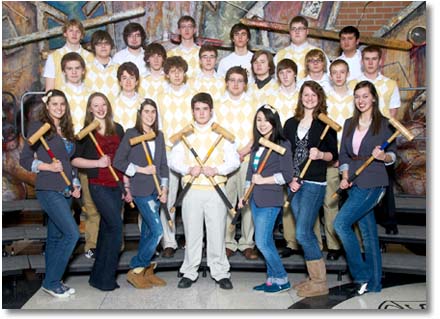 Fargo South's official team portrait.
Last year, the Fargo South students developed an interest in the game during an intramural sports and recreation club event. "The crowd grabbed the croquet set every time and kept wanting to play; eventually we had 15-20 guys who were playing a lot," said assistant coach Alderman.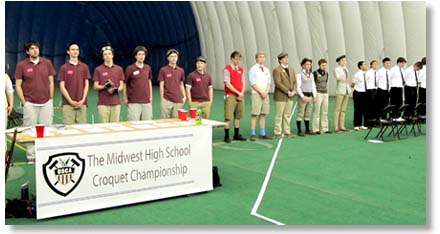 Fargo's Sports Bubble shelters competition in the frozen north.
Upping the ante, rising senior Drew Spooner took the initiative of organizing the Croquet Team at South High, and in the process generated publicity that attracted the attention of United States Croquet Association. That's when Drew asked the association for coaching assistance and help with equipment. "It was a group effort," Spooner comments. "Croquet is a sporting game that we wanted to play at a competitive level." While their team was not able to receive official recognition as a school sport, the players took the endeavor seriously. They hosted regular practices, even flocking to the back hallways of the school when inclement weather prevented outside play. They agreed on uniforms, with men sported matching yellow sweater vests and the ladies donning dark blue blazers.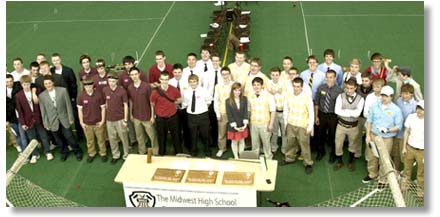 Girls play on the school teams, but top-level competition is mostly a guy thing.
As the hype grew at Fargo South, local schools wanted to join in. So Spooner co-founded the Fargo/Moorhead Croquet League along with Oak Grove senior Joe Burgum and West Fargo senior Michael Hawley; the league bonded teams from eight different schools from across the states of North Dakota and Minnesota.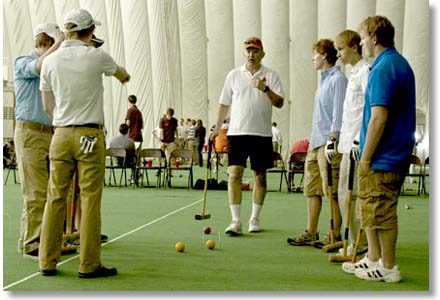 Nate Weimerskirch gives a lesson.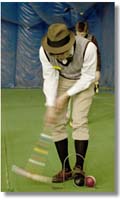 Sending the other guy's ball to perdition is perfectly okay.

"I enjoy croquet because it brings schools together outside of the traditional parameter of sports, such as football and basketball," said North High senior and team captain Tony Potts. Before joining the croquet team, Potts described himself as a fairly skilled amateur who enjoyed the occasional game of croquet at the lake. Joining the croquet league added a new dimension of interest - the joy of competition.

The Midwest High School Croquet Championship featured eight member schools from North Dakota and Moorhead High, in Minnesota. The teams were comprised of six members in addition to caddies and coaches. The event was the first USCA sanctioned croquet event in North Dakota's history, a highly celebrated accomplishment for the Fargo-Moorhead Croquet League.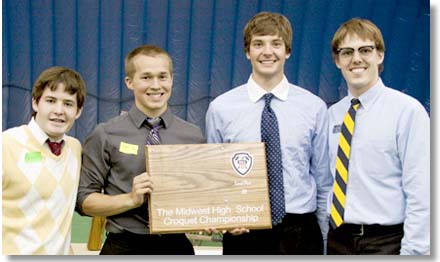 Oak Grove wins a close and honorable second place.
"We feel extremely honored… to be the only team representing Minnesota. Mike [Weimerskirch, croquet professional] started playing croquet exactly like this, and it's something we can continue throughout our lives," said Moorhead High senior and team captain Jarrod Anderson.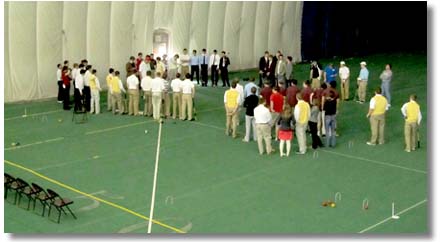 Small courts, wide wickets, intense competition.
The tournament featured a two-hour training session with Minneapolis croquet professional Mike Weimerskirch, an avid advocate of young people practicing the sport. A mathematics professor at MacAlester College, ranked player, and former Director of Croquet for the USCA in Palm Beach, he enjoys the strategy of the game and was delighted to be a part of North Dakota's first event.
Team strategy includes noticing what the competition is doing.
Each player played in one match and each individual's place was added in order to determine the team score. South High took first place with an aggregate team score of 25.5 points, and Oak Grove clinched a close second-place with a score of 24.5 points. The members of the Fargo-Moorhead Croquet League look forward to hosting more events in the future and attracting new players to "the gentleman's sport."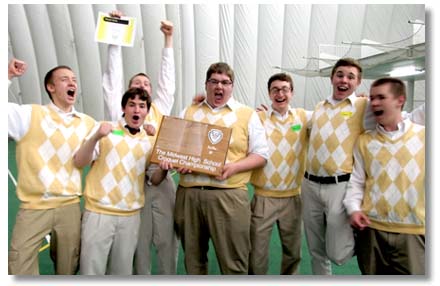 With the top trophy in hand, Fargo South
abandons all pretense of gentlemanly restraint.
ONE-BALL IN THE SPORTS BUBBLE
Tight time constraints in Fargo's heavily booked Sports Bubble required a time-efficient format of team play for the championship, which turned out to be "cutthroat" or one-ball croquet, allowing each member of every team only one game. The games were composed of six players from different teams, all playing with a single ball. The scores were awarded on the basis of order-of-finish, with first place getting six points, second five points, and so on. In regular season play, most of the games played by the high school teams are more conventional two-sided contests, with two or three players on each side.
Results of the 2011 Midwest High School Croquet Championship
1st place:
Fargo South High School, 25.5 points (North Dakota State Champions)
Drew Spooner – 5 pts.
Robert Kringler – 6 pts.
Connor Linnerooth – 6 pts.
Matt Stinar – 2 pts.
Alex Ingulsrud – 5.5 pts.
Matthew Goldenburg – 1 pt.

2nd place:
Oak Grove High School, 24.5 points
Joe Burgum – 6 pts.
Jordan Richards – 4 pts.
Josh Teigan – 5.5 pts.
David Berg – 6 pts.
Tanner Lloyd – 2 pts.
Dylan Dangerfield – 1 pt.

3rd place:
West Fargo High School, 24 points
Michael "The Chairman" Hawley – 3 pts.
Kevin "Wicked Wicket" Trowbridge – 3.5 pts.
Casey "Shambles" Larson – 4 pts.
Collin "McClubbin" James – 5 pts.
Nick "El Toro" Staska – 5.5 pts.
Jacob "The Mad Mallet" Mitzel – 3 pts.

4th place:
Fargo North High School, 21 points
Tony Potts – 6 pts.
Collin Boetel – 5 pts.
Connor Teske – 4 pts.
Nick Harrie – 1 pts.
Rhett Carlson – 4 pts.
Walker Griffin – 1 pts.

5th place:
Grand Forks Central High School, 20 points
Joe Kalka – 1 pts.
Alec Hepper – 6 pts.
Beau Simon – 3 pts.
Gabe Figuroa – 4 pts.
Jake Purpur – 2 pts.
Chris Liepold – 4 pts.

6th place:
Shanley High School, 19.5 points
Chris Finneman – 2 pts.
James Maertens – 3 pts.
Patrick Krejci – 1.5 pts.
Anthony Setness – 3 pts.
Matthew Donahue – 5 pts.
Maxwell Tolsteadt – 5 pts.

7th place:
Devils Lake High School, 17 points
James "The Booneinator" Boone – 1.5 pts.
Cole "Sideshow" Schwab – 3 pts.
Steven "McGee" Swenson – 2.5 pts
Matthew "Beast-Mode" Jennings – 1 pts.
Owen "Chico" Alfonso – 4 pts.
Bryce "The Biebs" Heustis – 5 pts.

8th place:
Moorhead High School, 16.5 points (Minnesota State Champions)
Jarrod Anderson – 1 pts.
Trevor Larson – 3.5 pts.
Dylan Hansen – 2 pts.
Boby Arnold – 5.5 pts.
Bjorn Hunstad – 2.5 pts.
Taylor Nelson – 2 pts.

---