Rothman is USCA
"Player of the Year" for 2009

by Rich Curtis
with additional materials from Ben Rothman, Doug Grimsley, and Bob Alman
Posted February 6, 2010


---

The two of them are Minus Three handicaps in American Rules - a distinction shared only with Carolinians Jeff Soo and Danny Huneycutt - and they probably play in more events at Championship level than any other players in the US. Grimsley can do it because he's mostly retired, and Ben because as a croquet nomad he combines playing with teaching, will go wherever the action is (and maybe a cash purse as well), and will sleep anywhere quiet and dry. So it makes sense that once again, this popular pair top the Grand Prix rankings, having switched places in the two last year-long contests.

---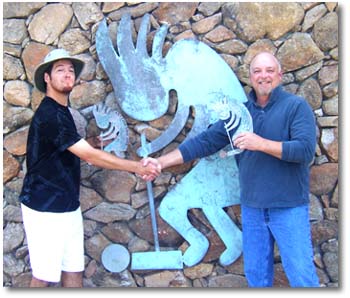 One of their early American Rules triumphs was the 2008 Arizona Open, where Ben and Doug shake hands holding their doubles trophies.

A few years ago Ben Rothman was faced with a choice: head off to graduate school or try supporting himself as a croquet pro. As he explained at some length in a "Courtside Chat" with Bob Alman, he chose the latter and in 2009 it paid off for him professionally, if not necessarily financially. In what would be a career year for most, Rothman won both the Association Rules National Singles and Doubles Championships, the Peachwood Classic, the Singles and Doubles of both the Merion Invitational and the New York Clayton Cup, the Selection Eights and the US Open, while finishing third and second, respectively, in the USCA Rules National Singles and Doubles. If that wasnít enough, he finished second in the World Championships (the highest finish ever by an American) and helped the US secure its first ever Solomon Trophy from Great Britain. In light of such a masterful performance, itís only fitting that Rothman, who learned the game from his uncle, Larry Stettner, at the Claremont Hotel in Southwest Harbor, Maine, would top the 2009 USCA Grand Prix and win what may be the first of many "Player of the Year" awards. Perhaps the only thing that the USCAís young star didnít do was break the record for most Grand Prix points set by Doug Grimsley last year when Rothman finished second. Rothmanís total this year was a scant 265 points short of the 31,720 points amassed by Grimsley in 2008.

Grimsley finished a distant second this year at 21,550. Rounding out the top five were Danny Huneycutt (15th last year), two-time winner Jeff Soo (4th last year as well) and Johnny Mitchell (7th last year), in that order.

Although former winner John Osborn was sixth and Peter Just made a second consecutive top-ten finish at tenth, a few new faces made appearances in the remainder of the top ten. Ben Morehead of Connecticut was seventh, National Croquet Center head David McCoy was eighth and George Cochran of Louisiana was ninth. None of these three had cracked the top 25 prior to this year.

Tracking the Dynamic Duo

Rothman is 26 years old, and not wealthy. So how can he afford it all this croquet? "Because I have an insanely low overhead. I have no mortgage, debt, rent, dependants, or girlfriend. I will sleep on floors, fold out couches or the occasional dog bed (and slept on all three at various times in 2009). I travel by bus or train or super cheap five-stop cross country planes to arrive at the venue red-eyed and for much less cost than most of my fellow competitors."

Rothman admits to having no home at all: "I live near a croquet court," he explains, "in many different cities, states and occasionally countries. This winter I'm in Palm Springs or Rancho Mirage staying in various digs free. They have me in a club condo for fourteen weeks of my five-month stay. The rest of the time I'm in guest rooms of kind croquet supporters." It's not charity, exactly, as Ben is earning praise as a teacher and coach, as well as occasional Tournament Director, and is always willing to pitch in when help is needed.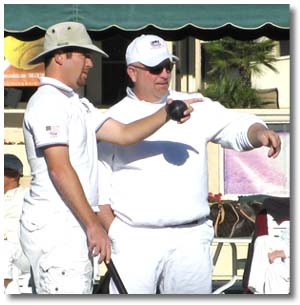 In the tradition of Osborn/Osborn, Rodoni/Mehas and Soo/Scott, Grimsley/Rothman are the team to beat in 2010. Here they discuss tactics courtside in the Solomon Trophy matches at California's Mission Hills in December 2009, where they helped give the USCA its first win over England in the two-decade series by winning all three of their doubles matches.

It seems inevitable that one of the very few large croquet event venues generating revenue on the sport will hire Rothman as the resident pro. In the meantime, he continues to hone his game and insists that he has yet to reach his peak either in singles or in his partnership with Grimsley. "Doug and I are two of the most active and competitive players in the US, so I'm willing to bet both our names will be in the Grand Prix top five next year as well. We'll keep on playing not for the accolades, although they are nice, but because we love this game and the people who play it."

Rothman and Grimsley are fierce opponents, each respectful of the other's achievements. Doug comments, "Ben and I will be playing doubles at the AC Rules Nationals at Mission Hills in April (we're the defending champs), and most likely will be paired together at the MacRob in August. We seem to be a pretty good doubles team. Having played as a team for last year's AC Nationals, The Carter Challenge, and the Solomon Trophy, we have yet to lose a match - and only two games - over that time."
Although decades separate them in age, their beards are identical as they drink victory champagne after the American team's Solomon Trophy win. The Solomon isn't contested in MacRobertson years, but Ben and Doug will be playing against England in those international test matches in England in July 2010, along with four other USCA teammates.
Both players press themselves towards mastery of the most advanced tactics in Association Croquet, some of dubious value. According to Ben, "Doug is the recently crowned 'King of OTP': six OTPs for one TPO this year, and one OTP for three TPOs in 2008 (I was the OTP). I have never been TPO'd by Doug and I was the victor in three of his seven OTPs, so I like to think I was at least a part of the coronation." [The OTP (Opponent Triple Peel) describes what happens when an aggressive player peels out one of the opponent balls on the expectation of winning the game by having two balls against the opponent's one ball. It's not a sure-fire strategy for winning and frequently backfires when the one-ball player hits in and finishes.]
That's not to say that Ben has a huge advantage over Doug in head-to-head games, despite the statistical failure, so far, of Doug's TPO attempts. Doug can quote the stats: "In Association games against each other, we played 20 times in 2009, with Ben holding a 11-9 lead. However, I did enjoy knocking him out of the USCA American Rules National Doubles in this year's final aided by an even better partner, Rich Curtis."
Younger players showing up in Grand Prix
The 2009 Grand Prix marked the emergence of other young players besides Rothman. Micah Beck, a recent graduate of St. Johnís College who now resides in Ithaca, New York, grabbed first place in the 3-5 handicap range of the Grand Prix. St. Johnís is noted for turning out numerous top notch croquet players and Beck is part of what will continue to be a long line. Beck was the USCA Rules First Flight National Singles and Doubles Champion in 2009. His doubles partner in the Nationals was Justin Berbig, another up and coming young player, who won the Second Flight Singles National Championship and finished second in the Grand Prix for handicaps between 9 and 11. Berbig is a student at the State University of New York at New Paltz and a member of its very active croquet team. Rothman, Beck and Berbig are just a few of the young players who have taken the game up in college and are playing actively in USCA tournaments.
The runner-up to Beck in the 3 to 5 handicap range was Bill Taft (fourth last year). Bill Cooley, Barbara Leeming and Mary Daly rounded out the top five.
Bob Roth of North Carolina topped the 6 to 8 competition. Second place went to one of the newer croquet players in the Fusz family - Jodie Rugart. Marty Ekstrom was third, Marie Haas was fourth, and Marc Campbell was fifth.
Rebecca Bergovsky of the New York Croquet Club finished fourth in the 9 to 11 handicap range in 2008, but took the top honors in 2009, partially on the strength of her first place doubles finish in the New York Osborn Cup. In third place behind Justin Berbig was Randall McAndrews. Billie Jean Taft finished fourth to insure a husband-and-wife top five Grand Prix finish. Marvin Salles was fifth.
In the 12 handicap and higher group, Cynthia Lee Williams, winner of the Houston Invitational Doubles, finished first. Ralph Heinz finished second, followed by Julia Wallace, Carla Rueck and Doug McChesney.
Fewer than 900 players competed in the 2009 Grand Prix, which means than less than one-third of USCA players competed in a USCA sanctioned event during the year. The Grand Prix typically had more than 1,000 players every year as recently as 2006, and the recent slip is likely a function of the sagging economy, as USCA membership remains stable at more than 3,000 nationally despite the recession.
The 2010 Grand Prix is already under way. You can see the current standings - representing early sunbelt results at this writing - on the USCA website. The top 100 finishers in 2009 are listed below.
---
USCA 2009 GRAND PRIX Top 100

 
RANKING              HANDICAP   SINGLES  DOUBLES   TOTAL
  
Rothman, Ben           -3       18570     12885    31455 
Grimsley, Doug         -3       11810      9740    21550 
Huneycutt, Danny       -3       15225      4640    19865 
Soo, Jeff              -3       13800      3820    17620 
Mitchell Jr., Johnny   -1.5      8080      8652    16732 
Osborn, John C.        -2       11180      3830    15010 
Morehead, Ben          -0.5      8828      5985    14813 
McCoy, W. David         1        5637      8135    13772 
Cochran, George        -2       10780      2709    13489 
Just, Peter            -1.5      8360      4980    13340 
Scott, Paul            -2.5      9865      3120    12985 
Knopf, Ted             -1.5      9332      3485    12817 
Curtis, Richard G.     -1        5180      7248    12428 
Lamm, Rich             -1.5      7880      4200    12080 
Jones, Jackie          -0.5      7505      4420    11925 
Wassink, Derek         -1.5      9190      2580    11770 
McBride, Leo           -2.5     10025      1710    11735 
Cherry, Bob            -2       10100      1035    11135 
Jones, Fred            -1.5      5162      5120    10282 
Hendry, Ron             0        4610      5661    10271 
Young III, John         0        3750      6450    10200 
Sullivan, Richard      -1.5      8670      1365    10035 
Bast, Jim               2        8060      1710     9770 
Baird, Matt            -2        7695      2059     9754 
Gibbons, Michael       -1        9370         0     9370 
Ruby, Britt            -1.5      6800      2570     9370 
Berne, Freeman A.      -2        5290      3410     8700 
Johnston, Stephen C.    0        1850      6675     8525 
Chilton, Bob            0        6528      1988     8516 
Scalpone, Steve        -0.5      8025       468     8493 
O'Laughlin, Edward      1.5      2640      5850     8490 
Butts, Jim             -1        5870      2610     8480 
Hayworth, Horace W.     0.5      4130      4190     8320 
Hughes, Tom             0        4230      3965     8195 
Cumming, Brian         -2        7575       180     7755 
Patmore, Chris         -0.5      7635        85     7720 
Martin, Bill            0        2170      5470     7640 
Gillmarten, Charles     0.5      4970      2450     7420 
Whitlow, Charles        0.5      2875      4545     7420 
Lawrence, Stuart       -0.5      6905       435     7340 
Settlemyre, Norris     -1.5      5280      1740     7020 
Bennett, Paul T.       -1.5      5940      1050     6990 
Stark, Jerry P.        -1.5      6975         0     6975 
Van Tassell, Robert     1        5150      1776     6926 
Brackett, Richard      -1        4575      2345     6920 
Roberts, Edward S.     -0.5      4080      2355     6435 
Emmett, Paul            0.5      6200       180     6380 
Harrington, Tommy B.    1.5      4625      1715     6340 
Essick, Jon             1.5      3195      3030     6225 
Caldwell, Jeff         -1        4970      1181     6151 
Carmichael, Michael     0        2220      3910     6130 
Rapuano, Timothy        1.5      4445      1658     6103 
Hughes, James H.U.      0        5130       880     6010 
Huxtable, Ron           1        3211      2681     5892 
Taylor, Mike            1.5      2687      3145     5832 
Bitting, Kenneth (Tim) -1        3180      2640     5820 
Wilhoite, Richard       0        5350       420     5770 
Sheely, Richard        -1        2350      2844     5194 
Thompson, Frank         1        2725      2415     5140 
Weimerskirch, Mike     -0.5      2840      2244     5084 
Grey, Peter             1.5      2787      2183     4970 
Ekstrom, David          0        3032      1768     4800 
Soo, Eileen Kupstas     2        4025       620     4645 
Beck, Micah             3.5      3511      1067     4578 
Loat, Christopher       0.5      3308      1089     4397 
Bayard, Rufus           0        2280      2050     4330 
Grimsdale, Bill         1        3890       420     4310 
Taft, William           3.5      2440      1870     4310 
Houser, Jim            -0.5      2510      1800     4310 
Davis, Blaine           0        3112      1030     4142 
Knott, John             2        1885      2245     4130 
Mathieson, Don          1.5      3660       420     4080 
Hall, Jr., Jim          1.5      4065         0     4065 
Curington, John         1        2620      1290     3910 
Peterson, Harper        0.5      3730       180     3910 
Orgill, Michael         0.5      3185       600     3785 
Lawrence, Vic           2.5      2440      1310     3750 
Cooley, William         5        1111      2631     3742 
Summer, Steve           2.5      2500      1230     3730 
Hunter, John            0        3205       410     3615 
Whitmore, Robert B.     2.5      2875       675     3550 
Billings, Paul          2.0      2730       810     3540 
Quimby, Ted            -1.5      2880       640     3520 
Simonds, Jane          -0.5      3420         0     3420 
Leeming, Barbara        4.5       329      3083     3412 
Houghton, Neil          0        2820       560     3380 
Daly, Mary              3.5       970      2360     3330 
Huxtable, Linda         1        2877       448     3325 
Lyon, David             1        1880      1385     3265 
Smith, Matthew B.       1        1950      1270     3220 
Northrop, Ken           4.5      1027      2130     3157 
Kelley, Rory            0        1355      1800     3155 
Hafner, Bob             1.5      1355      1770     3125 
Morgan, Robert S.      -0.5      1400      1700     3100 
Campbell, William       2.5      1183      1902     3085 
Foy, Patrick            4         500      2540     3040 
Ramey, Martha           0.5      1880      1160     3040 
Brodsky, Stuart         1        2150       811     2961 
Lloyd, Ron             -2        2485       460     2945 
Spoonhour, James       -1        2645       255     2900 

---