Chatting with the Irish
World Champion of Golf Croquet


an interview with Mark McInerney by Bob Alman
photos by Johnny Mitchell, Don Oakley, and Lila Photo
Posted April 17, 2012


---

Irishman Mark McInerney is the first non-Egyptian to have won the Golf Croquet World Championship--in July 2011 at Hurlingham. Having been a semi-finalist in his two previous tries, he wasn't surprised by the win, though others were. The 28-year-old lives with his partner Edwina in County Wicklow, where they both work hard growing their business, Knightsbridge Boutique, a bridal store in Dublin. He's also a dog behaviorist who has played quite a few sports throughout his life at a competitive level, including golf, tennis, swimming, rugby, and football. Business interests and a knee injury have helped persuade him to concentrate on croquet over the last year, and not just Golf Croquet. He goes to the 2012 Association Croquet World's in Adelaide ranked #15 in the world and convinced he's the best player in that form of the game, as well. But he doesn't promise a win, and in this interview, begun courtside at International Polo and completed by email, he explains exactly why.

---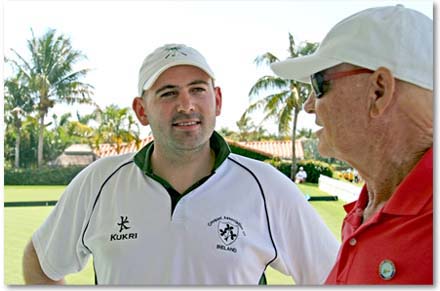 Mark McInerney is questioned by the editor on the Sports House porch overlooking the croquet lawn and polo fields at the 2012 International Croquet Club Palm Beach Golf Croquet Invitational. Don Oakley photo.

BOB ALMAN: After you won the Golf Croquet World Championship in the summer of 2011, you didn't play another major Golf Croquet tournament until February 2012, at International Polo Club in Palm Beach. Even though you had a good record before the world championship, some people regarded your win at Hurlingham as a one-off fluke. When Stephen Mulliner upset you in the first match at International Polo in two straight, that impression was confirmed. But the quality of your play after that first match and the confidence with which you won that Palm Beach invitational tended to confirm your legitimacy as the best Golf Croquet player in the world. So: are you really the best, Mark? How good a bet are you to win the next world championship, in the spring of 2013?

MARK McINERNEY: Firstly, who on Earth said that my win was a fluke?! I'd love to know who that clown was. I have not heard anybody say something so stupid about my fully deserved victory last July.

BOB: I confess that I heard not one single person say that, Mark. But it was a feeling I had, myself, about what people were thinking. I had not been following your progress, and your win of the World Championship really did look kind of chancy on paper, especially the first game of the knockout, against James Goodbun. But I must say, your convincing win at Polo against that strong field put that thought out of my mind.

MARK: The undisputed fact remains, Bob, I was, and still am, the best player in the World. That is why I am still undefeated in competition. I have dropped games and matches but I have won all three tournaments I have played in since I returned to the game after a five-year break last July, including the pinnacle of competitive sport, the World Championship. And the last two events have had many of the best players in the world competing in them. I just turned up in London last year after having had five years off, plus a brand new unfamiliar mallet [a Pidcock with a 12-inch head] and no more than 20 days practice after the five-year gap, and still won it! It all seemed so effortless. I had one match that was a little sweaty, but due to my immense professionalism, focus and strength of mind, I was able to recover superbly and take the match.

As for my record before last year, it was pretty flawless. I am a firm believer that actions speak louder than words! And that's all I ever have to do. Prove it. It's what I do best. I am always doing the unexpected. Achieving the unachievable. That's just me. My self belief is overwhelming. There is simply nothing I believe to be outside my reach. If it wasn't croquet I decided to excel at, it may have been golf, or rugby, or surfing. I can achieve anything I set my mind to. Croquet is just an area where I excel because I chose to. I put so little time and effort in to the game, and yet my results are massive. I just turn up and usually win. It must upset other competitors who really have to work hard to stay at the top of the game. I just turn up and pick up where I left off.

BOB: You certainly have an impressive record in those three events you mention, but before that, how was anybody but Mark McInerney to predict that he would become the world champion?

MARK: In my previous two World championship efforts, I was a losing semi finalist. That's two last 4's and one first in my three attempts at that World title. Pretty unsurprising that I won it last year, I would say. And before that I had won two European titles from two attempts, as well as a couple of Irish titles. (I have only played in three Irish Championships, I think) And looking forward to 2013, I am even more confident than I was going into the Worlds last July. I simply cannot see how anybody can beat me the way I am playing. I don't miss much over any distance, clear 7-10 yarders with impeccable control and consistency, and run hoops with beautiful control that all give me a major advantage over most competitors. I am also unshakeable!! I do not rattle. No matter how well you play against me, I still believe I am the better player and that I am going to win. That is self belief. Powerful confidence. I use it in every aspect of my life, whether it's croquet or building my business or rehabilitating dogs, I am just the best in my mind.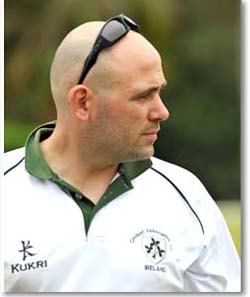 Several players over the past year (since I returned to the game), have told me that they "have played the best they could possibly have played" against me, and were still nowhere close to beating me. I think that says a lot. When a great player tells you he can not play any better, and yet I still beat him comfortably enough..... Seriously, what more proof do you need? The Egyptians (masters of the game before I came along) hold me in high regard. They have even since I first challenged them in 2004 for this title. They feel myself, Reg and Rob are three highly competent players who they worry about playing. From their own mouths, not mine. I actually listen to and respect the opinions of the Egyptians.

You mentioned my loss to Stephen at the International Polo Invitational. Firstly, I lost three matches during that event, all of which were using the dreaded Sunshiny balls! Once we switched to Dawsons, I was undefeated! What does that tell you? There is no way I would have won the World Championship last July if Sunshiny balls were used. Absolutely NO WAY. They are the worst. Products of the devil.

BOB: The relative "deadness" of the Sunshiny balls compared to Dawson was surprising. We had no idea that it would make such a difference. I had to be convinced, myself, with comparative demonstrations of the energy transfer from ball to ball, which is so critical in Golf Croquet. So the first adjustment we made for this annual tournament is switching to Dawsons permanently. (We used Egyptian balls last year, which also have a great ball-to-ball energy transfer, but it's hard to find matched sets!)

MARK: But I made no excuses for those losses. I accepted the defeats and got on with the job at hand (which involved winning my last 3 matches to qualify including destroying Khaled in two straight games in less than hour, plus a semi final and final against two of the best players in the world, once again including Khaled whom I beat convincingly for the second time in three days. And it's not true that Khaled was not in top form. He was completely healed and almost undefeated in that whole event until he met me. He is a formidable player, as much now as he always was. Why else is it that five of the world's current best players could not beat him in Florida? Only I beat him so convincingly. He couldn't even get a game off me. Beaten fairly and squarely. Outmatched and outplayed.

BOB: Mark, you've convinced me that you really are the best in the world. Have you thoroughly convinced yourself as well?

MARK: Yes, I am the best player in the world right now. And if anybody disagrees, they can come and have a go at me anytime! Prove me wrong. I'm right here. I am not hiding. I am the man to beat. So do your best and see how you get on against me. and here's something else for you. I believe I am the best Association Croquet player in the world right now also. There's that self belief I spoke about earlier. My style/swing is as natural as it comes. This sport comes as easy to me as walking. Particularly in Association, I lock into a zone and it is hard to break out again. I rarely make mistakes. I have an excellent repertoire of shots, all of which I play well, and I am a fairly consistent and a good shot. Bring on Adelaide, I say! I believe I will win it, but I have a lot of good players to get through. But the thing about that Association game is, you are not so much playing your opponent as playing the lawn. Just like golf. It's down to how well you can hit in and control the innings. All it takes is for your opponent to miss two 17-yard lift shots and they could have lost two straight games and be knocked out of the event. So in Association it's your ability to take control and keep control. You are playing against the lawn, much like a golfer plays against the course and not the other players.

BOB: Your entire family have been playing at Carrickmines since you were a small child. You grew up with croquet in a croquet-playing family, and you love the sport. How did that very early start affect your development as a player and contribute to your excellence in competition today? Are you the Tiger Woods of croquet, Mark? (And naturally I mean the pre-adultery Tiger Woods before his Great Fall from the heights.)

MARK: My father began playing at Carrickmines in the early 80's and was soon representing Ireland at International level. There's no doubt that starting the game so young has had a profound impact on how I play --how I strike the ball, for example. The younger you start to do anything, the more natural it feels to you. That's why I love to play croquet, I have an early connection to it, so it is actually a sense of comfort to me. It's therapeutic to head out on to the lawns and play some nice croquet ;-) That fact that I am not too bad helps, because it gives me access to compete against, and hopefully beat, the best players in the world. And that feels great :-)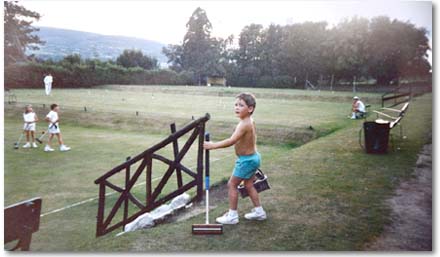 At two-going-on-three circa 1985, Mark had a firm grip on his mallet in family games at Dublin's Carrickmines club, where his father was one of the top competitors. McInerney family photo.
BOB: The Irish economy is famously troubled, some say in free-fall. How has that affected you and Edwina and your businesses? How has it affected your desire and ability to play major croquet events and maintain and advance your standing? What do you predict for Ireland and for yourself and your businesses over the next five years?
MARK: Things have been very difficult in Ireland for the past few years. Thankfully our own business has grown from strength to strength since we launched our website in August 2010 (followed by a shop in Dublin in October 2011). Although I'm sure the growth is slower than it would have in better times, because we would have had access to business loans back then. Things are slowly improving here, but it will be some time before things return to decent growth and the employment rate improves. Ireland is also carrying enormous debt which we can't service.
My financial situation certainly affects my ability to travel abroad and compete, at least right now. But I am hugely grateful to the Carrickmines club and the CAI for sponsoring my travel and accommodation expenses for the forthcoming World AC Championship. Otherwise I wouldn't have been able to make it happen.
Id love to start playing more croquet abroad but it is just so time consuming. I have already taken almost three weeks off work so far this year. My business suffers while I'm away from it so I don't like to take time off work if I can avoid it.
BOB: You convinced me and everybody at the International Polo Invitational in February 2012 that you really do have an edge in Golf Croquet, and in Adelaide you may have something to prove as well in the Association game. But many prominent players continue to insist that Golf Croquet is a game with volatile results in the match-play format in which it is usually contested. To account for the supposed volatility, your teammate Patsy Fitzgerald opined to me at lunch that to win consistently in Golf Croquet, one needs to be 20 percent better than one's opponent, all other factors being equal. I didn't challenge him to further quantify, and it isn't necessary, I get the idea. Do you think that's a fair and accurate statement?
MARK: Patsy is a very capable player with great potential, but until he starts to listen to OTHERS about how to play this game, he will never improve past his current level. He doesn't even listen to me when I give him advice, and I am world champion ;-) I believe all one needs is to be is one percent better than your opponent to win, would you not agree? And how did Patsy define "better"? Does he mean more consistent shooting, more consistent hoop running? What?
Golf Croquet is absolutely not volatile, particularly match play. Single games are volatile, yes. Not matches. Matches level out the percentages. Which is why in Golf Croquet, the better player usually beats the weaker player over the course of a match. Period. Statistics point to this fact. This game is no more volatile than tennis (which isn't volatile at all, incidentally!) Of the two games (Association and Golf Croquet), Association is the far more volatile game, with results far more unpredictable than they are in Golf Croquet, because they are not one-on-one contests like Golf Croquet. In Association, it is you versus the lawn. Your opponent may only get two single shots in an entire match, and if he misses both he can be knocked out. Where is the fair and equal contest between the two players in that scenario? The opposite is true for Golf Croquet. You each get an equal number of shots throughout the game, much as in tennis. So you have a fairer contest between the two players in Golf Croquet. This is also why golf on the links can be considered volatile. It's all about who can play the COURSE the best on a given day. You are not playing one another, you are playing the course. JUST LIKE ASSOCIATION CROQUET! So it's Association Croquet that is volatile. Watch the upcoming AC Worlds, and I will be proven right.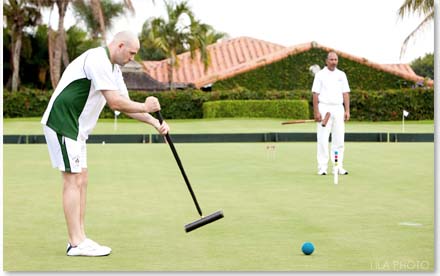 McInerney played Younis three times in the 2012 International Polo Invitational. Here Khaled watches Mark put his ball into position at penultimate in preparation for winning the final match and half the $8,000 purse. Photo by Lila Photography.
BOB: You're giving me the impression that you strongly prefer Golf Croquet over Association. Is that true?
MARK: You mean do I have a favourite as a player? Absolutely not! I love them both because they have both been a part of my life since I was two year old!
BOB: During a key match at the International Polo Invitational in the early afternoon, you felt ill and took a short break. I asked you about it later, and you said you had eaten lightly. On the next day around noon, when you had the final match coming up against Khaled Younis, I asked if you were doing lunch and you said no--not after what happened last time. So my question is: Are you superstitious?
MARK: Absolutely not in the slightest bit superstitious. Eating even a modest lunch before you have to walk around a lawn for a couple of hours is not a good idea. I learnt that the hard way and it nearly cost me the first game against Khaled. I felt weak and ill, no energy at all.
But superstitious, no. Golf croquet, like many sports, is a game of percentages. Play the percentages better than your opponent, and you will win. I'm just good at playing the percentages. I also have quite a bit of highly competitive Golf Croquet experience at this stage and am able to make quick tactical decisions, where in the past I would have to stop and think long and hard about which of the 4 or 5 options I have will offer me the best percentage? You often see people stop during a game of Golf Croquet to think out the next few possible scenarios and options available to them. The game is constantly changing. This happens a lot in Golf Croquet. It's just a great game. You just can't switch off and you must remain focused. It is also far more exhausting than Association.

BOB: Besides skipping lunch, do you have a physical fitness regiment that supports your playing? Aerobics? Yoga? Resistance training? What?

MARK: Nothing really. I practice a lot of meditation, hypnosis etc. And spend lots of time interacting with dogs. It all helps me relax and feel fulfilled.

BOB: You are one of the few vegetarians I have known in the croquet world. Mik Mehas sometimes had problems when vegetarian fare wasn't provided at lunch. Is this often an issue at the croquet events you go to? How do you manage it?

MARK: Yes it is, but it is not exclusive to croquet events. This is the case anywhere I go. Vegetarians are usually not very well catered for, but I'm well used to it at this stage. It was Mik Mehas who inspired me to make the change to vegetarianism. When I first met him, we spent some time talking and by the time I met him at the next tournament I had turned vegetarian. It certainly has a knock-on effect. Several friends and family of mine, as well as my life partner Edwina, have all turned vegetarian as an indirect consequence of my becoming a vegetarian as an 18-year-old.

BOB: I know you share my strong conviction that Golf Croquet should be the game that leads the entire sport into a new era of wider public understanding and appreciation and sheer numbers of players and fans. With publicity, we managed to assemble several hundred people to watch the public exhibition game you and Khaled Younis agreed to do at the National Croquet Center on February 25, during the International Polo Invitational, and we drew the biggest crowd ever in this country for a "serious" Golf Croquet match. Doing the play-by-play commentary with Amir [Ramsis, president of the World Croquet Federation], I asked him how many people he would have in Egypt for such a match, and he said, "Thousands." The crowd were obviously spellbound during your entire game, which lasted almost an hour. I want to ask you now: Will you be willing to do another exhibition game like that next February when you come back for the 2013 Polo Invitational as world champion and top seed in the event?

MARK: Of course I will. I enjoyed the with Khaled. I believe he did also. What is most important with such exhibitions is to not only have two of the world's best players competing (preferably former world champions for status) but that at least one of them must be EGYPTIAN. They are most of the best players in the world, proven time and time again. The way they hit the ball is extraordinary. Tremendous power but very consistent accuracy also. They have developed their own technique in striking the ball and their own set of tactics to go with it. If we wish to get this game popularised and televised, we need to show people the Egyptians playing this game. It is just so damned exciting. I'm amazed this game hasn't grown faster than it has the way it is played. Golf croquet is the game of the future. It will attract new players to the sport. It's sociable, it's easy to learn (but difficult to master), it's fast, it's aggressive, it's exciting. Who wouldn't want to try it out?

BOB: You're absolutely right about pairing you against with the best Egyptian they can send next February, who will undoubtedly be the other top seed in the event. But here's the kicker question. In our debrief of the Polo Invitational, the idea came up of doing a highly-publicized REAL and consequential world championship-level match with play-by-play commentary for that substantial gallery of spectators. Normally the top seeds would play on the final day of the blocks. Since I would be managing the microphone, I could promise to be very sensitive to the action and be silent during all the shots, and everyone I shared the podium with would do the same.

But that's not all! After further consideration, we decided we could publicize the exhibition to begin at, say, 1:00 PM, although the match will actually have begun at 12:00 Noon. So in fact, you and the other top seed will have gotten accustomed to the lawn and the atmosphere in the first game, and before the second game we would announce the result of Game One, explain the significance of the match, introduce you both, and begin Game Two with play-by-play commentary.

You are absolutely the one and only person who could tell me whether and how this would work for the players and the overall event, because you played against Khaled in that exhibition match on February 25, with our commentary in your ears--although you told me later you couldn't hear it that clearly out on the lawn, I believe. Is this a workable idea in this sport, Mark? To ratchet up the excitement level and produce the best possible spectacle for publicity, both live and on film, can we make "live" play-by-play commentary work between champions in an actual and consequential match of a major event?

EDITOR'S NOTE: Mark's answer to the last question is not immediately forthcoming. After some prompting, he sent an email on April 15 to explain his delay in answering, which said in part, "I'm sorry, my dog went missing on Saturday and I haven't slept, been trying to find him. Won't be able to address anything until he's home safe." We regret to report that Mark found his dog Lucky by a roadside three days later, and buried him on April 18.

Given the time devoted to looking for Lucky and the prospect of additional neglect of his businesses, Mark has withdraw reluctantly from the 2012 WCF Association Croquet World Championship.
---