Talking croquet with David Openshaw
- interview by Neil Williams
photos by Bob Alman
layout by Reuben Edwards
reprinted by permission
from the May 2000 Croquet Gazette
---

David Openshaw is one of the relatively new breed of croquet players who are at home in California or Palm Beach; Christchurch, New Zealand; Milan or Surbiton. If it's Maytime, it must be Sonoma. When we met - at the end of February, 2000 - David had hardly had time to get over the return flight from New Zealand, where the Great Britain team under his captaincy had successfully defended the MacRobertson Shield. It wasn't surprisng, then, that this Test series ran through our conversation.

---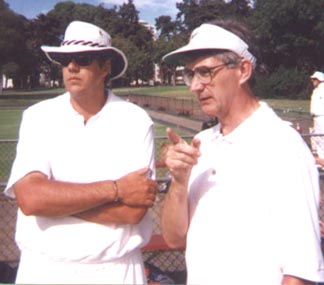 Openshaw points and Dan Mahoney listens at the 1997 USCA International Rules National Championship in Oakland, California.

In David's view it was "the most intense croquet you can ever play....The tension on those last two or three days was really immense. We learnt a lot about ourselves." Still, despite this recent and overwhelming New Zealand experience, our talk did range more widely, from the domestic, British scene to how the game is developing in the USA.

The MacRob was always likely to have figured in a big way in talking to David Openshaw, for it has played quite a part in his life. The stats so far are: played in 6 series, 5 as captain, winning the Shield 4 times - 1982, 1990, 1993 and 2000 - and losing twice - 1979 and 1986. In terms of success rate and durability, it is a captaincy record unlikely to be broken. The unvarnished, proud fact is that David Openshaw is Great Britain's most successful current Sports Captain. IN ANY SPORT. Nasser Hussain? Alan Shearer? Matt Dawson? No contest.

"I've always had a very optimistic outlook, and a very positive outlook on games and sports. I keep thinking I'm going to win even if the law of averages is against me. I have my own law of averages that says that if I'm doing well, I'll continue to do well; and if I'm not doing well, it's time I started doing well."

His background provides us with a few clues to that success and to his buoyant outlook. He was born, 53 years ago, in Nelson, East Lancashire. At Nelson Grammar School David played soccer and first team cricket. More important, he played chess for the school team from the age of 12 against the 18-year-old intellectual power-houses of the urban Grammar Schools. "In the first season, I think I didn't win any games. So I came home rather disheartened, but my mum gave me a cuddle and told me I was improving. I got a lot of confidence from my mother, who kept telling me - probably when I came home from those chess defeats - that I could do anything I wanted to do."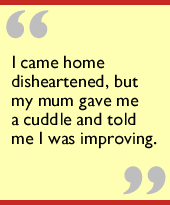 The encouragement worked. From Nelson G.S. he went on to captain the Oxford University chess team. That was in addition to reading Physics, and playing croquet a few times for fun on sunny afternoons at his College, Wadham. Not until much later when he'd left did he discover there had been a College croquet team. It reminds David of Edgar Jackson's remark, that the most difficult thing about croquet is discovering it in the first place.
And after Oxford? A Business course at Bradford University. Then work in the automotive industry in London. Still no croquet - not, that is, until he read a piece in a newspaper about Bernard Neal winning the Opens. The Croquet Association phone number was given. He rang and was put in touch with his nearest club, Harrow. He joined, and his croquet career was launched. It was 1970 and he was 24.
David sees himself as a slow learner in comparison to many other top players. If it hadn't been for three members at Harrow - Graham Martin (who taught him to play), Eric Solomon and John Ruddock - he might have given up early on. But they formed a little group who were keen to improve. Which they did - enough to win the Longman Cup.
Watching the masters play at Hurlingham
"That was really what cemented my interest. Without the group I probably wouldn't have stayed with it - that and the tournaments at Wrest Park. I really enjoyed the croquet there and the social side, with John Rose, Eddie Bell, Barry Keene and John Wheeler. Then I had my first sight of Advanced play at Hurlingham in 1974, when I saw Nigel Aspinall play John Prince in the MacRobertson. I couldn't understand what on earth was going on. Soon after that I joined Roehampton. Nigel Aspinall was there and Dudley Hamilton-Miller.
Two years' hard work at Roehampton followed, as a result of which he made the transition from handicap 3 to A class:
"I really worked hard. I practised three evenings a week on my own and at weekends. And that's what helped. Most good players have had a period of time when they've played and practised really hard. I improved enough to play in the Hurlingham week and then the Opens and went on from there." His record includes 3 wins in the Opens: 1979, 1981 and 1985.
What and how does he practise now? On the technical side he finds playing 3-ball breaks both relaxing and useful; he also believes in working on the "little" shots: approaching hoop 2 from corner 2; hoop 1 from the boundary; hampered shots around the hoop; little jump shots; split peels.
The confidence factor
Two of the most interesting observations he makes on practice relate to confidence and belief: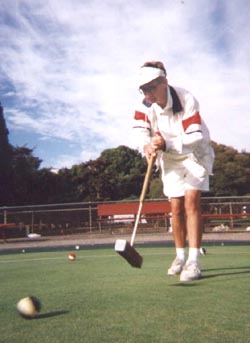 On the court: concentrated and confident.

"There is a school of thought that says you get your confidence by believing in yourself. That is something I work on. You can practise this without going to the club. If you focus on some shots - just sit down and think about croquet for a bit and rehearse some shots in your mind. The other thing I do is connected to this. Over the years I've collected a number of reports about my games - my wins in the Opens, for example. And I've made little notes about particular games in which I've done well, and particular shots. I re-read these before events. When I went to New Zealand I took with me about 15 sheets. And I did read them. It helps to have a vivid memory of your successes.

"One of the thngs we did before the tour was organise a team meeting to discuss our personal objectives, which we wrote down and took with us. On the tour every evening we went through the day and looked again at our objectives. I also think it's useful to remember the lift shots you've hit. I remember one against William Prichard in the 1985 Open Final. When I come to similar situations, I remember that shot."

I suggest that the 10-yard shot he hit in the crucial Doubles in the last New Zealand Test - a shot described by his partner, Stephen Mulliner, as the best 10-yarder David will ever hit - must now be added to the list.

"It was a critical shot. We could take either a 10-yard shot or a 28-yard one with which we would have joined up if we'd missed. But it would have left our opponents with a 6-yard shot to the peg. We both agreed it was better to take the bull by the horns. Instead of relying on our opponents to miss something, it's much better for us to hit something. It was a pressure shot, but I did fancy taking it. Stephen was very happy about it, too. I just stroked it very nicely and hit it in the centre."

If that was a pressure shot, what about the final singles on the last day of the Test, with New Zealand and Great Britain all square? Even croquet players back home in the English winter, receiving the daily reports on the net, 10,000 miles away, could feel the tension. You will remember the position: David Maugham against Toby Garrison, one game all, the lawns glassy, the temperature in the 80s, David sluicing his sweaty hands with the iced water from the drinks trolley, the crowd gathering as all the other matches finished. The stuff of sporting fiction. David's win with a Triple when, as David Openshaw put it, "so much was riding on it" is surely one of the great croquet victories of all time. "His TP finish in the last game was absolutely fantastic. And absolutely the right thing to do because Toby Garrison was shooting so well."

I wonder what had been the captain's role that day. It must have been hard not to be playing.

"All through the series it's part typical sports captaincy, but since we had no manager or coach you have to take on those roles as well. You're also ambassador for the Croquet Association, talking at functions, thanking all those people who've put effort into organisation and administration."

On the last day the nearest parallel might be the Ryder Cup captaincy, chasing from match to match to boost morale and spread the news.

"Well, each of the players had different requirements. Some wanted you to come along and talk to them, and tell them what was happening in the other matches. And some of them were quite happy to be on their own . Most wanted to know what was going on and how we were doing. So I was circulating between the matches, but particularly helping one or two players who wanted to have someone to talk to during play. Of course I would much rather have been playing, but someone had to do the other jobs. I like playing when it's really tense. That's often when my best comes out - not always, but often."

I ask how it feels to come home after one of the most spectacular croquet achievements to almost complete indifference in the media.

"It is a bit frustrating. Kate Hoey, the Sports Minister, did send congratulations. Most of the team are quite interested in sport in general and would like to feel that we have something to say about how we come to be the best team in the world when many other of our national sports teams aren't." I ask what they might have said, given the chance.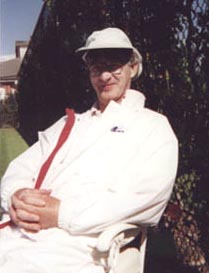 As the outplayer: cheerful, cool and calm.

"One of things that is probably unrecognised unless you analyse it is how different the CA is from many other organising bodies. It's made up mostly of players - people who are actually playing the game. Over the last 15 years there have been a lot of young people involved on the Council , including taking on the Chairmanship. That has been one of the factors in building a strong GB team. People like Steve Mulliner and Colin Irwin, Andrew Hope and Martin Murray have been Chairmen of Council, and they've all played in the MacRobertson. I was Chairman of Selectors from 82 to 86, when I was in my mid-30s. Now we have Chris Clarke as Chairman, and he's 28. It's a very different situation from any other sport. If you have players in key positions they really want the best team to be out there. So they make more effort to get on with whoever is chosen. There really is a better system in the CA.

"Another factor is there's always been focus on how we can improve the team. When I started playing there were only the big three events - the Opens, the Men's and the President's. Now we have best of three weekends in the four Regional Championships, and we have the Home Internationals. So the top players play each other a tremendous amount during a season. It helps to bring people on. If you look at cricket, the game is split between 18 teams and the top players rarely play together. These three things really have helped us: player-selectors, player-adminstrators and an extensive range of A class events."

Watching croquet develop in many countries

On wider croquet issues such as this one, David has clear, far-sighted views. He commented with regret on how much more active the NZ Sports Council is in developing Juniors - and, in passing, mentioned the new version of croquet, called Kiwi Croquet, the NZCC are developing currently for young people. It is one of a number of sports being redeveloped for juniors. "They want to develop kids' confidence, sporting skills, ball skills and enjoyment in sports."

He sees work with schools as essential if we are to find a new generation of players who can challenge New Zealand, where there is a deep pool of youngsters who are developing well. In David's view, if you want more top players you will have to look to the schools and universities. But if your aim is to increase club membership, you must look to the older generation. He supports the development of Golf croquet to attract new players, and the promotion of the game through demonstrations in shopping malls, using the indoor mats. "Look at Southwick, if you want a successful example."

We discuss David's role in CA fund-raising. He works as a member of Tony Fathers' Marketing Committee on sponsorship for major tournaments, and is currently preparing a proposal to put to the Sports Council to help fund the World Championships at Hurlingham in 2001.

Another interest is the development of croquet in the USA., where he plays regularly. "It's been a great pleasure to see their game develop over the last 15 years, and to see them in the MacRobertson [where they won their first Test this time. Did they return home to media silence, I wonder.] There's a full programme of events, both US rules and Association rules, and it's still growing."

He talks of one of his favourite events, the Sonoma-Cutrer, played in the wine district of California.: "You get crowds of 1500 people, and they've raised nearly $1M for a charity called Make A Wish, for youngsters with serious health problems."

He would go on about the US, but I have two more questions I'm determined to fit in. First, the question asked of all interviewees: If you could change anything in croquet, what would it be?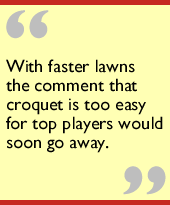 Without hesitation: "I'd like to see more of our top tournaments played on faster lawns. The watering system hasn't helped this. I love fast lawns, and the Christchurch lawns were fast this year. [He thinks they are the best in the world.] With faster lawns the comment you hear that croquet is too easy for top players - too many +26TPs - would soon go away. Faster lawns and firmer hoops, please."
To back this up, David recalls a shot by a New Zealand player in the Tests:
"He was about 3 yards from 2-back. He hit it very hard and it bounced off the hoop past Rover and up towards the peg. You would never get that kind of bounce in most situations here. If you hit the hoop at all in New Zealand it was so much more difficult."
For my last question, I ask him to name his player of the MacRobertson series 2000.
"John Prince played very impressively. He won all his singles. Toby Garrison was an extremely good shot. [Warning: he's only 21 and could be around for some time to come.] Brian Wislang and Steve Jones both came back to score victories after potentially demoralising losses the previous day. But we played well. The pressure was on us. David Maugham's victory when everything was riding on it was fantastic. And Stephen Mulliner's win over Bob Jackson on the final day was very good. It was the second time he's played Jackson on the final day at Christchurch and beaten him...."
Not surprisingly, in the end, David does not settle for any single player in any of the four teams. How could he? Every individual member of the winning GB team - Robert Fulford, Chris Clarke, David Maugham, Stephen Mulliner, Colin Irwin and David Openshaw himself - played their socks off in the most demanding croquet arena in the world. And the spirit in which they played stayed high and optimistic. It seems to me they got the right captain, too. The Openshaw law of averages was given the most searching test it is ever likely to be given. And it held true right to the end. Just.
Neil Williams
March, 2000
Reprinted by permission from the May 2000 issue of The Croquet Gazette.
---