Libby Newell: The polite story and the truth

by Bob Alman
with thanks to Rich Curtis and Ellery McClatchy
Posted April 16, 2011


---

Former USCA president Rich Curtis is unfailingly polite. His tribute to Libby Newell begins, "Croquet lost a number of its notable lights in 2010. One who passed without much notice was Elizabeth 'Libby' Newell, who died on June 7th after a brief illness in Kokomo, Indiana." The Curtis article was published in the USCA Croquet News as well as the National Croquet Calendar. A fuller factual account would describe Libby's final illness as agonizingly protracted for her friends and her family, who had watched her lapse into Alzheimer's (or something much like it) for a number of years. Even in her reduced mental state, she was clever. I was warned of her condition by her good friend and neighbor, Lee Wood, who told me not long after I moved to Palm Beach to organize and manage the National Croquet Club, "Something should be done about Libby." I told Lee, "You should speak to the family, yourself." Some time after that, I heard that Libby had gone back to her family home, in Kokomo. Soon after that, word came of her death.

---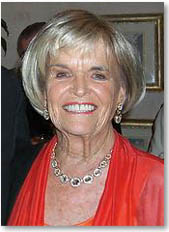 In 1985, a full 25 years before she died, Libby Newell was inducted into the Croquet Foundation of America's Hall of Fame, having already completed her major contributions to Jack Osborn's founding of American croquet. While strong players and pros who die not long after their playing peak are well remembered and much praised when they die (Jerry Stark and Mik Mehas come to mind), Libby was not.

Long before her involvement with croquet, Libby attended Tobe Coburn School of Fashion in New York City, graduated Indiana University, and married Charles Newell in 1941. As a businesswoman she was at one of the owners of the Kokomo Tribune and a founding member of WIOU, a local radio station. She supported the Red Cross during World War II, but her main interest in her last 25 years was croquet. I knew Libby from both her reputation and the high regard in which she was held by my friend and patron, Ellery McClatchy, so I kept up with her after I moved to West Palm Beach in 2000, although she no longer was a croquet VIP. We had many conversations over drinks and dinner, during that time. I especially remember one amazing story she told me about a visit with her late daughter, Tamara, in Key West, in the Watergate era.

After dining with Tamara, she dropped by the hotel bar for a cocktail and was engaged there in conversation by a man who appeared to have drunk too much. The story the man sketched out fascinated and surprised her, and later frightened her. When she got back to her room, she realized this man had told her the information the Watergate hearings were trying to find out: all about "the money trail" from the Nixon White House to the Watergate burglars.

Libby realized there was a possibility this man would wake up sober, realize what he'd done, and put into motion some drastic consequence. In the middle of the night, Libby called her lawyer and told him the story.

The lawyer's advice was swift, direct, and unequivocal. He advised Libby to leave the hotel immediately and as quietly as possible, and announce a "tell-all" press conference the next day, which would publicly air the facts that would otherwise endanger her safety. This is what she did. And she lived to tell me the story, almost 30 years later.

Libby became interested in croquet as a consequence of a chance meeting with Jack Osborn at the "21" Club in New York somewhere around the year 1977, shortly after the founding of the USCA. Jack's "21" membership was part of his divorce settlement, and he made the most of it. I was told, "He got money from his ex-wife – he had alimony. She was the widow of a song-writer. The alimony had the form of a tab at Twenty-One and at the Colony in Palm Beach. So he did a lot of entertaining at those places. But he spent it all on croquet."

Osborn got Libby out to the lawns of the New York Croquet Club in Central Park. At the time, she had an apartment on Central Park South, and quickly became an important part of the development of croquet in the United States. She was an early Director of the Croquet Foundation of America in 1978 and Rookie of the Year in 1979. She was the Secretary of the USCA for four years and later became First Vice-President.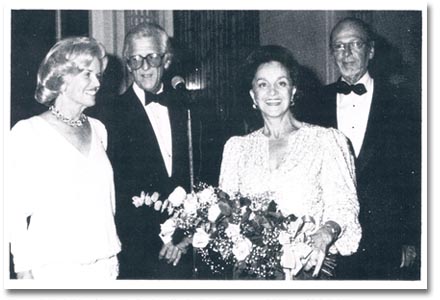 Libby Newell with Archie Peck, Lee Olson, and Ellery McClatchy.
But that's only the polite story, told in the conventional way.
The real story is that she was one of a succession of women that Jack Osborn wooed and won - for the glory and support of croquet, his baby, his mania, his ruling passion. If Jack Osborn was a croquet monk - devoting everything to the sport - Libby was croquet's Mother Superior. "Libby gave Jack anything he asked for," a confidential source told me, "and that included money. She not only ran his office, wrote his letters, kept his correspondence and records, but she gave him almost all her money, over time." McClatchy doubts that the USCA would have survived without her. Another longtime lover of Osborn confirms this.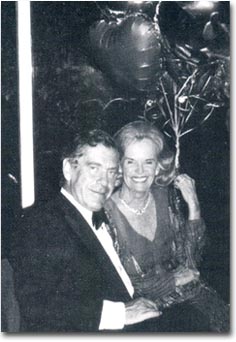 Libby chats with Morley Safer of CBS Sixty Minutes at Tavern on the Green in New York, following her induction into the CFA Hall of Fame in 1985.

According to Rich Curtis, "After moving to Palm Beach in 1979, Libby eventually took over from Archie Peck (who always referred to her as 'Sugar') as President of the Palm Beach Croquet Club for 15 years. She was the driving force behind CFA fundraising for years, and served as the first chairwoman of the Croquet Ball. In recognition of all of these accomplishments and contributions and many more, Libby was deservedly inducted into the Croquet Hall of Fame.

Curtis continues, "Libby was certainly one of the 'grande dames' of US Croquet, but she was much more than that to those who knew her well. She was convinced that women should and could compete equally with men and advocated against separate women's events like those held in England and other British commonwealth countries.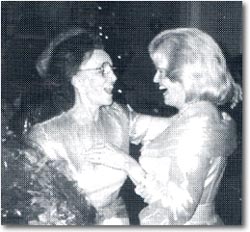 As chairwoman of the Hall of Fame in Palm Beach, Libby congratulates Lee Olson on her induction.

She was one of the first supporters of US teams in international competition. With Lee Olsen, she traveled overseas with one of the first US teams (looking after a young Kiley Jones on behalf of his mother). As she said in an interview with Karen Kaplan in the Croquet News in 2002, when she and Lee discovered what the food allowance was for the team members, they bought food and began making donations . From there they began raising money, and eventually the Lee Olsen Fund was born. Last year (2010) the Lee Olsen Fund paid for the expenses of each member of the US MacRobertson Shield Team - it wouldn't have even existed without Libby.

"Although Libby lived in West Palm Beach, she loved to spend a portion of each summer on Maine's Mt. Desert Island, another croquet haven in its own right. For years she played in the Claremont Classic, one of the oldest 9-wicket tournaments (and the first tournament in which Ben Rothman ever competed). She often partnered with island resident and croquet equipment maker Alan Madeira. Libby enjoyed just playing a game for fun at the Claremont, and many old-time USCA players have fond memories of those games and a drink down at the Claremont Boat House on Somes Sound afterward.

"Libby was dedicated to the growth of croquet. She truly enjoyed the people who played it. Her smile and charm were infectious and, as noted when she was inducted into the 1985 Croquet Hall of Fame, she 'left a personal stamp of exquisite taste and enthusiasm on all aspects of croquet.' She had a full life that was well lived both on and off the courts. Many of us were fortunate that our paths in life crossed with hers. We owe her a great debt of gratitude for her contributions to the sport."
---