My Adventures in Croquet,
Part One

by Neil Spooner
illustrations courtesy of Neil Spooner


---

Neil Spooner was one of the first two overseas players engaged to direct croquet at two ground-breaking facilities in Northern California in the mid-80s: Sonoma-Cutrer winery and Meadowood Resort in nearby Napa County. Neil not only presided over the biggest charity events ever staged by the sport, but he also took the USCA American game, then in its infancy, to a more advanced and sophisticated level, through innovations that astounded the Americans and delighted Spooner himself. This is Part One of Neil's croquet memoir.

---
I was introduced to croquet in 1969 at Westminster School in Adelaide, South Australia. while in year 11. After witnessing a relatively young English MacRobertson Shield team destroy an ageing Australian team earlier in that same year, Tom Armstrong--himself an Englishman living in Adelaide—had resolved to take the game to as many schools and colleges as possible in search of new talent.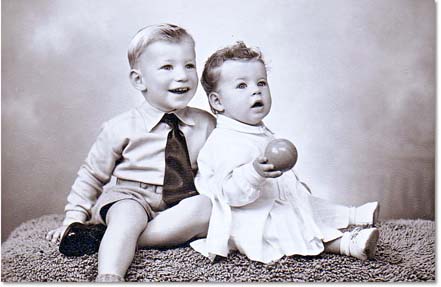 Neil at nine months, in all-white court attire with his older brother Ian, appears to have developed an affinity for something that looks very much like a croquet ball.
(The MacRobertson Shield is croquet's equivalent of the Davis Cup in tennis, but was limited to competition between Australia, England and New Zealand until 1990 when the USA was admitted to the competition.)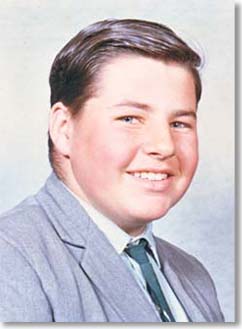 Neil has apparently developed a social persona by his 10th year in school.

Tom, with the assistance of his wife Jean and several other members of the Brighton Croquet Club, successfully convinced a number of private colleges to set up croquet lawns on existing tennis courts with equipment supplied at no cost to each institution

One afternoon while studying geography during our weekly activities period in a room overlooking the tennis courts, I observed a swarm of students playing an interesting game – golf croquet. With the blessing of my geography teacher I transferred to croquet activities each week. In the weekly activities period supervised by Armstrong, a small group of enthusiastic students joined me at each lunch break to explore this wonderful newly discovered croquet world.

Mastering golf croquet as a student

For several weeks Armstrong attended the colleges during their respective sports periods and taught hundreds of students how to play golf croquet. The game quickly became very popular, possibly because of its simplicity, so much so that a Saturday competition began between six colleges on the headquarter lawns of the South Australian Croquet Association.

The weekly competition included more than 60 boys and girls, six of whom eventually joined the Brighton Croquet Club. Unfortunately, both for croquet and me, no young ladies continued to play formally because of ridiculous and strictly enforced dress codes— women were required to wear white full-length dresses which had to be no shorter than twelve inches above the ankles.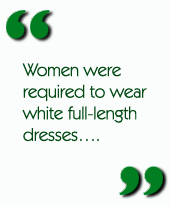 One of the female students from Methodist Ladies College, Debbie Schuyler, was an excellent and beautiful player who may well have become a champion. (We would have been a very good mixed doubles combination.)
Westminster School dominated the golf croquet competitions, finishing the year undefeated. In March, 1970 the six students who had joined the Brighton club entered as a team in the C grade state pennant competition, winning convincingly and undefeated. I was now totally hooked on croquet!
Practicing every day at two clubs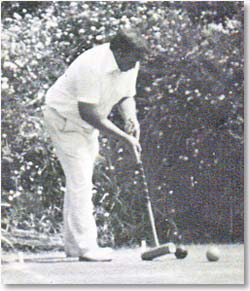 The Irish grip with Neil's variation - forefingers down the mallet shaft. Australian Croquet Gazette, 1986.

Every weekend I could be found at the Brighton Croquet Club playing and practicing – I could not get too much court time and generally would be the last to leave at the end of each day.

Another attraction beckoning me to Brighton each Sunday was the delicious morning and afternoon teas prepared by two lovely ladies – Margaret Rimmer and Myrtle Tubb. Those ladies treated me like a favourite grandson, and they sure knew how to bake a cake!

Because I lived on the opposite side of town, daily travel to Brighton was impractical, so joining the local club at Prospect allowed me to practice every day. As a direct result of playing so much golf croquet, I had developed an excellent single-ball stroke. During 1971 between April and October, through the dead of Australia's winter, I played alone often under lights and sometimes in torrential rain and hail. Playing red/yellow against black/blue, I mastered croquet strokes and peels I may not have otherwise attempted in competition.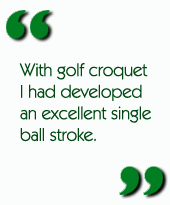 To make practice interesting I imagined I was competing against a player I had heard described as "the best player in the world" based on his performances in the 1963 and 1969 MacRoberttson Shield contests. New Zealand legend John Prince was that player. Even before meeting him, John had become my idol, and I had decided to try and reach a standard as close to his as possible.
Meeting the favourite partner
Later in 1971 I won my first singles tournament—the State B grade championship. The following year I played in the A grade final where my opponent was Barrie Chambers, also an Armstrong recruit but my senior by 15 years. Barrie was a tall, intimidating figure who was also an aggressive croquet player; during my short time playing croquet I had not experienced such competitiveness on the court.
We had never met before and had no inkling of the dynamic doubles partnership which lay ahead. Back in 1972 we were arch enemies! But by the time I defeated Barrie in the final of the South Australian championship we had developed a mutual respect for each other and soon became good friends.
My croquet coach Tom Armstrong and his wife Jean had begun to invite me to join them at their home for lunch each Sunday, but I preferred to remain at the club to practice. One afternoon they came to the club with their daughter Carolyn and asked if I would mind showing her some basic croquet strokes.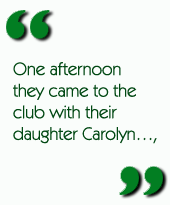 It emerged later that Tom and Jean had been speaking enthusiastically and glowingly about me to Carolyn and she wanted to meet me (one way or another). I was slow to realize what was happening, so eventually Carolyn asked me out and we started dating. Suddenly, Brighton did not seem too far away for daily visits.
When the 1973 South Australian state team was chosen, Barrie and I were selected as half of the four-person team along with John Magor (captain) and his doubles partner Joyce Gehan. Joyce and John were Australian doubles champions, so it made sense to leave them together and for Barrie and Neil to form what was to become a formidable partnership: Chambers and Spooner.
The importance of wearing the proper costume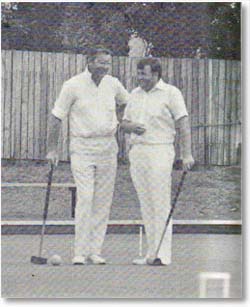 The old firm - Chambers and Spooner. Australian Croquet Gazette, 1986.

Barrie and I fought hard on and off the courts. In 1973 the wearing of a white hat was mandatory in Australia for all croquet competitions. I agreed with Barrie's idea of wearing straw boaters. The authorities told us we could not wear them because they were not strictly white. Not a problem—we could wear them anyway, after Barrie painted them white! We won that battle with the authorities, but the "war" had just begun.

The Australian administrators of croquet were always very particular about costumes. They always wore their green blazers. Barrie first called them "the Green Dragons" and among the players the title stuck.

The MacRobertson Shield was to be held in England in 1974. The Aussie team included a Tasmanian (Jack Read) , a Victorian (Brian Russell) and four South Australians (Magor as captain, Chambers, Spooner and Spencer Buck, an 18-year-old from Mount Gambier).
Spooner's air of supreme self-confidence by the age of 21 may have been developed in tandem with his early talent as a croquet player.

I had planned to share a room on the England tour with my girlfriend Carolyn, but the Green Dragons had other ideas. I was informed that separate rooms would be required, because we were not married. No problem—Carolyn and I married two months prior to departing for the UK.

A group of supporters accompanied our team as we hopped by air from country to country on the route devised by the Green Dragons, who had arranged the flights – Qantas from Sydney to Singapore; Sabena Airlines to Brussels; Air Lingus to Dublin; and British Airlines to London.

Our team went to Dublin for a practice match at Carrickmines against the Republic of Ireland. Australia won 9-0 despite the best efforts of the Irish to gain an advantage over us by providing copious amounts of alcohol.

Winning and losing in the MacRob

The test series consisted of six matches—three each against New Zealand and England. We won our first test match against New Zealand at Colchester by a score of 5-4. Our Australia team lost the next test to England 2-7 before playing the second test against New Zealand..

In that test, John Magor, after losing at #1 in the first test, promoted me to face New Zealand legend and captain, John Prince, who was undefeated in this competition since his debut in 1963, except for a singles loss in 1969 to Nigel Aspinall. John and I had a win each after two games and I was fortunate enough to win the third and deciding game. However, New Zealand went on to win the test 5-4.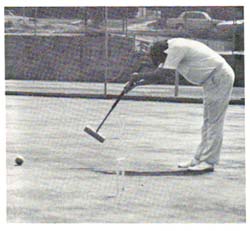 Neil's technique for the roquet. Body stll and head down. Australian Croquet Gazette, 1986.

After I protested the poor condition of a lawn at the next venue, the Green Dragons dropped me from the team for the remaining two test matches.

In 1975 I won my first Australian Open singles title and, with Barrie Chambers, the Australian Open doubles. The singles final was played throughout in steady, heavy rain. Ron Sloane was my opponent. Even though the lawn was well drained, the rain was so persistent that numerous and large pools of water formed across the surface. I could barely hit a ball the length of the court.

The match was played on a lawn adjacent to the clubhouse so spectators could watch the game from a position sheltered from the rain and cold. With no time limit the game was played to the end – four hours in total. The final score in my favour was 26-25.

After the finish my mother appeared from behind the large trunk of a tall tree offering some small relief from the rain – she did not want me to see her watching just in case it would break my concentration. I was twenty two years old but as I discovered that day, motherhood knows no bounds and in a mother's heart her children are always children.

From 1975 to 1979 the national singles and doubles titles in Australia were dominated by Barrie Chambers and me.

The strange management style of the Green Dragons

Following the national titles of 1978, held in Queensland, the MacRobertson Shield team was announced, but it did not include two players who were far superior to two chosen players. Barrie Chambers and Spencer Buck had somehow offended the Green Dragons. Peter Buck and I, both included in the selected team, withdrew from the team in protest, which resulted in Australia sending a second rate team. They were slaughtered. By now, I had grown tired and frustrated as a result of the unfair and unwise actions of the Green Dragons.

Carolyn and I had separated in 1978, and in 1980 I moved to Sydney after meeting my future wife, Theresa. After three months Theresa and I moved to Adelaide and married in June, 1981.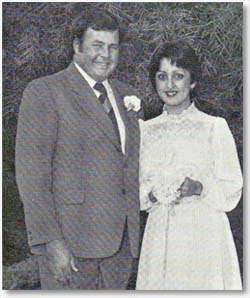 Neil and Theresa on their Wedding Day. Australian Croquet Gazette, 1986.

Because of my short absence from South Australia, the Green Dragons decreed that I was ineligible to represent South Australia for the next twelve months. The 1982 Australian team was to be selected at the nationals in Melbourne. To be considered for selection to the 1982 Australian team, a player was required to enter at least one event in the nationals.

Joining forces with George Latham, we won the 1981 doubles championship, but not without any drama. George and I were well in control of a match when the Tournament Director decided to stop the game and complete it the following morning due to bad light.

The regular start time each day had been nine o'clock. George and I arrived with fifteen minutes to spare – or so we thought. Without notifying us, the resumption time was moved forward thirty minutes, which meant we were disqualified and given a loss. But the event was a "two life" competition, so we became very determined to win through to the title. We set our watches, arrived very early and did not lose another game.

When the 1982 MacRobertson Shield Team was announced the selectors had done well this time. Barrie Chambers was named as the captain. Peter Olsen, Mark Prater, Leigh Herington and Spencer Buck completed the team.

With Australia hosting the 1982 Shield, I felt we would have a distinct "home ground" advantage – especially if the days were very hot. Sydney, Adelaide and Melbourne each hosted a round of three test matches.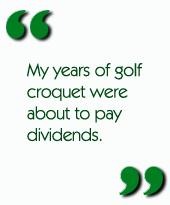 In Sydney, against New Zealand, my opponent was again the legendary John Prince, against whom I had prevailed in England in 1974, in a somewhat scrappy best-of-three affair. No such scrappiness in Sydney. I won a high quality match: 0 - 26(tp), 26(tp) – 9, 26(tp) – 0.
In Adelaide, on my way to defeating Englishman Keith Wylie, I performed one of my most memorable turns. I was for the peg and four-back. Keith had a "lift"and moved the ball I had left at the penultimate hoop to corner one. His hope was that I would make a mistake trying to close out the game after running the four-back lift hoop.
Keith was aptly named. Sure enough, the mistake came. After running four-back I had to surrender the innings or attempt a 28-yard roquet on the ball in corner #1. My early years of golf croquet mastering the single ball stroke were about to pay dividends. I attacked and my ball did not deviate – a direct hit! I executed a near perfect pass roll from corner #1 gaining reasonable position at penultimate, enabling me to finish the game.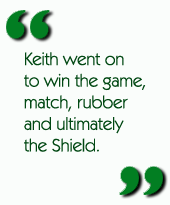 When England and Australia faced off in Melbourne the Shield was still to be decided. The result went down to the wire. Each match consisted of 9 rubbers. After three weeks England and Australia were tied at 1 test, 4 rubbers, 1 game each. Australia was still in a position to win after a surprise victory by Mark Prater over the more fancied Stephen Mulliner.
Keith Wylie and I were the two players contesting the deciding game. After hitting a 16- yard roquet on the east boundary near corner #4, I attempted to set up a break by "taking off" to Keith's balls on the west boundary near corner #2. My ball (over a dry and dying lawn due to drought and water restrictions) arrived close to the target balls but sadly for me came to rest against the boundary string, ending my turn. Keith went on to win the game, match, rubber and ultimately the Shield.
Turning the tables on the Green Dragons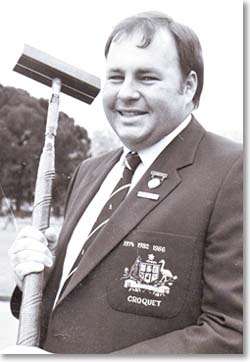 A supremely confident Neil Spooner in 1986, sporting the emblems of three MacRobertsons, is about to embark upon his American adventure--to be covered here in Part II of his story. This portrait is from the final Australian team practice in Adelaide prior to playing the Shield.

At the end of the 1982 Shield I decided to play only locally for a couple of years because, as usual, I had almost exhausted my funds and needed to work to prepare financially for the next international competition in England during 1986.

In 1984 I returned to play at the nationals in Western Australia as a member of the South Australian team. I mentioned earlier that in 1981 I had been barred from playing as a representative of South Australia due to residential issues. Now, three years later, a player named Bruce Ford was representing Queensland after residing in Sydney for the past year.

When I queried the eligibility of Bruce, my protests were ignored and treated with complete contempt by the Green Dragons du jour. As a result of an ensuing argument, long story short, I was summoned to appear in Melbourne to "discuss" the aforementioned incident. I respectfully declined the invitation – there would be nothing to gain by my attendance at a hastily convened kangaroo croquet court; besides, I had almost decided to make myself unavailable for future state and national selection. I was beginning to feel like a modern day Don Quixote.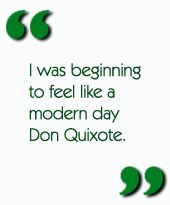 I then learned of my suspension by the Australian Croquet Council for a period of two years, due to our confrontation earlier that year. I assumed they had punished me for that age-old crime of "definition of character." But that suspension turned out to be, though not through my instigation, a game changer.
A groundswell of support arose at many levels. I was encouraged to fight the suspension. Primarily due to the efforts of Peter Olsen, 1982 Australian team member and close friend, the ACC overturned the suspension. Shortly thereafter I was nominated and elected as a national selector, along with Peter Olsen and Jose Sanz-Tonnelier; the average age of the selection panel was a record low of 33 years!
The good news—the wheels of change were in motion. The bad news—
I was now officially a Green Dragon!?!
Three Encounters: Prince v Spooner
I first played Neil during the 1974 MacRobertson series at Colchester in doubles where Allan Anderson and I edged out Neil and John Magor in a closely fought match. We played singles in our second test at Compton with Neil winning 26-0 in the third. We had a classy singles match at Chatswood in 1982 with three T/P's. Keith Wylie commented, "I expected more from the top string players", possibly in jest because Keith as Great Britain's number one singles player appears to have not completed a triple throughout that series!
In the early stages of the tests Neil was by far the best player, combining excellent shooting, with tidy breaks and an ability to play a difficult shot in a tight situation when it mattered most. I felt for him when he went down in game three against Wylie, his only singles loss. Had that one been Neil's, Australia would have won the series. It was that close!
In 1986 Neil was Captain of an Australian side with a new look, as three players made their debut. Bob Jackson, who was unavailable for 1982 series, returned to the New Zealand side which also included a bright new rookie in Graham Beale. Australia ran Great Britain close in their first test but saved their best till last.
With just one doubles win on Day One by the seasoned partnership of Spooner and Chambers, Neil lead the way with a fine win over David Openshaw and Australia defeated Great Britain in a test match for the very first time on British soil.
My third encounter with Neil was a block game at Sonoma which Neil must have thought I'd win, as I'd previously won the first game in the match. The game was close, but a superb jump shot by Neil through an extremely angled 2 back saw him get home. Although I have a good doubles record against him, I never beat him in a singles match. He was just too good on the day.
We sat together at an old MacRob's dinner during the World Championships at Adelaide where I enjoyed his ready wit but was utterly amazed when he told me that as a youngster starting out I'd been a source of inspiration to him.
For me Neil was the perfect example of the formidable competitor who never gives up. I'll never forget his superb bearing and confidence when at game and break down at Chatswood against me he hit the lift full ball and then played sublime croquet to take the match with two immaculate triple peels. A wonderful finish from a great match player.
- John Prince
Part Two of the Spooner memoir will soon be published here on Croquet World Online.
---