The American adventure:
Part II of the Spooner memoir

by Neil Spooner
Photos courtesy of Neil Spooner and Mike Orgill


---

Confident of his mastery of the sport, Spooner did not shrink from tangling with the "elders" of the Australia Croquet Council of the time, and was rescued from his final suspension by fellow players and teammates. As captain of several state teams, by the mid eighties he, himself, became part of the "Green Dragon" establishment. And his achievements on the court were soon to attract the attention of a major—and irresistible--force in California.

---
On May 1st, 1985, Peter Olsen, Jose Sanz-Tonnelier and I met to choose the 1986 Australian MacRobertson Shield team. Alan Cleland, George Latham, Damon Bidencope, Spencer Buck, Barrie Chambers and I were selected. I supported Barrie for the captaincy but the other two selectors insisted I be the captain--more as an act of defiance toward the other Green Dragons than a reflection on Barrie's efforts as captain in 1982. In my opinion Barrie had been an excellent captain.
Damon Bidencope was a very talented and relative newcomer to croquet from New South Wales who would soon become the first croquet professional at Meadowood Resort in California's Napa Valley. Damon was the catalyst for my move to California.
In June of 1985 Damon had been negotiating with the president of a northern Californian winery, Sonoma-Cutrer Vineyards, regarding the possibility of playing a demonstration game of Association Croquet during the 1985 USCA Western Regional Championships to be held on the lawns at the winery in August. Damon invited me to be a part of that demonstration game. It was an opportunity too good to decline, as all expenses would be covered by the winery.
We were met at San Francisco airport by the president of the winery, Brice Cutrer Jones. Brice was very welcoming and was the perfect host during our one-week stay. Local Santa Rosans Susan and Drew Juvinal graciously welcomed us into their home, perched high on a hill overlooking the city (the view by night was spectacular).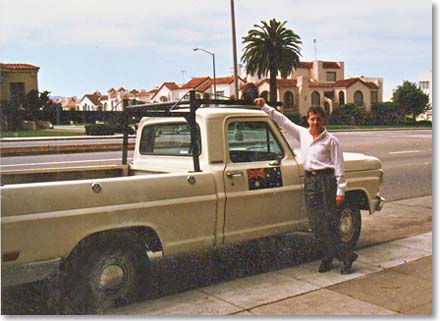 Damon Bidencope was the catalyst for Neil's original visit to Sonoma-Cutrer in 1985. Brice Jones loaned them a 1968 Ford pick-up decorated with the Australian flag to explore the region when they were not refereeing or being entertained at parties. Neil snapped this photo on San Francisco's 19th Avenue.
When Damon and I were delivered to the winery on our first full day in California, I saw the most immaculate, beautifully manicured croquet lawns one could possibly imagine. Croquet Heaven did exist! Brice presented us with a winery vehicle to use as we wished. It was a 1968 Ford pick-up truck (he claimed it was his favourite vehicle) complete with Australian flags painted on each door! Damon and I made good use of the pick-up (visiting the surrounding areas including Napa Valley and San Francisco) whenever we were not refereeing or being entertained at a succession of well planned parties.
One very cool morning, at 6 am, Damon and I presided over the fog cloaked lawns to act as referees-in-charge on two adjacent courts. The USCA rules provide for a 45-second shot clock when requested by a player, and that turned out to be our primary duty as referees—to supervise the clock.
On each of our two courts one contestant failed to arrive at the scheduled start time and the rules also required the attending player to actually play his turn, wait 45 seconds between each turn, and then continue until the game finished. Needless to say, there were two very happy winners….that is until it was discovered that the two "winners" were supposed to have been opponents! To resolve this unheard-of conumdrum, Damon and I decreed that the player who had played on the correct (assigned) would have to be declared the winner.
| | |
| --- | --- |
| | Although Neil did not compete in the 1985 USCA Western Regionals, he was given an irresistable invitation to play a demonstration game of Association Croquet during the event, against Damon Bidencope. The spectators are watching Neil play a break. |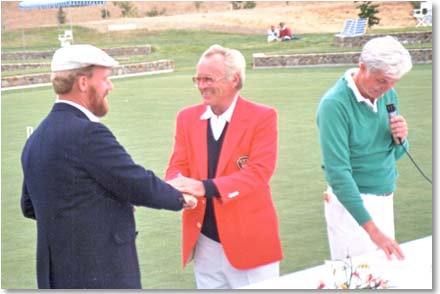 Jerry Stark, Jack Osborn, and Tom McDonnell are laughing here at the trophy table.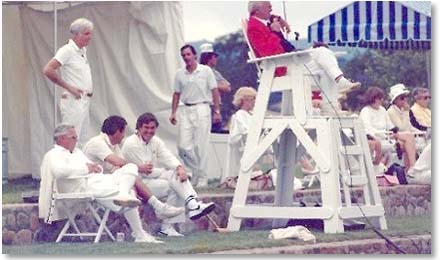 During the 1985 USCA Western Regional, Jack Osborn often presided over the games from a specially built referee chair that resembled a throne. Brice Jones is seated below, third from the left. Only one more USCA sanctioned event was played at Sonoma-Cutrer during Osborn's long reign as founder/president of the United States Croquet Association: the 1986 American Rules National Championship.
Needless to say, the California visit was most enjoyable and gave me a great insight into the American version of croquet. I would have a long time to think about this unusual variation of the sport, before taking it on, myself, as a player.
After returning home to Adelaide I began making travel and accommodation arrangements for the 1986 Australian team. Members of the team were given only a small allowance to help offset the tour costs and had decided to seek cheaper and alternate accommodations separate from the touring group of supporters. I spent many hours on the telephone finding and booking bed and breakfast locations close to test match venues.
David Openshaw, England's team captain, as a director of Volvo (UK) made available two Volvo station wagons for both the New Zealand and Australian teams—a most generous and welcomed gesture!
In the meantime, Damon Bidencope had been asked by Brice Jones to assemble a field of eighteen players for the 1986 tournament at Sonoma-Cutrer Vineyards, to be played by the conventional Association Croquet laws. Nobody could have predicted the amazing success that lay ahead for what was initially named "The Wine Country Invitational Croquet Tournament."
Our Australian team gathered early in the year '86 for a practice weekend in Adelaide. We practiced long and hard for three days; we created a recovery session at the end of the first two days under the strict supervision of the team physiotherapissed, Johnny Walker.
Jet-lagged around the world and back
The northern summer of 1986 had become extremely cluttered croquet-wise. The Australian team had been given two practice matches ahead of the six tests in England. The British Open was next, followed by a trip across the Atlantic to compete at Sonoma.
For me, that represented over two months away from home. Usually the New Zealand and Australian teams would travel alternately to Ireland and Scotland for warm-up matches before the MacRobertson Shield hosted in England every twelve years; but because the Carrickmines club in Dublin had enjoyed our company so much in 1974, we felt we should politely accept the Irish invitation for a "friendly" before heading north to Scotland.
New Zealand won the 1986 MacRobertson Shield series. At the end of the international contest a number of players, myself included, remained in London to play in the British Open. I was planning to withdraw and return to Adelaide because I had been away for seven weeks and was missing my wife and feeling mentally fatigued. The British Open tournament manager eventually convinced me to take my place in the championship.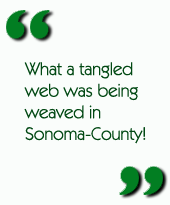 I reluctantly played in the Open, I notified Sonoma-Cutrer I would not be coming to their tournament. Meanwhile, as I played my way into the final eight of the British Open, plans to have me play at Sonoma-Cutrer Vineyards were being made in the land of the free, by the dawn's early light.
Lisa Hagopian called me in London and told me that Brice Jones was prepared to fly my wife (Theresa) to America to spend two weeks with me in California, should I decide to play. I really felt the need to have a break from playing croquet, albeit very short, so I retired during the best-of-three quarter-final match at the Open when games were tied at 1-1. I did not wish to play the semi-finals nor did I think it appropriate for me to attempt to eliminate another competitor knowing I was intending to withdraw.
What a tangled web was being weaved in Sonoma County! As my flight crossed the Atlantic to San Francisco, I was contemplating my croquet future. I had decided this was to be my last event. But others had different ideas.
| | |
| --- | --- |
| | Although Mike Orgill's lead story in the first issue of Croquet Magazine detailed the finals of the "International Invitational" between Neil and England's Stephen Mulliner, clearly the story was about the most beautiful croquet facility in America. Orgill described the tournament as "the first Association singles-only invitational featuring top international players" and "perhaps the most prestigious event, next to the President's Cup (Held in Great Britain)." Did Neil's appearance in the crowd-pleasing finals match figure into his later invitation to manage the croquet there? |
The Sonoma-Cutrer event was a week of good croquet, excellent wine and the very best of Californian hospitality. The final was won by Stephen Mulliner, who defeated me in a close and entertaining match.
Brice Jones had arranged for me and Theresa to stay on for a week after the tournament. We stayed with local players Jan and Don Doherty, who made us feel as though we were a part of their family. As good as the hospitality had been during the tournament, the second week was equally amazing.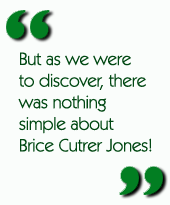 We were entertained endlessly by Brice and specially selected winery staff. The Sheraton Round Barn Inn, recently razed during an horrific northern California firestorm, was host to several nights of Australia-U.S. diplomatic encounters. I thought Brice was simply saying "thank you" for coming to play at the tournament. But as those of us who came to know him discovered, there was nothing simple about Brice Cutrer Jones!
Toward the end of our stay, after two weeks of relentless kindness, came the 'sting in the tail"—would I be prepared to move from Adelaide to California and become the Director of Croquet at Sonoma-Cutrer. Believe it or not, I did take a day or so to talk it over with Theresa and consider the possibilities. After further discussion and negotiations with Brice and Lisa Hagopian, I accepted the proposal.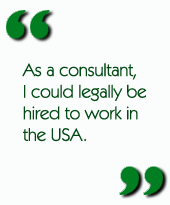 All I needed now was a green card. Brice employed an immigration attorney to deal with the paperwork. By the end of 1986 as the process dragged on, Brice was becoming impatient and wanted me to start in February '87. Not prepared to wait for the green card approval, Brice decided to hire me as a consultant, which would enable me to work legally in the USA.
After receiving the equivalent of one year's salary and two airline tickets, my wife and I headed to northern California.
Theresa was five months pregnant when we entered the USA on a temporary work visa and she was worried immigration authorities might prevent her entering the country. As a precaution a long, bulky overcoat was employed to conceal the appropriate area and, after answering "no" to the question "Anything to declare?", we entered the land of the star spangled banner.
The third and final part of the Spooner croquet memoir will appear soon in Croquet World Online Magazine.
---