An interview with Williams & Clarke: Croquet's First Couple


by Bob Alman, Founding Editor;
historical sidebars by David Drazin;
layout by Reuben Edwards
Posted September 3, 2007


---

The "First Couple of Croquet?" When they questioned the title, the editor declared that it is the proper function of croquet journalists and historians to confer such honors, based on the facts. We have done our homework. Their resumes tell a story of noteworthy individual achievement in the sport, over a long period of time. Chris Clarke has lived at or near the top of the rankings for more than a decade, and Jenny Williams has steadily improved the quality of her play over the last several of years to achieve the highest ranking of any woman in the sport, in the top 50. Winning the British Mixed Doubles championship of 2007 in August confirms their status - a feat achieved by the two other "First Couples" of the 20th century, as documented by croquet historian David Drazin. Our email interview spanned four months, as the couple traveled to America and then to Europe for both work and play, winning trophies along the way - before returning to their base in Christchurch.

---
CROQUETWORLD: We're beginning our conversation in May, before you start your international travels to play in croquet's biggest purse event, Tremaine Arkley's Resort Invitational in Oregon. Chris is ranked #1 in New Zealand, Jenny #7, and the competition is first-rate. How good a shot do you have at financing your travels with some purse winnings?

CHRIS: In all likelihood, very little. We last played Association Croquet in January and won't have hit a ball for two months when we arrive in Oregon. With the UK based players all being match fit, I would anticipate it being tough. The good news is that the Resort is lovely, the golf is good and the company is excellent.

CW: I'll put that down as modesty, but let's not argue the point. [Editor's note: Chris finished "in the money," in third place following Fulford and Bamford; Jenny finished ninth.] Could you tell me what the two of you have been doing instead of playing croquet since January - which is New Zealand's high season for the sport? Golf? Bridge? And why the neglect of croquet, with the stiff competition at the Resort looming?

CHRIS: We both played a couple of golf croquet tournaments in the South Island, but there is limited competition in New Zealand, it's not like the British tournament scene, with both quantity and quality. That's not a big issue to me since I easily become jaded nowadays and need breaks to renew my enthusiasm, but for Jenny, who is still improving, it would be helpful to play more. Actually, I've done very little other than a load of croquet admin (I'm Chairman of the Canterbury Tournament Committee and Chairman of the 2008 Worlds Organising Committee) and I've become heavily involved in trying to buy a new house. In fact, I enjoyed the real estate so much, I'm thinking of training to become an estate agent. We play bridge about twice a week and it's enjoyable to see Jenny's progress. We've already been promoted two grades and expect to be in the top grade soon. The Resort is more of a holiday, from my perspective. I target certain events to generate motivation. We have a quiet year this year, so the British Open and Aussie Open will be my big two events for the rest of 2007. The doubles is just as important to me as the singles.

CW: I'm getting the feeling here that Jenny is the silent, junior partner in your household, so I've got to ask Jenny: Are you a full partner or a student (as in croquet and bridge) in the life the two of you are making together?

JENNY: We're equals in the household. We enjoy sharing and tend to do stuff and make decisions pretty much together. Chris is the cook, though - I'm only a kitchen hand there.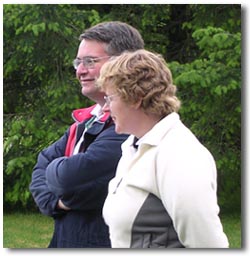 Jenny and Chris watch the action from courtside at the Resort Invitational in Oregon, where Chris shared the purse winnings. Photo by Tremaine Arkley.

CW: But between the two of you, Chris is also the croquet master, apparently. He just said you're still improving, and it is in your partnership with Chris that you have begun to attract a lot of attention as a top-grade player. So to what extent are you a croquet student of Chris Clarke, Jenny? What have learned from the croquet partnership and what do you intend to learn from it in the future?

JENNY: Nah - sounds like a good story, but no truth in it. I got in the Chairman's Salver a few years ago, which is probably my highest achievement in croquet in terms of earning my way into a strong event. Also won a couple of British women's titles, played in the '04 Trans Tasman, and won the New Zealand mixed doubles. We don't really have a strong student-coach relationship either - it's simply not that common in croquet, and we don't spend much time working together outside of competition.

CW: Jenny, you seem to insist on always being an equal partner, so I'll try one more time: What about bridge? I've been a competitive bridge player myself, so I know it takes time and experience to get anywhere near the top. Might Chris be considered the senior partner at least in bridge, at this point? Or do you two actually not acknowledge even the concept of senior partner/junior partner?

JENNY: It's another myth. I don't insist on being an "equal partner" at all - I just stated, accurately, that I first came to prominence in croquet circles before Chris and I got together. While I am clearly a weaker player than Chris, probably in all areas, he doesn't really coach me much - we're both busy people and our croquet lately has just been participating in tournaments. So...when we play croquet or bridge, Chris is certainly the senior partner, but your angle of "master" and "student" is flawed. Perhaps we can make more progress if you decide to not twist my words, but ask genuine questions without trying to define the answers at the same time?

The Beatons - "first couple" in the early 20th Century

MR. AND MRS. R.C.J. BEATON

Among all the candidates in many countries that may be considered for "First Couple of Croquet" in the past, no apology is needed to cast this pair in the top spot, for husband and wife were both acclaimed champions, and Lily Beaton (née Gower) reigned supreme for many years as the Lady Champion of England.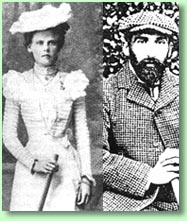 Lily Gower, circa 1904 (from DMC Prichard, The History of Croquet).

R.C.J. Beaton (from The Croquet Association Gazette, 6 July 1904).

Though effective enough in his own right, R.C.J. Beaton would never have merited celebrity status if it had not been for his attachment to Lily Gower. In September 1905, asking her father for her hand in marriage, he wrote, "I don't know that I have much to recommend me — beyond playing croquet and music, I am not much good." We learn from D.M.C. Prichard in The History of Croquet that his success rested on supreme care and deliberation: "Of slight build with a black Mephistophelian beard, bowing a little from the shoulders with an oddly loping walk, Beaton was not an exciting player, but he had a machine-like accuracy, particularly in a three-ball break." With whatever other skills he commanded, he was good enough to win the English Opens twice, in 1904 and 1907.

By contrast, Lily was pure radiance. She made her electrifying debut in the July 1898 tournament at Budleigh Salterton, Devon, where all the advance publicity centred on the entry of C.E. Willis, the reigning English Open Champion. If anyone had taken note of her presence, it would surely have been on account of her stunning good looks. As a competitor, she would have been dismissed as a rank outsider. She had been introduced to the game by her mother, with whom she played at a little known club some miles from her home at Castle Malgwyn House, near Cardigan, Wales, and she had picked up the finer points of the game from a book by Arthur Lillie, a noted croquet veteran, that appeared the previous year.

To the amazement of the croquet world, Lily emerged triumphant from a bruising final, and her fame as the "Championess of England" has been celebrated ever since. She married R.C.J. Beaton in 1906, and in the following years she won just about every honour the game has to offer. Together with R.C.J., who died at an early age in 1925, they made a formidable couple and, in particular, they won the Open Mixed Doubles four times, in 1904, 1906, 1907, and 1920.

CW: I do twist words, and it's partly on behalf of readers who have their own private grids of understanding through which they parse and twist the words of others to make them fit their personal world-view. That's why I really love this particular medium, the free-flowing interview, because it allows ideas not only to be said but to be challenged and tested and refined, and everybody has a chance to make themselves understood clearly, without prejudice. And we have the leisure to get at the unexamined assumptions behind every question and answer. That almost never happens in any other form of journalism.

I very much wanted to engage both of you in this interview because there is no question that you really ARE "the first couple of croquet" in the year 2007 - a domestic partnership combined with an on-court partnership unequaled anywhere for many decades. You embody in your relationship some of the most fascinating aspects of our sport, including this one: Why don't women, statistically, compete as successfully as men? You may have the best answers of anybody in the world to that question - and Chris might have the second best, and I think people are really interested in exploring this issue. I am aware of it, at some level, every time I play in a game that includes a woman. You always ask yourself in a game, "What's going on, over there, in that mind?" but of course the question has a different dimension if it's a woman. There's more of a mystery there. And this is important: I don't think it's at all a bad thing that women don't win as many tournaments as men. In fact, it might be evidence that their values are more enlightened than men's, who may be too concentrated on winning to enjoy the game itself.

CHRIS: I think we do acknowledge the senior/junior partner position, but Jenny is simply trying to move away from any notion that her improvement is because of my involvement. Jenny has been very fortunate to benefit from the advice of a wide variety of players whilst learning the game in the UK and as with all good players will take the best bits of each person's suggestions. As far as bridge goes, the majority of Jenny's play has been with me, but I'm sure that as she becomes more experienced, she will find preferred systems to the ones we currently use. The main point is that any senior/junior relationship is based upon knowledge rather than male/female stereotypes. For example, Jenny is unquestionably the senior partner with regard to technology.

CW: So by virtue of experience or knowledge, either of you may be a "senior" partner in some activity or other, but you are living your relationship as equal partners. Absolutely clear, and absolutely admirable. And it allows the question to now be asked, based on your own personal experience and your experience playing croquet as both opponents and partners: Why don't women, statistically, compete as successfully as men? And maybe more importantly: Does it matter, or should it matter?

CHRIS: I think it's a combination of factors. As children, girls are worse at ball sports than boys because they play them less. The girls that play ball sports as youngsters tend to be of similar ability as their male counterparts. Therefore, there are much fewer "talented" girls in later life compared with boys and so, on average the males are more likely to be better players. However, I do believe that males have a better spatial awareness than females, which will be an advantage at croquet. Various studies have been done to demonstrate fundamental differences between the sexes - for example, females are better communicators. The fact is that males are better at croquet and bowls and chess, and this must in some way be linked to basic mental differences between the sexes. The additional physical strength of males will also be a slight advantage. There were several strokes Debbie Cornelius found difficult due to power, and Jenny finds it more difficult to execute a 30-yard roll than I do.

CW: So let's talk more about whatever physical disadvantage women might have. I don't doubt that statistically it's true, so what it suggests to me is that a woman needs to have superior skills in other categories to make up for that deficiency. And some women players have told me, "I have to organize my play so I don't need to make long roll shots on a heavy lawn..." Do you try to avoid long roll shots, Jenny?

JENNY: Bob, I think you might have overlooked Chris's use of the word "slight." The "difference" between men and women in croquet is, I believe, largely of the players' own making. I certainly don't feel gender restricts my ability to play. Having played cricket for many years, I have reasonable upper body strength for a woman, so don't feel horribly disadvantaged in playing long roll shots unless on a particularly heavy lawn. As for trying to "avoid long roll shots," I think you'll find most good players try to avoid long roll shots. Having control of the balls generally means moving the striker's ball as short a distance as possible in strokes - hence getting rushes in useful directions and sending out pioneers, etc, using drives or stop shots. This provides less room for error.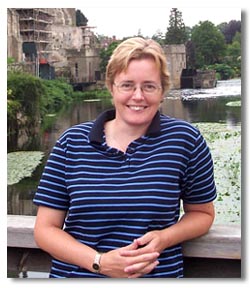 My main weakness in big croquet strokes is technique. I tend to hit across the balls a bit, hence with my small-cross-section headed mallet I sometimes catch a bevel - particularly if I fail to keep my head over the balls during the stroke. That's purely poor technique, nothing to do with strength. Chris has reminded me that often one plays a big croquet stroke sending a pioneer to hoop 4 and going to hoop 3 as a big split - I'm very happy with that. Two other large rolls that one might choose to play or leave are: 1. Rolling out of corner 4, essentially putting out an escape ball while going to peelee at hoop 3 (a more straightforward shot than a Hogan roll) to pick up a standard TP. If this is an option, I'll almost always take it. 2. Doing a stop-shot peel at 4 back and sacrificing the rush on the escape ball, particularly when the peelee isn't ideally placed (angled or long), and then having a long roll to hoop 4, putting out a hoop-5 pioneer - also a stroke I'll choose if I'm concerned about possibly not getting the peel.

I guess a third class of long roll shot is a "death roll" peel - again something I feel I can achieve comfortably. Otherwise, however, there don't seem to me to be too many situations in which one would "choose" to play a long roll shot as a good tactical option.

CW: You seem to be telling me, Jenny, that you would have learned the best moves, inevitably, because you're really attracted to the sport, and the playing partnership with Chris doesn't play the formative role in the vast improvement in your game. Is that right?

JENNY: No. Much of my improvement has been due to his involvement - he has taught me much. And I have no problem acknowledging that he's the "senior partner" at this point in both bridge and croquet. However, it's simply also the case that I learned a lot BEFORE we ever got together. Some people who had a big impact before Chris were Ian Plummer, who taught me the game and how to do TPs; and David Maugham, who taught me to do TPs a lot better, and improved many, many aspects of my game. And, indeed, as Chris says, I've been very fortunate to benefit from the advice of MANY players - many who have just made the odd comment which has stuck, or who I've discussed things with, or who have simply made me feel good and resulted in me playing better for whatever length of time - and that includes Collin Southern, Jerry Stark, Paddy Chapman....

CW: But that would be true of anyone who aspires to reach the top of the sport; they would all credit various people with helping them in specific ways to achieve their goals. So after all this talk, Jenny, it seems to me you've made a convincing case that the gender aspect of your croquet partnership with Chris is really not significant. However, we're still stuck with this huge issue of why women - statistically - don't compete at a high level. Your story suggests, perhaps, another answer: that the top players rarely interact with women in the way they interacted with you - that is, as a croquet mentor; maybe they're more apt to do that with other male players. Why is that? Is that an issue in the development of more women players? Is there any practical wisdom that could come out of that observation?

JENNY: I think there are many male and female players (and people in general) who lack confidence and won't take risks to try things that are at the limit of their ability. There seem to be fewer female players than males who take up the game young - that is, before retirement age. Of the women I know who play croquet at a high level: Sam Symonds has many other interests (and two wonderful pooches); Ailsa is a teacher and many tournaments don't allow her time to play; Jocelyn is the most naturally gifted woman croquet player I have ever seen, and has a child so she also has other priorities. There are less women who are footloose and fancy free. There will be other factors too, but the statistical sample is too small to make too many more conclusions. Me, I've discovered bridge this year, as well as my sports coaching studies, and the joy of simply spending lazy weekends with Chris. I will still aspire to do very well in tournaments, but not to the extent of practising most evenings like I did when I was in University when I first started playing or during some other periods - too many other things to do with my life!!

The Apps - "first couple" in the 1920s.

BEN AND LORN APPS

They were both star players in the 1920s and 30s. Ben won the English Opens three times (in 1926, 1930, and 1931), and Lorn (formerly Mrs C.W.C. Strickland) won the President's Cup competition, the senior Croquet Association selection event, in 1936. Together they won the Open Mixed Doubles in 1926 and 1927.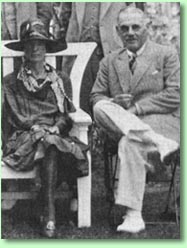 Ben Apps and Lorn, the future Mrs. Apps, 1928 (detail from group photograph in Prichard, The History of Croquet).

Whether they have better claims than others around the world to be the then "First Couple of Croquet" we may have no way of knowing. However, Ben has a very special claim to fame. He was a strikingly precocious multiple peeler. The triple peel first became a useful tactic when the Laws of Association Croquet were revised in 1928, giving the defending player the option of a lift following the turn in which the lead player had run 4-back with either his first or second ball. By dint of a triple, the latter denied the former that precious lift. But tactics in championship play evolve only slowly. So, for example, in the English Opens, the first triple peel in the final was not seen until four years later, when Humphrey Hicks beat 'DD', the celebrated Dorothy Dyne Steel, in 1932. But Ben Apps had performed the first triple in major competition in the final of the Men's Championship in 1931, a year earlier, when he beat Bruce Morgan -25tp +26tp +26. And no more triples were seen in the final of that event for 49 years, when Martin Murray beat Ian Bond +5 +25tp in 1980.

CW: Still, it seems to me that it's always the guy who encourages the gal into the top level of competition in croquet, and you may have to go all the way back to Lily Gower to find a clear exception to that - except maybe for you two. It's looking like neither of you is thinking first and foremost about winning competitions - which was the original idea of interviewing you as "the first couple of croquet." I was referring to the competition factor. Maybe I got it wrong, maybe you're the "first couple" because your relationship is the most important thing, and croquet is only a part of it - maybe not even a big part.

JENNY: I'm not sure why the guy is required to encourage the girl to play top-level croquet. I can think of LOADS of current women players who had enough independence of thought to decide for themselves to play croquet - many of them met like-minded male players, some didn't. Actually, I don't know that many women who got very high up who started only because their partner told them to. Certainly we both want to win competitions.

CW: Can you explain why, in the midst of a physics career, you have this ambition to do sports coaching instead?

JENNY: I've been a professional physicist for about seven years now - finished my formal education in physics in 2000. Certainly, though, I am always still learning things in my job. I'm also still learning lots about relationships, having a dog, cooking, bridge, by no means least croquet. I've always had an interest in various aspects of sports coaching, and now have the opportunity to gain some formal training. Most vaguely intelligent people tend to continue learning lifelong.

This interview is all very heavy stuff. You haven't done the usual: What did you last read (Harry Potter #6), what did you most recently listen to (original soundtrack to the Rocky Horror Picture Show), movies (well, he's yellow, and square and spongy).

CW: You're way out of my depth, now, with popular culture, but sure, why not? What's your favorite color? What kind of dog is it, and who does the dog report to: Jenny or Chris? And why have a dog anyway, wouldn't a child be more of a training challenge? Or would that interfere too much with the cooking, bridge, and croquet? (Do you like these questions better?)

CHRIS: Well, yes, these are better questions. Favourite colour is green and our dog is a golden Labrador just turned one year old. Dog answers to both of us and has been a good start to learning about raising youngsters! We plan to have a family, but I guess we're fairly traditional and thought we should be married first!

CW: And here's one: I think you're a native Kiwi, aren't you, Jenny? And Chris is a native Brit. And it has long been my impression that in order to emigrate to New Zealand you have to be loaded with money or be declared a national treasure, or both. So what is this move to New Zealand about, anyway? Is it just the standard "whither thou goest?" Do you and Chris intend to live in your Kiwi paradise forever?

CHRIS: Emigrating to New Zealand isn't easy. They have a points system and fortunately, I get lots of points for having a degree, having 10 years' work experience and being the right age. I was never asked about my financial position during the entire process. So, I have a two-year visa which I hope to eventually turn into a permanent one. We moved to New Zealand because Jenny was changing jobs and it is by far and away the best place for us to be based to bring up a family, with virtually all Jenny's family living within seven miles. Christchurch and Cape Town are my two favourite places outside England, and I feel very fortunate to be allowed to live in one of them. So, yes, it is intended to be a permanent move.

CW: And in due course, may we assume you'll represent New Zealand in major competitions and maybe someday be a key element in beating Great Britain in the MacRob?

CHRIS: No, it is not my intention to represent New Zealand. I believe that I will continue to be selected for Great Britain whilst we have a similar selection committee, providing I show some form.

CW: Now I feel I have to ask you about what appears to be the new frontier in the sport, much discussed recently on the Nottingham Board, and that is the supposed necessity of playing sextuples as a winning strategy in top events like the British Opens and the World Championships. This strategy has become routine for Fulford and Bamford, and now Mulliner seems to be taking it up as well, but you insist that your execution percentage isn't high enough yet to make it a winning strategy, to which Mulliner replies that the most meaningful "practice" in this strategy is in competition, not in no-stakes practice; and Reg Bamford makes his point about self-limiting beliefs. But at the same time, it must be noted that despite your failure to do sextuples, as we speak you're #2 in the World Rankings by just a hair behind Fulford, and 50 grade points above Bamford, the other regular practitioner of top-competition sextuples. What's your last word on this issue? When - if ever - will sextuples be a routine part of your winning strategy?

CHRIS: You say that "despite my failure to do sextuples" I'm number two in the world. This would more accurately be stated as "despite my decision not to do sextuples." I am perfectly capable of doing sextuples and was the first player to complete one in the World Championships, but at the moment my completion rate in practice is roughly 50%. Based upon the current level of shooting, you need to complete about 75% to make it a winning tactic. I will happily stop at 1-back once I believe I am close to a 75% completion rate or the standard of shooting of my opponents improves dramatically. There are players who have demonstrated higher levels of physical ability than myself constantly for the last 15 years, but despite this, they lose more games than one would expect. As far as self-limiting beliefs go, when someone can hit the peg 63 times out of 64 in practice and regularly hits 75%, isn't it surprising that they are so poor at shooting in matches and refuse to take 13 yard roquets? Perhaps they are waiting until they make it 64/64 before altering their decision making in tournaments?

This long reply is very self-centred and bears little relevance to an article on Jenny and myself as a couple. Perhaps you should ask her about her match with Rob in the Aussie Open and what she has learnt both physically and mentally over the last 2 years and what her goals are for the next two years.

CW: That's fine by me. Jenny?

JENNY: I guess I've been playing about 7-8 years now and have learned a lot in that time. Where will it end? - I dunno. I think I have years of croquet, life, work, new experiences left in me - really too early to have the faintest idea. I would like to think that at some point in the future I can get into the New Zealand MacRob team, but that depends on finding a consistently high level of play - and at the right moment. It also depends somewhat on who else is in contention for selection. I'd also like to get into coaching more - and expect that to come naturally with the coaching degree I'm currently working on part-time. Croquet NZ is committed to improving the standard of play in New Zealand, and is actively looking at getting various coaching programmes going, so hopefully I can be involved on both sides of that. Sport and Recreation New Zealand (SPARC) have a strong commitment to promoting athlete-centred coaching and have a new coaching framework which is fairly central to my courses, and looks really useful. I rather suspect I can't forget Chris for the moment - my future is completely tied up with his, and ultimately where it ends is intended and expected to be us living happily ever after in Christchurch.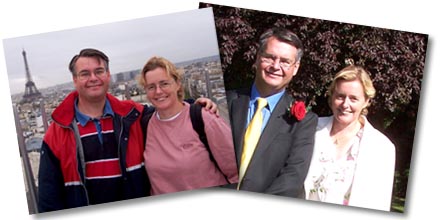 Snapshots from the family album display the broad interests of a young couple into outdoor sports, hobbies, competitions, and travel adventures.
CW: I guess my last question would be "What impact do you think your relationship will have on the sport of croquet?"
CHRIS: In many ways, your title for us as the "first couple of croquet" isn't particularly relevant. I believe that the key is that this is the first time a top player from one hemisphere is going to marry a top player from the other. This should have benefits for those two countries. When I started playing croquet in 1985, New Zealanders were the dominant force. Bob Jackson was doing multiple peeling turns and Hogan showed in the late eighties that it should be impossible to force the forward ball to play on a lift. Great Britain was behind the times by several years and it needed this wake-up call for it spring to life.
We now have the opposite position, with Great Britain leading the way with popping turns, sextuples and early turn balls 'round. I hope by having Jenny and myself playing in the world's major events, that this transfer of both tactical and physical playing level will be quicker and lead to New Zealand becoming more competitive in the next couple of Macs.
CW: This is a good place to end - with much thanks and good luck to you both, in all your partnerships!
THE CHRIS CLARKE RESUME
Education: BA in Accounting and Financial Management.
Major job history: 10 years with logistic company specializing in food grade tankers and refrigerated transport.
Serious hobby: Trading sport on the Internet for fun and profit.
Employment aspiration: To have a normal job again soon.
Marriage plans: Marrying Jenny Williams on January 30, 2008, in Christchurch, New Zealand.
Favorite games: Croquet, Golf and Bridge.
CROQUET HONORS:
World Champion, 1995.
British Open Champion, 1997.
Sonoma-Cutrer Champion, 1997.
British Men's Champion, 2005.
Member of victorious Great Britain MacRobertson Shield teams:
1993, 1996, 2000, 2003, 2006.
Presidents Cup Winner, five times (England).
British Open Doubles Champion, 11 times, including 2006.
Australian Open Champion, 2007.
New Zealand Open Champion, 2007.
Australian Open Doubles Champion, 2007.
New Zealand Open Doubles Champion, 2007 (with Jenny Williams).
British Mixed Doubles Champion, 2007 (with Jenny Williams).

THE JENNY WILLIAMS RESUME
Education: BSc Hons in physics from Canterbury University NZ, DPhil in theoretical physics from Oxford University, UK. Currently studying part-time towards a Bachelor of Sports Coaching at Canterbury University.
Major job history: 5 years as a postdoctoral researcher in physics at Manchester University, presently halfway through a 3-year postdoctoral fellowship at Canterbury University, working on the Compact Muon Solenoid experiment at the CERN Large Hadron Collider.
Hobbies: Bridge, dog training, gardening and photography.
Non-croquet sports honours: half-Blues from Oxford University in table tennis, cricket [and croquet]. Also represented Oxford University at squash. Winner 2nd division British women's county championships, runner-up British Universities Sports Association women's cricket. Promotion to top bridge division in Christchurch after 15 months playing.
Employment aspiration: completing my BSpC and finding a job which can use these skills - in sports management or coaching.
Marriage plans: marrying Chris on 30 Jan 2008 in Christchurch, NZ. Residence: Christchurch for 18 months after 10 years in the UK (and bits in California). Plan to stay in Christchurch (apart from winters).
CROQUET ACHIEVEMENTS:
NZ Open Doubles Champion 2007(with Chris Clarke). Runner-up 2005 & 2006.
Australian Open Doubles runner-up 2006, Singles Semifinalist 2006.
British Mixed Doubles Champion 2002 (with David Maugham).
San Francisco Club Champion circa 2003.
British Women's Champion 2002 & 2005.
Member, Trans Tasman winning NZ teams 2004 & 2006.
South Island Open Champion 2006.
South Island Doubles Champion 2006-7 (with Chris Clarke).
British Mixed Doubles Champion 2007 (with Chris Clarke).

Some Competition Highlights:
— Playing first match for NZ: doubles with Bob Jackson in 2004 Trans Tasman.
— Coming 7th in 2006 World Golf Croquet Championship.
— Beating Robert Fulford in straight games in Australian Open quarter final with two TPs in 2006.
---