David Drazin,
Croquet's Bibliographer,
1931-2014


by Bob Alman and Ray Hall
Posted May 19, 2014


RELATED LINKS IN CROQUET WORLD ONLINE:
•
Finding a home for the croquet collection, by David Drazin
•
UBC's Barber Learning Centre, housing the Drazin collection
•
The Origins of Deadness in the American Game, by David Drazin
•
Recovering the stolen art of Crowther-Smith, by David Drazin
•
How we lost Wimbledon, by David Drazin
•
Croquet Art in the Wimbledon Museum, by David Drazin
•
Croquet at War, by David Drazin
•
Why they say it's okay to cheat at croquet, by David Drazin
•
Unsolved Mysteries of Croquet History, by David Drazin
•
The Lost Literature of Croquet, by David Drazin
---
Until just a few years ago, David Drazin was the most published writer in Croquet World Online Magazine, only now to be exceeded by James Hawkins, the European Editor. My introduction to his final contribution, in 2009, noted this distinction: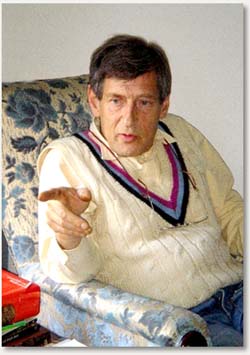 David Drazin at home in England in his last years. He lived at Rickmansworth, Hertfordshire (near Watford).

"No single author has contributed more to the cyber-pages of Croquet World than Dr. David Drazin, who over a decade has penned many historical articles based largely on the primary source materials he, himself, collected and stored in his extensive home library. True to character, he cheerfully accepted our invitation to produce a detailed firsthand account of how he searched for and finally found the perfect permanent repository for the 2,000 items now and forevermore to be known as The David and Anne Drazin Croquet Collection, half a world away from his home in England--at the University of British Columbia."

The University of British Columbia now also houses the Tremaine Arkley collection. Drazin wrote a characteristically complete account of "Finding a Home for the Croquet Collection," as a how-to guide to other collectors. Both these collectors knew that the most important part of "collecting" is making sure the entire collection is preserved for posterity

I could always count on David to produce a draft, when we agreed upon a subject. And he never needed editing, except for the endings of articles. We joked about that: He could never bring himself to "wrap up" an article with something that looked and sounded and felt like an "ending." I think it was because he experienced himself always as a scholar in the midst of research that was necessarily, fundamentally, and perpetually incomplete.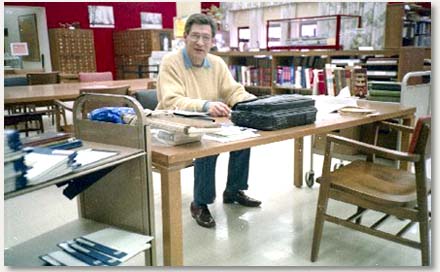 David Drazin visited the Rutherford B. Hayes Presidential Library in Fremont, Ohio, a couple of times in 90's, which led Mike Orgill and Bob Alman to conduct two summer croquet programs there several years ago for a fund-raiser called WINE, WICKETS, & WHEELS, in the huge grove surrounding the library and Hayes home. It was the first of all the presidential libraries established in the United States.
Drazin had a scholarly contempt for anything that wasn't "correct,"--including conventional uses of punctuation. When I first started publishing Drazin's articles, he complained about my "makeshift" em-dash - which I indicated like that, simply a hyphen with a space on both sides. He understood as well as I did the practical difficulties and mysteries of submerged coding in various word programs, which ultimately had to be sent to my layout editor to deal with. Finally, I agreed to change my "makeshift" method to something more to his liking--like that, two hyphens with no spaces around them. Only then did I acknowledge that this solution actually improves the overall appearance of Croquet World.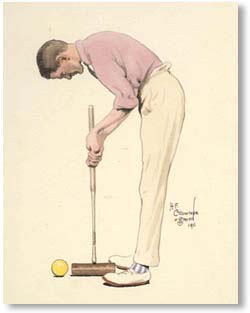 One of the recovered Crowther-Smith originals was this portrait of Cyril Corbally, for 1911 and 1912. This brilliant Irish player was five-times Open Champion and winner of the 1913 Champion Cup, forerunner of the President's Cup.

He was, perhaps, proudest of his role in recovering priceless originals of a Crowther-Smith, who penned portraits of well-known personalities each year for the English Croquet Association. As a scholarly sleuth--a sort of male version of Miss Marple--he designed a "sting" operation and carried it out successfully, with the aid of Tremaine Arkley and countless collectors who were warned NOT to bid up the price of the offering on E-Bay which he spotted early on. He titled this article "From the bibliographer's casebook: A ripping yarn with a happy ending."

A couple of paragraphs of Drazin's writing style tell the beginning of the story, displaying pride, modesty and delight all at once:

"Though it is certainly remarkable that I was in the thick of it from start to finish, the odds against my involvement at every stage of this little drama were probably a lot less that might be imagined, because I am a dedicated collector of croquet memorabilia and was privileged to count the late Alan Oldham, past Crqouet Association Croquet Association Treasurer, Vice-President, and Archivist, as a close friend. So when, out of the blue in April or May 2004, Alan received as donations to the Association two precious books of artwork by Horace Francis Crowther-Smith ('Crowther'), master croquet caricaturist, it was natural that Alan should show them to me.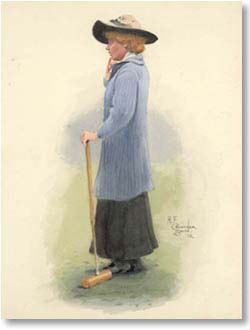 One of the priceless originals Drazin helped to save through a bit of sleuthing and a "sting" operation he helped organized. The artist is Crowther-Smith, well known for his caricatures of notable croquet players in the early part of the 20th century, and presented to the Croquet Association as a gift. Drazin helped to recover the bound volumes of originals for the years 1911 and 1012. The one above shows Mrs R.C.J. Beaton (née Lily Gower), 1912. This famous 'Lady Champion of England' was 1905 Open Champion and 1904 winner of the Champion Cup.

"Knowing that the Association had limited curatorial resources, it was only natural that I should take the trouble to scan both books from cover to cover for the benefit of anyone who might care to examine them. It was natural too that I should inform the police of their theft from Alan's car when we were in Brighton together for the WCF World Golf Croquet Championship in June 2004; and, having long since given up hope of ever seeing them again, it was natural, as a daily visitor to the eBay website, that I should see them offered for sale by a Hampshire dealer on 28 May 2006, the day after the auction was posted."

So the trap was set, and later sprung. When the thoroughly respectable Hampshire dealer discovered his role in the affair, he graciously gifted the items to David, who gave the dealer the ten pounds he had paid for the priceless originals.

Croquet World will likely never find another writer who so cheerfully and skillfully supplied its editorial needs.

Ray Hall's Obituary

David Drazin 1931-2014

David Drazin, who died on 1 May at the age of 82, is not widely known to croquet players. Nevertheless he is one of the game's great benefactors - in the shape of his magnificent 500 page book CROQUET: a Bibliography (2000). Its entries are arranged chronologically from 1853 to 1997 and most of the books, pamphlets and patents had been inspected personally. He continued work on a second edition (2004), and a third (2009), which include numerous colour illustrations mainly of book covers. Both are unpublished, but the intention to publish the enhanced edition on CD led his publishers to remainder the first edition, so this is your chance to obtain a copy.

During the research into the Bibliography he had amassed and recorded an extensive collection of croquet books and ephemera, which he donated to the University of British Columbia on its completion (known now as The David and Anne Drazin Croquet Collection).

He willingly shared the knowledge he had built up, most obviously with Croquet World Online and in the Croquet Gazette, but also with enquirers seeking guidance. He helped the English Croquet Association in publishing its centenary booklet and arranging the related exhibition at Wimbledon. The 1997 reprint, with the CA, of Horace Crowther Smith's The Best Ten of 1925 is another major landmark.

David learned croquet at Oxford where he completed a DPhil in experimental psychology. His career began at the Institute of Aviation Medicine and then in consumer market research. Having bought a house with a large garden toward the end of his career, he made and cared for his own croquet lawn, resumed playing and improved his game until his wife's death in 2010 and his own decline in health.

He was a member of the Harrow Oak Club in the 1980s and subsequently Watford (Cassiobury). The croquet community will be the poorer for the absence of a civilised companion who has enlarged our knowledge of the game.

Ray Hall
---