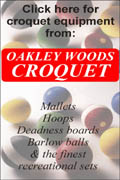 The Liverpool Croquet Club renovates and begins play

by James Hawkins
layout by Reuben Edwards
Posted June 29, 2013


---

James Hawkins started his attempt to introduce croquet to Liverpool in 2006. With a 25-mile trip to the nearest club, the city had always been a croquet desert. Starting with no lawns, no money and no members, Hawkins set about changing that. The struggle so far is detailed in his previous articles for Croquet World. Now, with the bleak prospects of economic recession and climate change, it's time to dig deep or surrender.

---
Two years on from the last chapter of the Liverpool Saga, this could very well have been my last posting. The one where I hold up the white flag and surrender all hope of bringing croquet to Liverpool.

Everything started with good intentions. I'd allied myself to the venerable Mersey Bowmen Tennis Club (established 1781); I'd begun to bring some disused grass tennis courts from dereliction into repurposed use as croquet lawns; I'd bullishly invited colleagues from other clubs to play in Liverpool, and attempted to recruit newcomers to join. It all looked positive.

That was in 2011. Living every day in an obsessive bubble of lawn maintenance, I could see the week-by-week improvement to the playing surface. Barely a year earlier, I'd been picking broken bottles, syringes and used condoms from the weed-infested thicket. OK--so I still had big areas of bare soil where I'd ripped out inch-deep patches of moss. And it wasn't flat, but I could deal with that once I'd got members and cash in the bank. I could feel proud, because I'd begun my mission to rescue this unloved patch of ground.

That was my first problem. Nobody else really cares about the incremental improvement from Terrible to Less Terrible. Not really. Not enough to enjoy playing on what was still not a good lawn. And not enough to pay for membership. If I want to charge money for use of my grass, it has to be better than what people can access at home. And, after 18 months, it just wasn't good enough. I decided to sit tight and wait until 2012. Another few months of maintenance--applications of moss killer, weed killer, grass seed and fertiliser--and I'd be ready to sign up queues of new members.

The second problem, of course, was the clubhouse. Rat-infested, damp, and prone to vandalism and break-ins. It's almost certainly the world's oldest purpose-built tennis clubhouse (completed 1872, a year and a bit after the invention of the game), but--hell--it's a mess. Honestly, we'd be better off with nothing, and a walk to the cafe 100 yards down the hill for a cup of tea and use of the toilets.
Photos alone don't convey the unpleasantness of the clubhouse. Around the foot of the pillar, you may just see the wire sheeting placed to try to deter rats from chewing through the floorboards from below.
The tarmac tennis courts weren't much better. They'd disintegrated years earlier, and the membership of the Bowmen was starting to dwindle to the point where this--one of the world's oldest sports clubs--was facing extinction. That'd be a disaster for my symbiotic relationship with tennis. I need their survival. They provide the infrastructure, a critical mass of members while I try to establish my operation, and a channel by which I can spread the croquet gospel.
What happened next is a mixture of good news and bad. The tennis committee submitted a funding application to Sport England [the government agency which oversees sport nationally], and won £50,000 to resurface the tarmac courts. The future suddenly looked more secure.
Spring, Winter, Winter, Winter...
It's now the start of the 2012 season. It's been a warm spring, and the season ahead looks promising. Tarmac is being laid, and new tennis courts are imminent. Just the other side of the fence, I'm mowing grass. For the first time since I started, the grassbox is filling with clippings not of dandelion leaves and wisps of moss, but actual grass. Fine-bladed sportsturf grass. The weeds are finally clear, the moss is under control, the bare patches have been successfully reseeded. I have two playable full-sized courts, ready for use. Six years after (prematurely) announcing the birth of my croquet club, and three years after taking over this patch of land in Sefton Park, it's time for me to start recruiting.
I had some postcards printed, and started distributing them in the wealthy areas nearby. I had a grand plan for this. Ten unhappy years targeting junk mail has given me a nose for selecting the ideal croquet demographic. My first 200 cards yielded a healthy 5% inquiry rate. I excitedly prepared for my first wave of new members.
The next day it rained. And the next. Within a week, the lawns were flooded. Three months later, they were still under water. By July, I realised that there wasn't going to be a summer, and there wasn't going to be any croquet, and I wasn't going to recruit any members.
Honestly. What's the bloody point?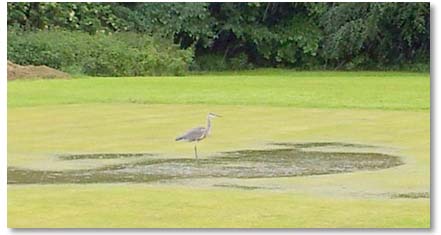 By August 2012, the only user of the club was this heron, looking for fish in the pools of water.
Maybe there isn't one. After six shocking summers, maybe climate change has declared its intent to see off all outdoor sports in Britain. Maybe I'll never see my croquet club in Liverpool. But there's still one thing I can do before I pack up and surrender. I could always sort out the clubhouse.
Sport England's current grant-making policy is to fund major projects as a legacy of the London Olympics. Their "Inspired Facilities" fund paid for the tennis courts, and a new application round had just opened. All that was needed was for someone to coordinate a plan which would convert this disgusting wreck of a building into the hub of a rejuvenated multi-sports club. And so I set to work.
I hired a surveyor, and spent hours thrashing out designs. I interviewed builders and collated estimates of costs. I produced graphs and charts and maps detailing where I would hunt for croquet members. Business plans, financial forecasts, year-by-year membership projections. Not all my own work, admittedly; there was some valuable tennis input, but none were as obsessively compulsively focused on the prize as I was.
We submitted the application in September. The croquet season ended, and then the sun came out. Naturally. I had one last thing to do before my winter hibernation: sort out drainage. I decided that a permanently flooded, but flat, croquet lawn was much worse than a dry croquet lawn with a big trench running down the middle, so started to carve up my grass to bury a length of perforated plastic pipe under the surface. Nine months on, the lawn has recovered. It's a drier summer so far, but there's been no problem to date. If it gets bad again, I'll be able to repeat the process with more pipework until the whole site is cured.

My first lesson in drainage ditches: Dig a trench - line with gravel - insert pipe - cover with more gravel - replace turf. A tough day's work for two people, but it's solved the problem.

My first lesson in drainage ditches: Dig a trench - line with gravel - insert pipe - cover with more gravel - replace turf. A tough day's work for two people, but it's

solved the problem. Anyway. That's pretty much the story of my 2012. Oh. There was one other thing. The email came through on Christmas Eve to say that Sport England were going to give us our second £50,000.

The light at the end of the tunnel

It's been a busy few months for me, and now, at the time of writing, it's June 2013. After much wrangling, we picked Paul, a tennis club member, to rebuild the clubhouse. He's the guy who helped me with my drainage ditches. I've been overseeing the building work, and it's been a long and arduous process. I have a self-contained, fireproofed storage room for my lawnmowers. We have separate store rooms for croquet equipment and tennis nets. There's running water where it should be, and not coming down the walls. I've spent the last week up a ladder, undercoating all the brand new plasterwork.

Moreover, there's now a real sense of enthusiasm among the tennis members. They're volunteering to help with the next phase of painting. The despondent and sickly Mersey Bowmen of four years ago looks like it's turning into a vibrant community multi-sport club.

I held my first event a fortnight ago. I was contacted in March by a group of Norwegian croquet tourists. The Nord-Jarlsberg Croquet and Country Club meet infrequently to socialise (90%) and play golf croquet (10%). A direct flight from Oslo to Liverpool brought 14 of them to play, drink and eat. I raised enough cash to finance the cost of fertiliser and lawnmower fuel for the year, but for the first time in a long while, I had two full lawns of croquet players for a whole day. It looks like they might return next year, and I'll be delighted if this becomes a regular fixture.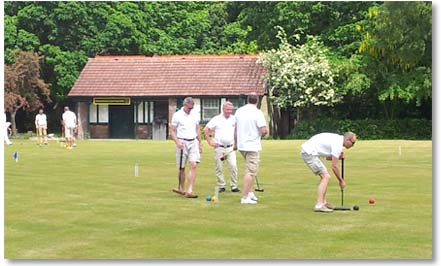 Norwegian visitors provide the first event of the season, and the first competitive croquet at the club since September 2011.
When I first arrived on site in February 2010, I was given some useful advice about sports turf. Once you start doing work on grass, it only ever improves. I guess the same may be true for the whole club. The playing surface is now becoming quite good, and the clubhouse has been transformed. It's all down to hard work, but now the really strenuous phase starts: I'm going to try to fill the place with members. I don't know what happens next, but I must be over the worst part.
James Hawkins came to competitive croquet in 1985 as a teenager. He entered semi-retirement from championship level play in 2001 when he was appointed editor of the Croquet Gazette, official magazine of the English Croquet Association. He has spent much of the subsequent time coaching, and his book, "Complete Croquet: A Guide to Skills, Tactics and Strategy", was published in 2010. If you're based in the North West of England and wish to get involved in the club, contact James via the club website, at www.liverpoolcroquet.co.uk.
---